STORY HIGHLIGHTS
Though the lineup has been shuffled in recent days, the Bucs' defensive front needs to find a way to create more pressure
Bobby Rainey's strong game and the possible return of Doug Martin could affect the workload percentages in the backfield
The next 48 hours will determine how many of the Bucs' banged-up starters will be available on Thursday night

The mood in the Tampa Bay Buccaneers' locker room at Raymond James Stadium Sunday evening was somber, then determined. Buccaneer players were certainly not over the sting of their 19-17 loss to the St. Louis Rams, which ended on an anticlimactic 10-second clock runoff, but they knew they would need to be soon. Staring them in the face was a very short week, a very dangerous opponent and a suddenly very critical game.
NFL players know the importance of getting over a loss quickly; that just happens to be more important and more difficult for the Buccaneers this week. After dropping to 0-2 with its second straight down-to-the-wire defeat, the team must now get ready for a Thursday night road game against division rival Atlanta. If the Bucs are to keep the first 12.5% of the season from defining the remaining 87.5%, they would need to find answers to some pressing issues, and quickly.
"We're zero-and-two," said Head Coach Lovie Smith after Sunday's game. "We don't have a whole lot of time to feel sorry for ourselves with Atlanta coming up quickly."
As such, we turn our attention to the Falcons, and the task of climbing back into the NFC South race. Tampa Bay is one game behind Atlanta, two behind Carolina and about to embark on a three-game road swing over a four-week span. In order to get into the win column, here are three key questions the Buccaneers will address in this very short week.
1. How will a pass-rush be generated?
The Buccaneers' defense has recorded three sacks in two games, plus five other quarterback hits. Despite facing a pair of backup quarterbacks in Carolina's Derek Anderson and St. Louis' Austin Davis, the Bucs haven't caused much backfield disruption, and that's reflected in the team's total of one takeaway on defense so far. That one was a fumble caused inadvertently by Scott Solomon's flying foot; the Bucs are still looking for their first interception.
Atlanta's Matt Ryan is definitely not a backup. While Anderson and Davis deserve praise for their good work at Raymond James Stadium the past two weeks, it's safe to say that facing Ryan in the Georgia Dome is an even stiffer challenge for the Bucs' defense. If he is allowed too much time to find such pass-catchers and Julio Jones and Roddy White on Thursday night, the Bucs' secondary could be taxed quite seriously.
So how do the Bucs make Ryan uncomfortable? That's not an easy question to answer because the team's defensive lineup is a little up in the air after another rash of injuries in Week Two. With defensive end Adrian Clayborn already on injured reserve and defensive end Michael Johnson sitting out with an ankle sprain, the Bucs lost All-Pro defensive tackle to a hand injury early in the contest. The Bucs' defensive scheme is predicated on getting pressure with a four-man rush as often as possible, but of course that plan had McCoy, Johnson and Clayborn in the middle of it.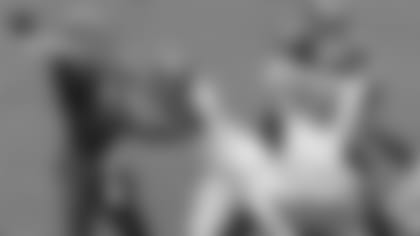 The Bucs' defensive line has generated three sacks and five other QB hits through the first two weeks
"We can't use it [as an excuse]," said Smith. "Everybody has injuries right now. Even with all of that, we had our opportunities on those earlier things that I talked about before. That's what we can't do. Until we clean those things up and not make those major mistakes, we're not going to win many games."
McCoy's status may be clearer on Monday afternoon, or perhaps Tuesday when the Bucs take the field for their lone practice of the week. Johnson may be ready to return. Still, it's likely that the team will go into Atlanta with recent additions Larry English, Scott Solomon and Jacquies Smith as significant parts of the rotation up front.
If that group can't get Ryan on the run, will the Buccaneers look to other ways to bring pressure. They blitzed to some good effect early in Sunday's game but it didn't get the job done later with the game on the line.
"We need to make a play," said Smith. They got a big third-down conversion. When you can't get pressure with your four-man rush, you have to blitz a little bit more than you probably wanted to, to generate some [pressure]. Then you put guys in a man-situation and we didn't really match up as well as we needed to there at the end."
2. How will the carries be distributed on offense?
The one injury absence that didn't hurt the Buccaneers much on Sunday was that of starting tailback Doug Martin. Reserve Bobby Rainey stepped in to deliver 144 yards on 22 carries and he looked quite sharp in the process, with a series of sharp cuts around the line of scrimmage. Rainey started the game with a 24-yard run that powered a first-possession touchdown drive, and he had key carries to set up the Bucs' other two scores, as well.
Martin's ankle injury, suffered in Week One after he had logged just nine carries, did not appear overly serious last week, but it was enough to keep him out of action. Smith has said on many occasions that Martin is the team's "bell cow" back, but he has also made clear his belief that a rotation in the backfield is the best way to keep a rushing attack healthy. Rainey surely demonstrated on Sunday that he deserves continued work going forward.
It's possible Martin would have had a big day, too, had he been able to play in Week Two. Rainey gave a lot of credit to the blockers in front of him, and Martin didn't see a lot of openings against Carolina in the opener. The Falcons' defense ranks 26th against the run after two weeks, and it struggled in that regard last week, too.
"Guys did a great job," said Rainey. "Like I said, how many yards I have is because of those guys. It's not me just doing it. You got to have a hole in there. They're the ones creating the hole and I'm just doing my job as a running back seeing it and hitting it."
Without Martin, the Bucs spelled Rainey with second-year man Mike James, who had just seven yards on six carries. James had several big games during his opportunity to start last year and may just need another extended opportunity, but the staff will surely feel better if it has Martin and Rainey in the same rotation. Of course, James is considered the best pass-blocker of the three, and that too could affect how snaps are distributed Thursday, in the event Martin is available.
"I know I didn't do a good job at times in the pass game or at protection, so I've got to do a better job of that," said Rainey. "I know that's one of the causes of us not putting ourselves in a position to win the game. Like I said, there wasn't just that one play at the end."
3. Who will have a helmet on come Sunday night?
The Buccaneers have a lot of injured players at the moment; it's not an excuse, but it's not unimportant, either. This, of course, is not a strategic decision, or series of decisions. If a player is not physically ready to perform, he won't be able to suit up against the Falcons.
Until we know more from the Buccaneers' training room, we have to consider the possibility of playing without the likes of McCoy, Johnson, Martin, starting middle linebacker Mason Foster, tight end Austin Seferian-Jenkins and perhaps a few others. Defensive end Will Gholston and starting safeties Dashon Goldson and Mark Barron missed time during the game, as well, though there were no immediate reports from the sideline.
Will McCoy be able to play through his hand injury, and so will he be close to his usual Pro Bowl form? Can Johnson return to add some much needed juice to the pass rush? Will Foster, who has played well in the Bucs' new defense, miss any more time? If the Bucs' depth is tested once again on Thursday, the players say they will be ready.
"That's just part of the game," said Rainey. "We've got to continue to fight and, like Coach said, just find a way to win. That's what we got to do. We have to look at ourselves in the mirror and just find a way that we can help the team win."
Added defensive tackle Akeem Spence: "It's tough you know. We hate to lose a guy like Gerald McCoy. That guy is the best defensive tackle in the league. Clint, Da'Quan and me are trying to come in and fill in for him. You know, pick the slack up. We might not be on the same level as [McCoy], but we're not too far off. So we're just trying to come in and keep the defense going and keep everything rolling.
"It might take a while, but we have to be able to bounce back. You know, right now we're 0-2, and we have a quick turnaround. We have to go to Atlanta, whether we have them or not. We don't have [Adrian] Clayborn, so hopefully we'll get Mike [Johnson] back."
If Seferian-Jenkins is able to return from his own ankle injury, that could be a boost for the league's 28th-ranked offense. The rookie tight end was hurt fairly early in the season opener but showed a glimpse of his promise with a 26-yard catch-and-run on the first ball thrown his way. McCown would obviously appreciate that added help, but he's ready to roll with whomever the Bucs can put on the field Thursday night.
"We have to sort through whatever injuries we may have and have to go out on the field and compete," he said. "It's just a matter of us continuing to show resolve. It's a tough thing. You don't ever find out your resolute until you're into bad spots. You're kind of a front-runner until you do something bad and you come out of it. That's where we are right now. Again, Lovie and our leadership will guide us through this and the veterans will pull us out. I said this earlier, we have the right guys and it's going to come. You don't want it to come this early in the season, but adversity is coming and you just have to process it and deal with it and move forward."