STORY HIGHLIGHTS
The Bucs had a few chances for takeaways Sunday and have to make better use of them going forward
QB Josh McCown intends to make better decisions under pressure in the games to com
Tampa Bay's defense prevented big plays Sunday but needs to get better on third down

The Tampa Bay Buccaneers lost their 2014 season opener, 20-14, to the Carolina Panthers on Sunday afternoon. It was definitely not the way the franchise wanted to kick off the Lovie Smith era. That said, it was also not a repudiation of everything the Buccaneers have worked for to this point. It's true that Tampa Bay can no longer go undefeated in 2014, and they are already a game behind the division leaders. Beyond that, however, nothing has been decided.
Fortunately for the Buccaneers, the path from 0-1 to their first victory doesn't seem too steep. They don't need Joe Montana to drop out of the sky or a rash of hamstring pulls to befall the St. Louis Rams (though a quick and positive resolution to Logan Mankins' knee injury would be nice). They just need to make a few simple fixes
None of these things will occur automatically, just because we want them to. The Buccaneers will have to prove they can make the necessary adjustments. But if they do, the luster of this promising season can be restored very quickly. Here are three ways the Bucs can turn their opening-day disappointment into a Week Two victory.
1. Find the football on defense.
If Lovie Smith's style of football takes hold in Tampa, there won't be too many afternoons in which the Bucs lose the turnover battle 3-0. We'll talk about the giveaways in a moment, but that zero is our concern at the moment. If it was a "one," the Bucs might have escaped a subpar performance with a victory.
The Bucs found themselves down 17-0 early in the final period but were finally able to put together a couple drives, scoring on touchdown catches by Chris Owusu and Bobby Rainey. After Rainey's score, with 2:06 left in regulation, the Bucs had to get the ball back from the Panthers and find a way to get at least into field goal range.
They could have done much more at the 1:52 mark. Blitzing linebacker Lavonte David pressured Carolina reserve quarterback Derek Anderson into perhaps his only terrible throw of the night, and it headed right towards safety Dashon Goldson. The opportunity was unexpected, and it got into Goldson's kitchen in a hurry, but it's a play he could have made, and it might have turned into a pick-six. At the very least, it would have likely set up the tying score.
"It was real close," said Goldson, who showed really good hands on a similar play in Buffalo in Week Three of the preseason. "I thought I was in good position, he broke his route off and as soon as I turned around the ball was right there. Unfortunately I didn't come down with it. I think that would have sealed the deal. I just missed it, no excuses, I just missed it."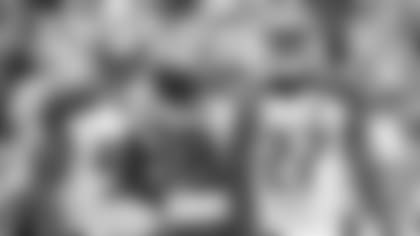 S Dashon Goldson had a chance at a game-turning interception in the fourth quarter
Carolina's only fumble of the game came on a botched snap in the Bucs' red zone right before the game's first score in the second quarter. This wasn't so much of a missed opportunity for the home team as an inauspicious bounce. Anderson dropped the snap amid a jumble of feet but it stayed right in front of him and he was able to pick it up and avoid the turnover. Over the course of a full season, a number of those loose balls will be kicked out into serious jeopardy.
2. Make better decisions under pressure.
With the game still scoreless and the Bucs in Carolina territory after a fluky 54-yard run by fullback Jorvorskie Lane, the home team had a chance to take control of the game early. Instead, Tampa Bay turned it over two plays later and Carolina used the resulting possession to drive for its first touchdown.
The turnover was avoidable, even if it might have meant the end of the scoring opportunity. On second and eight from the Carolina 40, McCown was flushed from the pocket and nearly sacked. As he was being dragged down, he lobbed a pass in the direction of rookie tight end Austin Seferian-Jenkins. It wasn't wildly off target, but Seferian-Jenkins was well-covered by linebacker Luke Kuechly, who tipped the ball into the air. Cornerback Antoine Cason intercepted it.
"I should have just [kept] it and should have went down," said McCown. "I saw Austin there and was trying to make a play. I have to trust our defense and trust our system and realize that everybody has a part in this and has to make plays so I don't have to force them and try to make plays. I think that was part of the reason we got going [in the fourth quarter]. I started to sit back a little bit and trust those guys and didn't try to force things."
McCown's second interception looked similar in that occurred on a broken play and on a very short pass. According to the quarterback, it differed in that he wasn't trying to force a play, but it was still a decision he would like to have back.
"I was just trying to throw it quick on the running game and I kind of checked there to Mike [Evans] and the ball slipped," he said. "I picked it up and knew the play was dead, but I was just trying to throw it over Mike's head and regroup and it slipped again. It was unfortunate. I should have just [eaten] it. Those things can't happen. It's 100 percent on me and we've got to do better in that area and we will do better in that area."
3. Shore up the third-down defense.
Tampa Bay's defense allowed virtually no big plays during Sunday's 60 minutes and finished with respectable numbers (338 yards and 4.9 yards per play allowed). As we've discussed, the lack of turnovers robbed that effort of any real punch, and the second problem was an inability to get off the field.
Carolina converted six of 15 third downs in the game for a 40% success rate that is worse than the league average. Worse, the Panthers were six of nine in the first half while building a 10-0 lead. The Panthers were almost certain to see their third-down rate go down in the second half when calling a safer, more run-heavy game plan.
The Panthers were one of the NFL's best third-down teams on offense last year, but of course that was with running threat Cam Newton under center. Carolina kept that trend up on Sunday even with backup Derek Anderson taking the snaps. The Bucs can't allow that to continue for the rest of the season, and some of it might have been the result of specific defensive play-calling situations.
"It affected us a lot," said Smith of the defense's third-down troubles. "We had a third-and-long situation, and we can't give up those. You look at last year, and I think they were fourth in the league. So they normally stay out of third-and-long situations. So, they have been — that's kind of who they are. We had opportunities across the board. I would like to have a lot of the decisions back that I made today. We'll all get better for next week."