STORY HIGHLIGHTS
LB Lavonte David has yet to miss a game in his NFL career, and he's a constant presence on the practice field, as well
Six of the 26 people on this year's Hall of Fame semi-finalist list have meaning for Head Coach Lovie Smith
The Buccaneers' think a new attitude helped them avoid another late-game loss on Sunday in Washington

"Player A misses practice" is not usually the stuff of headlines. Players miss practice all the time in the NFL, and in any given week a team is going to have a handful of men either unable to participate due to injury or being granted a little extra rest by the coaching staff.
"Lavonte David misses practice," however, is worthy of some extra attention, because Lavonte David never misses practice. In noting that his third-year linebacker was sidelined by a sore hamstring on Thursday, Head Coach Lovie Smith noted that it was the first time he remembered David not practicing since Smith's arrival in January.
"Lavonte David misses a game," is the headline the Tampa Bay Buccaneers do not want to see as they prepare to take on the Chicago Bears, thus the caution with his injury. David did practice in a limited fashion on Wednesday but he was held out completely on Thursday. That's not necessarily a step backward, but it certainly raises the level of concern that the All-Pro outside 'backer could sit out a game for the first time in his career.
"You know when you don't practice – Lavonte hasn't missed a practice since I've been here, that in itself is news, but he normally bounces back fairly quickly," said Smith. "We're taking every precaution we can with him."
David leads the Buccaneers with 116 tackles and has had at least a dozen stops in six of his last seven outings. That number also ties him with Carolina's Luke Kuechly for the league lead, and Kuechly is about to enjoy his bye weekend, giving David the opportunity to take the top spot by himself. If he can play.
The Bucs' injury list is still just four players long, with running back Doug Martin and cornerback Alterraun Verner limited in practice for the second straight day. Rookie running back Charles Sims was added to that list on Thursday with an ankle injury, which likely just means the injury that landed him on injured reserve for half of the season is still causing some discomfort. Martin has missed three games with an ankle injury while Verner has been out for two weeks with his own hamstring issue. Martin's absence has made it a little easier for the Buccaneers to find snaps for Sims, who recently came off that injured reserve list, but the team would still prefer to have its full stable of runners available.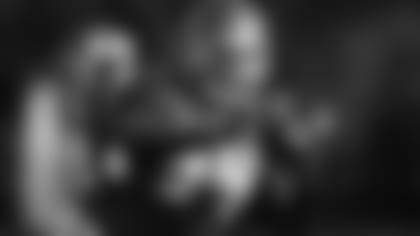 LB Lavonte David practiced in a limited fashion on Wednesday but was held out completely on Thursday
"We've played multiple running backs each game," said Smith. "Once Doug is ready to go we'll get him back into the mix and he'll strengthen our running back position. I can't wait to get him back out there."
Cornerback Demontre Hurst was added to the Bears injury report on Thursday due to a knee ailment. More importantly, perhaps, wide receivers Alshon Jeffery (hamstring) and Brandon Marshall (ankle) saw improvement. Neither one practiced on Wednesday but both were limited participants on Thursday. The only Bears who did not practice at all on Thursday were Jared Allen, who was getting one of those aforementioned days of rest, linebacker Darryl Sharpton (hamstring), WR Chris Williams (hamstring) and DE Trevor Scott (knee).
On Tuesday, the Pro Football Hall of Fame announced that this year's list of Hall of Fame candidates had been pared down to 26 semi-finalists. Included in that group were two prominent former Buccaneers, Head Coach Tony Dungy and safety John Lynch.
Lovie Smith, who happily watched linebacker Derrick Brooks enter the Hall of Fame this past August, also was a peer of both Dungy and Lynch in Tampa from 1996-2000. Smith's next NFL job was as the St. Louis Rams' defensive coordinator from 2001-03, and that makes this year's list of semi-finalists even more interesting for the Bucs' head coach. Also on that list of 26 are four members of the 2001 Rams team that advance to Super Bowl XXXVI along with Smith (and also won the Super Bowl two years earlier): quarterback Kurt Warner, tackle Orlando Pace and wide receivers Isaac Bruce and Torry Holt.
The semi-finalists will be further pared down to 15 finalists in January, and Smith will obviously be keeping a close eye on those results.
"It's gratifying," said Smith. "That was a special group of men, you kind of knew that they were Hall of Famers when they were playing and it's not surprising. I'm just anxious to see how it all shakes out. How are [the voters] going to decide, or if four Rams are going to go in at the same time? It will be interesting. I saw that of course, but my first focus was on how many Buccaneers had an opportunity to go in and we have a few of those."
Through the first 10 weeks of the season, the Buccaneers lost five games in which they had a lead at some point in the fourth quarter. In Week 11, they came out of halftime with a slim 13-7 lead and proceeded to dominate the last 30 minutes of the game.
Tampa Bay's defense sacked quarterback Robert Griffin III three times after the intermission, held Washington to 127 yards of offense and allowed only one third-down conversion in six tries. It was exactly the sort of elusive performance the Buccaneers had been chasing – and fully expecting to produce – for much of the fall. Immediately after the game, defensive tackle Clinton McDonald said his team had taken an "enough is enough" attitude into the game, and then maintained that attitude at halftime, even after giving up a touchdown just before the break. On Thursday, fellow defensive tackle Gerald McCoy added some details to the team's mental approach at that critical juncture.
"Because we haven't had [second-half success] and it's time for a change," said McCoy. "I think everybody just kind of – right as soon as the half ended – everybody said, 'We've been here five times and we've gotten a bad result every time. We don't want the same result.' It's a long drive back to the airport, 40 minutes just sitting on a bus. Nobody wanted to take that drive back to the airport with that horrible feeling again, but more importantly, we just had to change it. Nobody wanted to feel that again. We know how to react to a loss. Coach said, 'Let's see how we react to a win,' and guys just played that way."
Defensive Coordinator Leslie Frazier said the Buccaneer players responded exactly the way the coaching staff had hoped they would when they tried to stress a new attitude during the week.
"It just seems like on that Sunday, guys were really flying around and expected to play well - and they did play well," said Frazier. "That's something we've been pushing - just to expect success. You have to expect to win in our league; otherwise, as soon as something bad happens, you'll fall into the doldrums of, 'Here we go again.' We handled things the right way in that ball game."
In addition to injuries, attitudes and future Hall of Famers, a number of other topics were discussed at One Buccaneer Place on Sunday. More thoughts from Smith, Frazier and McCoy can be found below.
Opening statement:
"Injury list: Lavonte David has a sore hamstring, so we held him out of practice today. Besides that, everybody practiced on at least a limited basis. Doug Martin is getting better and better, Alterraun Verner – both of them did most of the work today, but not all, so we're bringing them back slowly. Beyond that, a good Thursday practice, feel real good about where we are. I'm excited to play, another chance to get an NFC win on the road."
On how he really feels about going back to Chicago:
"This is how I really feel about it: we've got an NFC opponent, a chance to get a win. I used to coach there a while back, like I did at Big Sandy High School, Arizona State, Kentucky, Ohio State, Tennessee and St. Louis [Rams] and have a lot friends there, but we need to get a win. What's the rest of the story?"
On the amount of turnover Chicago has on the roster since he left:
"Things change quickly nowadays, that's all I'll say. With free agency and all, it's very seldom that you do keep a group together for a long period of time, that's just the nature of the game now. I know that the players that they still have are good football players, I know personally, and we get a chance to compete against them, I know how they're going to compete and that's for four quarters and we plan on doing the same."
On what four colleges were playing him at the same time:
"Arizona State, I started off with them. I went to East Carolina for about six weeks, Bill Curry called and I went to the University of Kentucky and then Phil Fulmer called right after the season and I went to the University of Tennessee as a secondary coach, that doesn't happen very often."
On if the pass rush is becoming more consistent:
"I think so, players are back healthy, ready to go and then once you get everybody back, and you're competing for spots. We didn't dress Da'Quan Bowers last week, so guys are competing for the uniforms and you like that. Then you like the competition that goes with one-upping each other. If one guy gets the sack, you want someone else to want that same feeling and it's good competition and hopefully we can get the same type of pressure we got last week."
On the St. Louis Rams and Tampa Bay Buccaneers Hall of Fame semifinalists:
On how tackle Anthony Collins played last week and his matchup against Bears defensive end Jared Allen:
"It was good to him back out there. You know, when you lose your starting left tackle, that's not always an ideal situation, but he did some good things and he should even play better this week. He's familiar with – and it seems like all tackles in the league are familiar with what Allen has done really throughout. He's a heck of a football player, non-stop motor. Leslie [Frazier] knows him fairly well, I know him, I moved and he moved, but here he is again on the other side, so it'll be a tough duty for our guys."
On Chicago's defensive line playing well:
"I thought their front as a whole played fairly well last week. Lance Briggs getting back on the football field makes any defense a lot better. It's a big challenge for us."
On will linebacker Danny Lansanah will fill in for David is he is unable to play Sunday:
"Viable, yes. I thought that was a tough question you had going. That thought process I can see how you would go down there. Danny Lansanah, we talked about him early in the week, three interceptions and two touchdowns. In nickel situations he's not on the football field, but we're a long ways from that. Somewhere way down the line, if we had to play Danny in that role we would feel comfortable."
Defensive Coordinator Leslie Frazier
Opening statement:
"Looking forward to a big ball game against Chicago and a chance for us to put back-to-back wins together. The way our guys practiced yesterday was really positive and hopefully we can have a good practice [today] and just keep trying to improve as the week goes on. So far, so good for our guys."
On what he saw from the team in practice last week that was different from other weeks:
"I think we've had some good practices prior to last week - didn't always get the results that we wanted on gameday. The guys have worked hard throughout the year - we've just come up short on a number of occasions. We just need to have another good week this week. Yesterday was a good day for us and we need to do it again today. They've been working hard throughout the season."
On what his return trip to Chicago means to him:
"You're right, there are a lot of good memories - different stadium than the one I played in, but it's still Soldier Field. It's so different now being a coach versus my playing days. It's a game that we need to get a win for a lot of different reasons and that's what it's all about - just an opportunity for our football team to go get a win against a very good football team and a very good offense. So that's really where my mindset is. Lot of friends there, lot of great memories, but it's all about our trying to get a win on the road against a good football team."
On how having been the head coach of one of Chicago's division opponents has helped him:
"Probably that will be the case more than anything - just having an understanding of their personnel, if they haven't changed coordinators, just having an idea of what their philosophy is. But the circumstances are so different. Probably the biggest advantage is just having an idea of their personnel."
On if Chicago's commitment to the run and the rainy weather conditions will change the emphasis of the defense this Sunday:
"Well they've got an outstanding passing game and very good receivers, good tight end, a quarterback who can get the football in there even in tough conditions. So I don't see them - unless there's a blizzard there - abandoning their passing game. They do have an outstanding running back, but if you watch their team, they have a lot of success throwing the football, and if you look at the stats, they're one of the best passing teams in our league. So I don't think they'll get away from that. We're going to have to be able to defend the run and defend the run well, but we better do a good job in the passing game as well. Those receivers and that quarterback are pretty good, along with that back - along with Forte coming out of the backfield catching the football."
On his first impression of defensive end Jacquies Smith and the progress he has made this season:
"Jacquies, he's continued to improve the more snaps we've given him. He's gotten a little better each week. Ended up getting a game ball for his performance on Sunday and hopefully he'll just keep progressing. He's one of those young guys who shows that quick twitch that you look for when you're looking for a guy who can rush the passer and we'll see how he progresses as time goes on. But so far, so good."
On how hungry Smith appears to be:
"I think he's pretty hungry. Gerald [McCoy] and the rest of those guys in the locker room, they really jab him a little bit - push him. He wants to get better. He doesn't want to rest on his laurels of what happened this past week. So he's working as hard as he can to get better and I think he will."
On the backstory of linebacker Danny Lansanah and what he has brought to this team:
"When you look at how he got to the league and some of the stops he's had along the way and to see how he's flourished in this season, he seems to be Johnny on the spot. He's come up with some big plays for us. The interception he got on Sunday, that was huge [and] helped us in a big way. But it just seems like as the year has gone on, he's gotten better at what he does, and we're trying to find at times more ways to get him on the field because there seems to be good things happening when he's out there. Right now, he's playing primarily in our base defense, but there may come a time when he'll get a chance to get on the field in our nickel defense - which we did when we had an injury to Mason [Foster]. He's done a great job and he's one of those guys you root for when you know his history and he's a great example of perseverance and not giving up, and it's paying dividends for him now."
On if he knew about Lansanah when he was playing in the UFL:
"Not a whole lot. I know some of the reasons he bounced around. Physically, his body is a little bit different than it was at that time when he was in the [UFL]. He's changed a lot when it comes to his work habits and his preparation. He's matured and that's had a lot to do with his performance with us. He's taking advantage of a great opportunity."
On if the defense facing tall Tampa Bay receivers in practice will help prepare them to face Chicago's tall receivers on Sunday:
"Yeah, I think it can, but we don't actually - our defense doesn't actually get a chance to practice against Vincent [Jackson] and Mike [Evans] very much because our [defensive] starters don't practice against our starters on offense, so you don't get those opportunities in team situations very often. In training camp, you do. But the fact that we've had a chance to work against big receivers - the guys in Atlanta, they're pretty big receivers as well - it does help that we get a chance to work against them maybe in one-on-one situations in practice. Those two guys they have, they're talented - both of them. They're big-time guys and we'll have our hands full in slowing them down."
On how confident he is the defensive line can replicate the pass rush this Sunday that they were able to generate against Washington last week:
"Well we need to have it going this Sunday. If that quarterback that they have, Jay Cutler, is able to stay in that pocket and survey the land, it makes it very difficult for us to cover those receivers. So we're going to need our pass rush - our four-man rush to really be effective for us in order for us to have success on Sunday. So we need to make sure that that's working well for us."
On cornerbacks Crezdon Butler and Isaiah Frey:
"Crezdon did some good things for us when he's gotten on the field - was in on some action in the ballgame on Sunday with the injury to Alterraun [Verner] and had some opportunities. I think he's making progress. The game doesn't seem too big to him. Prior to this season, he hasn't been a starter in our league. But he's held his own pretty well. And Isaiah is becoming more and more comfortable with how we do things here versus where he came from in Chicago. There's a lot of similarities, a lot of familiarity for him. And we'll keep putting him out there. He's making progress at the nickel position and he has some corner skills as well. But he's doing pretty good."
On if he is proud of the progress cornerback Johnthan Banks has made this season:
"No doubt about it. He's just continually improved. And he's still young - he's just so young in his career, you just expect him to get better and better as he sees more things and he's put in more situations. He's a smart football player with good athletic ability and he's come up with some big plays for us of late and we just need to see him continue to progress. He's going to have his hands full this week, but that's one of the positives about his attributes - the fact that he's a tall corner. Hopefully that's going to help us in our matchups with their tall receivers. The way he's been playing, I believe he'll go in with great confidence and he'll just keep getting better and better. He's going to have some opportunities to make some plays on Sunday because those guys throw into coverage. So hopefully he'll be able to make those plays."
On if Banks is confident in his abilities:
"He is. The pick that he had on Sunday and the way he scored to get the ball in the end zone after the hit by [Washington quarterback Robert Griffin III], he's playing with great confidence. It's hard to play in the National Football League at corner if you don't have the confidence, and he's playing with great confidence."
On how close defensive end Michael Johnson is to returning to the player he was in Cincinnati:
"He's been up and down with injuries and that's tough. And now, with the broken hand, it limits him again, just like the ankle did. He's playing through things and hopefully - I don't even know the timeframe to get the cast off - but hopefully it will get to the point where he can grip and move people around with his hands now that his ankle is fine - just being able to use his hands to grab guys and push. You need to be able to do that in our business. But that limits him. He's given us what he has and it was good enough for him this past Sunday, and we're going to need him again this Sunday. They've got a pretty good left tackle in Mr. [Jermon] Bushrod. He's a good player."
On how it felt to see everyone on defense getting involved in the win against Washington:
"The only way to have a dominant pass rush is if you rush together - all four guys. It can't just be one guy or two guys; it has to be everybody doing their part. And when you do that, everybody can get in on the action. It's very rewarding when the room gets the sack. Of course, individually, there will be stats, but the room gets the sack and that's all we're concerned about. We rush as a unit and we were able to do that Sunday."
On the performance of linebacker Danny Lansanah this season:
"He stepped in and has been great for us. A lot of the plays he makes is because he hustles to the ball. Coach always talks about getting 11 hats to the ball; well, he's been consistent with it with getting around the ball. When you hustle and are playing hard, good things happen. He's an example of that."
On if the defense performed their best this season at rallying to the ball against Washington:
"Yeah, I believe so."
On his first impression of defensive end Jacquies Smith and if he thought he was a promising talent:
"Well I didn't know [when he first joined the team]. I knew he could run, I knew he was good coming off the edge. He's undersized, so I knew we brought him in to rush the passer. I always say I trust the guys upstairs, so if they felt like we needed him, then I was all for it. Well since then, he goes to practice every day and he works and works and works and works, and it's starting to translate over to the game. Him being just a naturally gifted pass rusher, it's starting to show."
On if Chicago knowing the defense of Lovie Smith could be a disadvantage to the team:
"We're just going to go out there and execute our game plan. We're just going to have to outplay them."
On if there is extra motivation to win this Sunday due to Lovie Smith's history with Chicago:
"Chicago is the next game on the schedule, so that's my motivation."
On how important it would be to get back-to-back wins:
"You want to get that one [win], but like you said, the goal is to keep it going, and it all starts in your preparation in the meeting room and then letting that translate to practice; having good practices and letting that translate to the field on Sunday. Yesterday was a very competitive practice, I will say that. Back-and-forth, offense, defense, everybody competing, and our own individual drills. We got a good start, but we have to keep it going today."
On if winning back-to-back games would reaffirm that the team is heading in the right direction:
"You win back-to-back games, obviously it's a good thing. I don't think that has been stressed, that we have to win another game. It's just stay the course, keep doing what we've been doing and just keep improving. But of course, winning two-in-a-row is good for us."
On how close they are to replicating the pass rush they generated against Washington consistently for the rest of the season:
"We competed well yesterday in practice. When you get at this point in the season, you have to learn how to practice without pads and be able to rush the passer in practice without pads. So today will be huge for us, especially with it being the third day out there for us. Guys just have to get after it. But we'll see on Sunday. You don't know until you play."
On what he has done to help defensive end Michael Johnson deal with his hand injury:
"I've talked to him, but you've got to ask Mike how much help I've been to him. I can't answer that."
On Warren Sapp visiting the team facility yesterday and if his presence added anything to the team:
"Yeah, of course. You've got one of our few Hall of Famers come back – it's obviously great to see him. You hear him before you see him definitely. You could be in the lunch room, you know he comes in the building when the door opens because – you guys have been around him – Sapp is Sapp. Yesterday, I think Josh McCown was asked, 'Did you see Sapp?' He said, 'No, but I heard him.' So it's always great when he's back or any of our former great players; always great when they come back to talk to us or just be around us. Just being in their presence is an honor and it's always good."
On the emergence of rookie wide receiver Mike Evans:
"You never get it figured out, but he's starting to understand – I don't know if he understands yet that he's special. And when I say special, you have those player who when they play sometimes, it's like, 'Man, that guy is playing really hard,' then sometimes, you're like, 'Man, that guy is unstoppable,' but then you have those special players where they just kind of make it look easy. Just real smooth, he never looks like he's running hard, never looks like he strains to catch the ball, he stiff arms people – they go to the ground, but it's just like so nonchalant. When you see people like that and they continually do it, those are special players. Mike is one of the special ones."
On if there is anyone on this team that has the same swagger as Sapp:
"99 is 99. There's only going to be one."
On how the rainy conditions in Chicago will affect the team:
"It's football, man. It's a man's game. Whatever the weather is, you just deal with it and play."