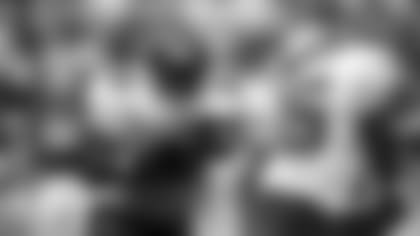 RB Warrick Dunn went from draft pick to the Pro Bowl in one amazing season

The Tampa Bay Buccaneers believe their soon-to-be-assembled 2010 draft class is going to be a critical part of the team's foundation for years to come.
But that's only the half of it. As important as this year's group of rookies will be for the future, the Buccaneers also expect some of them to contribute immediately. Long-term success is the franchise's overarching goal, but there are wins to chase and a postseason berth to capture in 2010. The talent that arrives in March will be a big part of such efforts.
That's the idea, at least.
Obviously, there are rookies who make a big impact in the NFL every season. There wouldn't be much use for the Rookie of the Year award otherwise. Last year, the landscape of the league was undeniably altered by the arrival of Percy Harvin, Brian Orakpo, Michael Oher, Brian Cushing, Shonn Greene and, yes, Bucs quarterback Josh Freeman.
On a team-by-team basis, however, it's no sure thing from year to year. Tampa Bay won the Super Bowl in 2002 but had essentially no input from its rookie class, save some special teams action by Jermaine Phillips. On the other hand, the 1999 Bucs team that nearly made the big game might not have made it to the NFC Championship Game without rookies Shaun King, Martin Gramatica and Anthony McFarland.
Clearly, opportunity plays a big part in how quickly rookies emerge, or if they emerge at all in their first seasons. Just as clearly, a team's scouting staff has to nail its evaluations in order to get the right new players on the roster. And, of course, there is the matter of how quickly the new players, no matter, how physically talented, grasp the nuances of the jobs they are asked to fill. Even Ronde Barber, obviously the best cornerback the Bucs have ever had, played only sparingly in his first year.
There are many variables. The important thing to remember is that it can happen. It has happened, and it will happen again. A player drafted by the Buccaneers will become a significant part of his team's success just a few months later. To illustrate that point, as the Bucs try once again to strike gold on draft weekend, we are going to count down the top 10 rookie seasons ever by Tampa Bay draftees.
It should be noted that a newcomer can make a big impact in his first year even if his name isn't called on draft day. Clifton Smith, who went from tryout player to Pro Bowler in eight months in 2008, is a fantastic example of this fact. In this particular exercise, however, we're considering only Buccaneer draft picks. That means we won't be considering, despite how deserving they are, the likes of Smith, Karl Williams, Elbert Mack, Michael Husted and surely many others.
Below, our list, from Number 10 down to the top choice for his impact as a rookie. But first, a few very notable names that you might have expected to see on the list, topped by Hall of Fame DE Lee Roy Selmon, who was limited by injury to six starts and five sacks as a rookie before truly exploding in his second season. Others in this group include:
QB Shaun King, who started the 1999 NFC Championship Game as a rookie but didn't take a snap until December;
DT Warren Sapp, who showed flashes of his potential in 1995 but finished with just three sacks and was only a part-time starter;
LB Derrick Brooks, who started immediately unlike fellow '95 first-rounder Sapp, but came off the field in nickel packages and had his only sub-100 tackle season, with 79 to go with one interception and one sack;
RB Errict Rhett, who may deserve to be on the list with his 1,011 yards in 1994 but didn't really get started until the season's second half and can't quite bump two other tailbacks from the list below;
S John Lynch, who was somewhat miscast in the Bucs' defense for a few years before the arrival of Tony Dungy;
RB Ricky Bell, who blew up with 1,263 yards in 1979 but had just 436 and 2.9 yards per carry;
QB Doug Williams, who lost six games due to injury in 1978 and finished with a (somewhat misleading) 53.5 passer rating; and
QB Josh Freeman, who certainly inspired serious optimism for the Bucs' future in 2009 but took over at midseason and finished with a rating not too much higher than Williams'.
A few other honorable mentions: LB David Lewis (13 starts, 96 tackles, 2 INTs, 2 sacks in 1977), RB Jerry Eckwood (690 rushing yards in 1979), WR Kevin House (24 catches, 5 TDs and 22.1 yards per catch in 1980), RB James Wilder (370 rushing yards, 48 catches, 5 TDs, started at fullback in 1981), T Ron Heller (14 starts at RT in 1984, helped James Wilder gain 1,544 rushing yards), CB Ricky Reynolds (opening-day starter, 4 INTs, 70 tackles, 16 passes defensed in 1987), WR Lawrence Dawsey (55 catches for 818 yards and three touchdowns in 1991) and S Tanard Jackson (16 starts at free safety, 78 tackles, 2 INTs, 12 passes defensed in 2007).
Again, this is a list only of the 10 most impactful rookie seasons by Buccaneer draft choices, not a determination of the best players in team history. Men such as Sapp, Lynch, Williams and hopefully at some point Freeman, became cornerstone players for the franchise, but didn't necessarily get the opportunity to make the list below.
10. Tackle Paul Gruber, 1st round, 4th overall in 1988 draft.
One year after drafting the player they expected to be their franchise quarterback with the first overall pick in 1987, the Buccaneers used their next first-rounder to find the man who would block Vinny Testaverde's blind side. They chose wisely with Wisconsin's Paul Gruber, who stepped immediately into the starting left tackle job as a rookie. Gruber not only started every game in 1988, he was on the field for every single offensive snap (a streak that would extend through his first five seasons, actually).
Gruber instantly became the Buccaneers' best and most valuable offensive lineman and he was named to the all-rookie team selected by Pro Football Weekly. The effect on the Bucs' passing game was immediate, as the number of sacks allowed by the team dropped from 43 in 1987 to 34 in 1988. Overall, Tampa Bay's offense improved from 27th in 1987 to 17th in Gruber's first year.
9. Fullback Mike Alstott, 2nd round, 35th overall in 1996 draft.
The Bucs began their 1996 season with neither their leading rusher nor their second-leading pass-catcher from the year before, as Errict Rhett began an ill-advised holdout and Alvin Harper headed back to Dallas. Purdue's Mike Alstott, projected by some to be a first-round pick, immediately helped fill both voids.
In fact, while he would later have more impact between the tackles, Alstott's biggest addition to the offense in his rookie season was in the passing game, where he led the team with 65 receptions for 557 yards and three touchdowns. Though it was later broken, that catch total was at the time a new team record for rookies. Alstott also led the team with six total touchdowns as he showed the nose for the end zone that would ultimately define his career.
Alstott started at fullback, allowing Dave Moore to go back to being a tight end, but proved to be much more than a blocker, especially as the Bucs spread carries around while waiting for Rhett's return.
8. Guard Greg Roberts, 2nd round, 33rd overall in 1979 draft.
The Bucs didn't have a first-round pick in 1979, having traded it to Chicago the year before to get defensive end Wally Chambers, but they hit the jackpot five picks into the second stanza. That's where they got Oklahoma guard Greg Roberts, who like fellow Sooner Davin Joseph 27 years later, was ticketed for the starting right guard job.
Roberts did indeed step right into that position, starting every game that year for the upstart Bucs team that shocked the NFL by winning the NFC Central and advancing to the conference championship game. The Bucs had the league's top-ranked defense in '79, led by defensive end Lee Roy Selmon, and a heady leader in quarterback Doug Williams. But the running game powered the Bucs' offense that year, and Roberts was an unsung but critical part of that success. Athletic and mobile for the position, Roberts did a lot of his blocking on the run that year, fitting perfectly into a Buccaneers scheme that produced 2,437 rushing yards, still a franchise single-season record. RB Ricky Bell came into his own with a 1,263-yard season, and a lot of his success was found in the interior lanes.
7. Running back Cadillac Williams, 1st round, 5th overall in 2005 draft.
If this was a list for biggest impact over a player's first three games, Williams would take the top spot easily and would probably be on the short list among all players drafted across the league. All Williams did in the first three games of 2005 was rush for 434 yards, the most ever by an NFL player in his first three pro outings. The Bucs came out of that blitz with a 3-0 record (en route to 4-0) and Caddy's shoes ended up in the Pro Football Hall of Fame.
Williams was good the rest of the way, too, even though he lost two games and parts of several others to injury. He finished the season with 1,178 rushing yards, a new record for Buccaneer rookies, averaged 4.1 yards per carry and scored six touchdowns. The Bucs' rushing attack improved by almost 400 yards overall and the team went from 6-10 in 2004 to 11-5 and division champs in 2005.
At the end of the season, Williams was named the NFL's Rookie of the Year, indicating that his impact in his debut season was felt throughout the league.
6. Defensive tackle Santana Dotson, 6th round, 132nd overall in 1992 draft.
The Bucs didn't have a first-round pick in 1992, the result of a regrettable 1990 trade for Chris Chandler, but they still managed to have a productive draft, thanks in part to astute picks such as Baylor's Santana Dotson in the sixth round.
Dotson expected to go earlier on draft weekend and most definitely arrived in Tampa with a chip on his shoulder. That extra motivation manifested itself in an instant impact when the regular season began, as Dotson exploded for five sacks in the first three games. Though he couldn't quite maintain that pace, Dotson did get to 10 sacks by season's end, doubling the previous record of five by a Buccaneer rookie. He started every game in 1992 and added 71 tackles from the under tackle position.
In Dotson's fourth game, he not only registered a sixth sack but also snatched a fumble out of midair and returned it 42 yards for a touchdown. That earned him NFC Defensive Player of the Week honors. More were on the way; at season's end, Dotson was named the NFL's Rookie of the Year by The Sporting News and the NFC Defensive Rookie of the Year by the NFLPA/USA Today.
5. Cornerback Donnie Abraham, 3rd round, 71st overall in 1996 draft.
The Bucs needed an influx of new talent in 1996, as Tony Dungy took over the helm of a team with 13 straight losing seasons, so it's fortunate that two of the 10 players on this list are from that year's draft.
Abraham was taken a round after Alstott and was able to grab a starting spot almost as quickly. After four games in a reserve role, the Bucs moved Abraham into the starting 11 in game five and he never looked back, picking off five passes to lead the entire defense. He also finished the season with 57 tackles, two fumble recoveries and 12 passes defensed.
The most telling statistics, however, concerned the Bucs' pass defense as a whole. Tampa Bay allowed more than 1,000 fewer yards through the air in Abraham's first year than they had in 1995, in the process improving its league ranking from 26th to 4th. Obviously, the arrival of Dungy and Monte Kiffin and their Cover Two defense had much to do with that, but drafting Abraham out of East Tennessee State gave the Bucs the perfect corner to enact that system.
4. Kicker Martin Gramatica, 3rd round, 80th overall in 1999 draft.
Before 1999, the Bucs had never spent a pick as high as a third-rounder on a kicker, and for good reason. Even the most highly-regarded kickers are often long shots to nail down an NFL job in their first few pro seasons.
But the Bucs had a poor kicking game in 1998 and a strong belief in Kansas State's Martin Gramatica. Their belief proved to be justified when Gramatica not only won that job in his first training camp but then immediately recorded one of the best seasons ever by a Buc kicker. Gramatica hit on 27 of 32 field goal tries and all 25 of his extra points to score a team-record 106 points. The '99 Bucs were lopsided in favor of their swarming defense, which meant many of their games turned into tight, low-scoring affairs. The Bucs needed to have confidence in their kicker, and they quickly found they could count on Gramatica, as he made his first 10 NFL field goal tries. In just his 10th pro game, Gramatica nailed four field goals against Atlanta, including 50 and 53-yarders in the fourth quarter, to put the Bucs up 12-10 (Abraham then sealed the 19-10 victory with an interception-return touchdown).
Gramatica even made three of four tries from 50 or more yards in his rookie campaign, then hit on both of his tries in the playoffs. His two field goals in St. Louis had the Bucs on top, 6-5, heading into the final five minutes of the NFC Championship Game. Gramatica was named to Pro Football Weekly's all-rookie team.
3. Wide receiver Michael Clayton, 1st round, 15th overall in 2004 draft.
The Bucs traded for Joey Galloway before the 2004 season but he suffered a groin injury in the season opener at Washington and missed essentially half of the season. Veteran pickup Tim Brown was at the very tail end of his career and not a downfield threat. Joe Jurevicius was still plagued by his 2003 injuries. July pickup Bill Schroeder looked like a find at first but tailed off quickly. Charles Lee wasn't ready for a full-time job.
Into this void stepped LSU's Michael Clayton, the 15th pick in the '04 draft but, amazingly, the fifth receiver taken that year. He would emerge as the most productive of the bunch in 2004, shattering the Bucs' rookie receiving records with 80 catches for 1,193 yards and seven touchdowns. At the time, those were the fifth most prolific receiving numbers by any rookie in NFL annals.
Clayton's catch total was, at the time, the fifth highest by any player in Buccaneer history and his yardage mark was third best. He played in all 16 games and made 13 starts and was perhaps the most consistent offensive force on the team. Clayton opened the season with seven catches in his debut, got six more in Week Two and finished with only three games in which he had fewer than four grabs. He also finished strong, with a nine-catch, 145-yard outing at San Diego in December and four touchdowns in his last four games.
2. Linebacker Hugh Green, 1st round, 7th overall in 1981 draft.
The Buccaneers proved adept at finding good linebackers throughout their first decade in the league, and Pittsburgh's Hugh Green was one of the best finds.
Green stepped immediately into the defensive mix in his rookie season, starting all 16 games at outside linebacker for the playoff-bound Bucs. He was instantly one of the team's most productive defenders, too, racking up 151 tackles, which still stands as the team's record among rookies and at the time was the most ever by a Buccaneer outside linebacker.
Green wasn't just a tackling machine; he filled up a stat line. That would be true during his Pro Bowl seasons the next two years, but it was also true in his debut campaign, when he added three sacks, two interceptions, 19 quarterback pressures, seven passes defensed, five forced fumbles and one fumble recovery to his 151 stops.
Green made every all-rookie team and was even named an alternate to the 1981 Pro Bowl. After the season, John Madden named a team of 22 players with whom he would like to start a new franchise, and Green was one of his selections.
1. Running back Warrick Dunn, 1st round, 12th overall in the 1997 draft.
It's not a huge surprise to find Dunn at the top of this list. After all, he is the only player ever drafted by the Buccaneers who played in the Pro Bowl after his rookie season. (Clifton Smith, undrafted, became the second rookie Pro Bowler in Buc history in 2008.)
Drafting Dunn the year after adding Alstott proved to be a masterstroke. Their "Thunder and Lightning" styles complemented each other perfectly and led to nearly 400 more rushing yards in 1997 than the team had managed the year before. Moreover, both backs were excellent pass-catchers; one year after Alstott led the team in receptions, Dunn took over that mantle in '97 with 39 grabs for 462 yards.
Overall, Dunn produced 1,440 combined rushing and receiving yards, the most by any rookie in the NFL that year. That was, and is, a Bucs rookie record and it was at the time the fourth-highest mark by any player in team annals. It remains fifth-best, as only Dunn's own 1,555-yard season in 2000 has surpassed it since.
The Buccaneers went from 6-10 in 1996 to 10-6 in '97, in the process earning their first playoff berth in 15 years. Dunn was a consistent force throughout the season, accounting for more than 100 combined yards in eight different games. He also emerged as the team's top big-play threat, recording a team-high seven plays of 40 or more yards.
Dunn was everything the Bucs had hoped for when they made him the 12th overall pick in the 1997 draft, and much more. In fact, no drafted rookie in team history has ever had a more significant impact in his first NFL season.