STORY HIGHLIGHTS
DE Michael Johnson's best outing of the season so far was one of Bucs' top performances overall through six weeks
RB Bobby Rainey's Week Two outburst against St. Louis was a bright spot for Tampa Bay's rushing attack
QB Mike Glennon showed poise and confidence in his first 2014 start and that allowed him to lead the team to victory

The Tampa Bay Buccaneers head into the bye week with a 1-5 record but an unshaken belief that they can turn the 2014 season around after the break. To do so, they will need some of their biggest stars to lead the way, and Head Coach Lovie Smith expects them to do just that.
"That's why I feel good about us going forward," said Smith. "It's one thing to be disappointed, but then [it's about] having a plan, and then having veteran guys to implement that plan. Just having veteran players to let our young players know [that] just about everybody on our team has been through a disappointing part of a season and just letting them know about their experience and what we can do. And, again, the game isn't over. We have a lot of football left to go."
The Buccaneers believe they have the leaders needed to steer their young players through difficult waters, but also the talent necessary to win on any given Sunday. And certainly, that talent has been on display at various times during the first six weeks of the season, despite the team's disappointing record. So, with an eye towards what these players are capable of over the next 10 weeks, let's take a look at the top five single-game performances by Buccaneer players so far in 2014.
5. WR Vincent Jackson in New Orleans, Week Five
The Buccaneers fell behind quickly in the Mercedes-Benz Superdome on Oct. 5, watching Drew Brees direct three straight scoring drives to put the home team on top, 13-0. That put the Bucs in comeback mode early, and with the running game not producing much, that left it up to Mike Glennon and his pass-catchers. Glennon looked to one target, in particular, again and again.
Of the 32 passes the second-year quarterback threw that afternoon, 12 were aimed at Vincent Jackson. Eight of them found their mark for a total of 144 yards, which accounted for 57.8% of Tampa Bay's passing yards on the day and 44.9% of its total yards.
"'A' grade by Vincent," said Smith the next day. "We haven't had a lot of 'A' performances, but Vincent Jackson did everything you would want a captain, a top-money player, to do play after play."
It was Jackson's 12-yard catch that got the Bucs' first scoring drive going late in the first half. After the Buccaneers had taken an 11-point lead and the Saints had closed the gap with a touchdown near the end of the third quarter, Jackson caught 17 and 34 yard passes to set up a nine-yard touchdown toss to rookie Robert Herron. The 34-yarder was a beautiful piece of improvisation between Jackson and Glennon; the former saw his quarterback scrambling away from trouble and suddenly darted downfield into a wide-open zone, allowing Glennon to drop in the perfect lob pass.
The Buccaneers eventually lost that game in overtime, never getting a chance on offense in the extra period. They wouldn't have been in overtime, however, if not for Jackson's exploits.
4. CB Alterraun Verner in New Orleans, Week Five
While it might seem a bit specious to award a defensive player in a game in which the opposition gains 511 yards, Verner's performance that afternoon is one of the reasons the Buccaneers nearly one despite that output by Drew Brees and the Saints.
The Buccaneers' defense came into that Week Five game with just one interception on the season, that one secured by a linebacker. Verner nearly quadrupled that total himself. In the end, he would finish with "just" one pick, but his timely and repeated plays on the ball gave the Bucs a chance to win.
While the Saints took that early 13-0 lead, they tried to step on the Bucs' necks with much more force. Brees and his cohorts are experts at knowing when to take a deep shot, and they saw an opportunity just two minutes into the game. Facing a third-and-seven at their own 40, the Saints sent WR Robert Meachem deep down the right numbers and when Brees let his long pass go it looked like it was going to be a quick six points. Instead, Verner, in pursuit, found another gear and caught up at the end with a leaping dive that got him to the ball before the ball could get to Meachem. Verner couldn't quite hold on to the acrobatic interception, but he did kill a frightening New Orleans threat.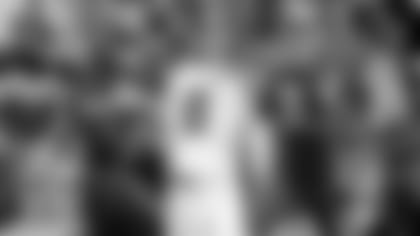 Some of the best individual performances for the Buccaneers during the first six weeks of 2014 were turned in by (from left) DE Michael Johnson, RB Bobby Rainey, QB Mike Glennon, WR Vincent Jackson and CB Alterraun Verner
Verner also had five tackles in the game, but his best plays were in coverage. Verner also nearly intercepted a short pass late in the first half while covering the Saints' electric rookie, Brandin Cooks. He finally got that pick at a very crucial moment. With the game tied near the end of regulation and the home team taking one more crack at avoiding overtime, Brees got his team to midfield. The Saints faced a third-and-10 and still had time to maneuver into field goal range, but they surprised everyone by throwing deep to Meachem again. Verner somehow wasn't fooled and he intercepted the long pass at the Bucs' 11, forcing overtime.
Of course, Brees did get his team into the end zone in overtime, so Verner took little solace in his outstanding performance.
"There's no question it was a missed opportunity today. We had that game won – there's no excuse for us losing," he said in the locker room after the game. "Kudos to them – they made the plays to come back and tie it up and then made the final plays to win the game. It seems they might have wanted the win more than us – I don't know right now. But we had no business losing that game."
3. RB Bobby Rainey versus St. Louis, Week Two
The Buccaneers' running game has been an unexpected trouble spot during that 1-5 start, but the numbers would look far worse if not for Bobby Rainey's outstanding performance in Week Three.
With Doug Martin sidelined by an ankle injury, Rainey got the start and almost all the carries. He would finish the game with 22 carries for 144 yards (averaging 6.5 yards per tote) plus three receptions for 30 yards. His 174 yards accounted for a little over half of the team's entire offensive output for the day.
"Bobby was awesome," said QB Josh McCown after the game, knowing Rainey's work on the ground kept the Rams' pressure off him so he could complete 16 of 21 passes and take just one sack. "I wasn't here last year, but they told me about Bobby and how when he filled in he carried the ball well and he certainly was that today. He was fantastic and it's no surprise."
Rainey looked good right from the jump, hitting the hole quickly and making decisive cuts upfield. He ran around right end for 24 yards on the second play of the game, sparking a 10-play, 77-yard touchdown drive. Early in the second half, it was a 10-yard tackle-breaking run that got the ball down to the one-yard line to set up McCown's second TD scramble, and his 31-yard breakaway in the fourth quarter positioned the Bucs for a go-ahead field goal.
The Rams countered with another field goal for the game's final points, but the Bucs had one more chance, getting the ball at their own 20 with 38 seconds to play. Rainey gave the drive instant life with a 19-yard catch and run, followed by McCown's spike with 20 seconds to play. McCown then hit WR Mike Evans for 29 yards, getting the ball to the edge of field goal range, but because Evans was slow to get up and the Bucs were out of timeouts, the officials ran the last 10 seconds off the clock.
After the game, Rainey downplayed his own efforts, as they were part of a loss. When he did address his big day, he chose to spread the credit around.
"Guys did a great job," he said, referring to his offensive line. "Like I said, how many yards I have is because of those guys. It's not me just doing it. You've got to have a hole in there. They're the ones creating the hole and I'm just doing my job as a running back, seeing it and hitting it."
2. DE Michael Johnson at Pittsburgh, Week Four
After rolling his ankle in the first defensive series of the season against Carolina, Johnson missed the Rams game in Week Two and played only a half-dozen snaps in Atlanta in Week Three. He was cleared to start against the Steelers, however, even though he still was not running at 100%.
What he had in the tank proved to be more than enough.
On the second play of the game, fellow Buc lineman Gerald McCoy sacked QB Ben Roethlisberger back at the Steelers' 14. That forced Roethlisberger to drop back on third-and-16, and before he could set up a play he saw his pocket collapse in on him. Johnson got to him for another sack and this time knocked the ball loose. Jacquies Smith recovered for the Buccaneers and Mike Glennon tossed a touchdown pass to Mike Evans two plays later.
Johnson would later get a second sack, and he would be credited with five tackles, a tackle for loss and a quarterback hit. Though the sacks were the loud plays, Johnson was equally important to a Buccaneer run defense that had its best day of the season. Steeler backs Le'Veon Bell and LeGarrette Blount were coming off a game against Carolina in which both cracked 100 yards; here, they were held to 88 and the Steelers picked up just 3.1 yards per carry.
According to the grades on Pro Football Focus, Johnson was the Bucs' second-best run defender on the afternoon, just behind Verner. He was also the second-best pass-rusher on the day, behind McCoy. Put those two things together and you clearly have one of the best performances the Bucs have seen this year.
"Michael Johnson has played injured throughout the season; I wouldn't say that he was 100 percent yesterday, but he really showed up," said Smith. "He played well, got one of our highest grades we give from a performance and I'm really pleased with him – our entire defensive line, they set the tempo. I just liked his overall play. He tweaked his ankle a little bit early. Got rolled up again. Wasn't lucky with that, but shook it off, came back in. We'll need play like that from Michael throughout."
1. QB Mike Glennon at Pittsburgh, Week Four
Mike Glennon got his first career 300-yard game in Pittsburgh – 302 to be exact – and the Buccaneers desperately needed every one of them. In fact, it was his five-yard touchdown pass to Jackson with seven seconds to play that put him over the top.
That capped a performance in Glennon's first start of the season that was roundly described as "poised" and "veteran-like." After the Bucs got an early 10-0 lead, the offense went to sleep for the middle of the game and the Steelers managed to go up by seven midway through the third quarter. Glennon didn't panic, even after his deep pass down the sideline from midfield was intercepted by Chad Allen after intended target Mike Evans pulled up with a groin injury. Fortunately, the Bucs' defense got a stop and Glennon was able to direct an impressive 12-play, 83-yard field goal drive, starting at his own eight. The big play was a 31-yarder to Louis Murphy that converted a third down just outside of field goal range.
Another critical third-down conversion in the last half of the fourth quarter, this one on a 22-yard hookup with little-used wideout Russell Shepard, put the Bucs in position to win it just after the two-minute warning. That drive stalled on four straight incompletions from the 14, but Tampa Bay's defense was once again able to get the ball back. That's when Glennon made one of his best plays of the game…and it gained no yards at all.
After a short punt, the Bucs started at Pittsburgh's 46 with 40 seconds to play. Glennon's first dropback fell apart quickly and he wisely chose to throw the ball at Rainey's feet. Living to fight another day, Glennon then hit Murphy for 41 yards down to the Pittsburgh five on the very next play.
"He has a great arm, so a lot of the throws, he's confident that he can get the ball wherever," said Smith. "But that can get you into trouble some times. You feel like, 'Hey, I can force any ball anywhere.' And that's what I like about him: he doesn't take a lot of chances. Threw the ball away when he needed to. I look at quarterbacks' decision-making, and he made good decisions throughout the day, and if he couldn't get a ball some place, he put it where no one could get it."
Glennon finished the day with a pedestrian 79.7 passer rating, hurt mostly by a 50% completion rate and that fluky interception. But he was just what the Buccaneers, then 0-3, needed to spark their season. His pass to Jackson near the left edge of the end zone was in a place only his receiver could get to it, and Jackson didn't let him down, diving for it and holding on as he hit the ground.
"I saw the same guy that I've seen with everything else that we've asked him to do, a poised and confident player that can play football," said Smith. "When you're labeled the 'Quarterback of the Future,' that's what you're supposed to do when you come out. The future was in front of us a little bit earlier than the initial plan, but you need to be ready at all times and again, how he handled it there right at the end, having to make that final throw kind of said it all."
Honorable mentions: Gerald McCoy had eight tackles, two tackles for loss, a sack and a quarterback hit in the opener against Carolina and was consistently in the Panthers backfield. Lavonte David has had three straight double-digit tackle efforts, and in the Pittsburgh win he contributed an enormous amount with 12 tackles, three tackles for loss and a forced fumble. Danny Lansanah's second pick-six of the season, in New Orleans, was part of a 10-tackle, two-passes defensed effort. Louis Murphy's 99-yard day in Pittsburgh came just five days after he re-signed with the club.