STORY HIGHLIGHTS
The Bucs are trying to get the sort of improvement out of their O-Line that the D-Line has experienced in recent weeks
The team continues to look for a spark in the return game, which has had some mishaps the last few games
Inexperienced LBs Danny Lansanah and Orie Lemon played well in Lavonte David's absence on Sunday

Lovie Smith met with the press on Monday afternoon, less than 24 hours after the Tampa Bay Buccaneers lost a 21-13 decision in the rain at Soldier Field in Chicago. In the interim, Smith had an opportunity to review the tape from that game, meet with his team and gain a more detailed understanding of what unfolded on Sunday afternoon in the Windy City.
So, upon further review, here are a few things Lovie Smith and the rest of us learned from – and/or what new questions were raised by – the Buccaneers' second win of the year.
1. In certain games this season, the Buccaneers have not gotten what they expected out of their reworked offensive line.
Quarterback Josh McCown threw for a season-high 341 yards on Sunday in Chicago, and when two other factors are considered, that's a pretty remarkable number.
For one, it was raining steadily throughout the second half, conditions that likely played a part in the Bear's Jay Cutler throwing for just 130 yards. McCown was able to overcome that issue but, all things considered, couldn't do enough to overcome the other one: A disappointing outing by the Buccaneers' offensive line.
O-Lines are generally judged, in a quick and dirty fashion, by two numbers in the box score: rushing yards and sacks allowed. Tampa Bay ran for just 66 yards on 22 tries (3.0 avg.) against the Bears and McCown absorbed five sacks. Those two stats don't always paint a completely accurate picture, but in this case they are supported by some additional analysis as well as the day-after-game thoughts of Smith himself.
"As we look at what happened yesterday offensively, we didn't play as well as we need to on the offensive line, and that's been the case a few times," said Smith. "Just talking about yesterday, Josh was under a lot of pressure. We've talked an awful lot about being a balanced offensive attack, but when you can't run it consistently, that hurts. Believe me, we don't want to be a team that's passing the ball that much, but at the same time, you've got to do what you feel like you need to do to win the football game, and that's what we did. You have to give them a lot of credit. Their front really played well yesterday – defensive front."
According to the game reviewers at ProFootballFocus.com, McCown was pressured on 26 of his 55 drop-backs on the day. At least two, if not all three of his turnovers were due at least in part to pressure. His first-quarter interception came on a fluttered ball that was the result of a downfield pass gone awry when he was hit in the chest while throwing. The ball he lost on a sack-fumble by DT Stephen Paea was, obviously, the result of defensive pursuit. The second interception, shortly after the fumble, occurred on a pass that deflected high off RB Charles Sims hands; it's not clear if McCown was rushed or hampered by pressure on the play.
Tampa Bay changed four of the five starters on its offensive line after a rough performance in 2013. One of those was inexperienced second-year man Patrick Omameh, who saw his first regular-season NFL action when he started the opener at right guard. The other three, however, are experienced veterans imported from other teams, where they had performed well: LT Anthony Collins (Cincinnati), LG Logan Mankins (New England) and C Evan Dietrich-Smith (Cincinnati). The Bucs still expect to forge that group into a successful unit, but Smith conceded that the results to this point have not been what the team had hoped for. Of course, the same could be said of the Bucs' defensive line during a good portion of the season, but that group is now performing much better.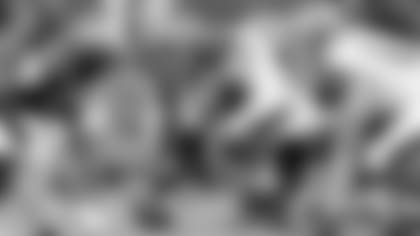 The Buccaneers put a lot of work into their offensive line in 2014 and believe they can shape it into a dominant unit
"I think that's safe to say," Smith answered. "We haven't played as well on the offensive line as we would have hoped. We thought we needed to retool it starting off, had a few injuries, but we haven't played as well as we need to. Everything starts up front. So as we talk about what we're doing offensively, I'll always start off talking about what we can do with our offensive line. As we talk about our defense and about the last month or so, we've played a lot better – the defensive line has led that charge. So I think that's safe to say.
"We're trying to solve [the O-Line issue]. But don't know exactly what it is. We haven't played our best ball always together. And it just takes a couple of bad plays – it's not like we had a lot of bad plays the other day, but if you break down a few times and end up getting a really bad play, an interception or something like that, it looks a lot worse. It's not like we didn't get anything from our running attack yesterday. We were able to get a little bit. But again, the pressure was just a little bit too much."
2. A spark in the kick return game continues to elude the Buccaneers.
Tampa Bay is on its third primary kick and punt returner this season – former Miami Dolphin Marcus Thigpen – but it has yet to find the right answer. Thigpen had a crucial 53-yard punt return in the Bucs' back-and-forth battle with Atlanta in Week 10 but otherwise has been most notable for a pair of muffed punts the last two weeks. Neither one ended up hurting the Buccaneers, thanks to a great defensive stand in Washington in Week 11 and Thigpen's ability to recover his own fumble on Sunday, but that is obviously an enormous red flag for a coach like Smith who puts great emphasis in the kick-and-return game.
"Each week, we analyze what gives us the best opportunity to win," he said. "We haven't been pleased with it. I think three games or so, we've put balls on the ground; that's not a good thing. We need to be able to get more from…we haven't been able to get much production from our [punt] return game, or our kickoff return game, and we need to do that."
The Buccaneers actually rank fourth in the league in punt return average (11.2) but that's a bit skewed because the return men have called so many fair catches that the two good returns – Thigpen's 53-yarder and Solomon Patton's 33-yarder – have an inordinate effect on the average. In reality, there have been roughly as many heart-stopping moments with the football on the ground as there have been helpful returns. The kickoff return game is producing 22.5 yards per runback, good for 21st in the league, but has just one return longer than 30 yards.
3. Danny Lansanah and Orie Lemon helped the Bucs' defense weather the absence of All-Pro linebacker Lavonte David.
Linebacker Lavonte David, a 2013 Associated Press All-Pro and one of the NFL's co-leading tacklers through 11 weeks, was unable to play on Sunday in Chicago due to a hamstring injury. David missed a game for the first time in his three-year career, and there aren't too many players on the roster whose absence is more concerning on game day.
So perhaps it was unexpected that Tampa Bay's defense had, statistically, it's best game of the 2014 campaign. Chicago gained only 204 yards of total offense, was held to an anemic 3.6 yards per play and was able to convert only four of 16 third downs. Two of Chicago's three touchdown drives started inside the Buccaneers' 20 after turnovers. There wasn't anybody on the Bucs' defense who put up 12 or 14 tackles, as David has made a habit of doing every Sunday this season, but the group came together to do a very good job.
Some of the credit goes to the duo of Danny Lansanah and Orie Lemon, two players who had never made as much as a single NFL start before the 2014 season. Lansanah was a midseason pickup last year who has emerged in 2014 as a quality NFL starter; Lemon was nabbed early this season from the Dallas Cowboys' practice squad while the Bucs were weathering some injuries at the position. On Sunday, Lansanah moved over to David's weakside position while Lemon took the snaps on the strong side when the Bucs were in their base defense.
"I think they did a pretty good job, considering we were without Lavonte David, the best outside linebacker in ball," said Smith. "I think we did a pretty good job. Danny didn't get a lot of reps in practice at [WLB], so to move into that role, he did some good things; Orie Lemon also stepping in at the SAM position. Talking about two backup players that moved into prominent roles and kept the train going forward. [The] linebacker play was pretty good yesterday."