STORY HIGHLIGHTS
The Bucs nullified their turnover advantage by committing too many penalties on Sunday against the Bengals
Tampa Bay's special teams work could have been a winning edge if the end of the game had played out differently
With Johnthan Banks and Alterraun Verner healthy, Tampa Bay's secondary is limiting big plays

Lovie Smith met with the press on Monday afternoon, less than 24 hours after the Tampa Bay Buccaneers lost a 14-13 nail-biter to the Cincinnati Bengals at Raymond James Stadium. In the interim, Smith had an opportunity to review the tape from that game, meet with his team and gain a more detailed understanding of what unfolded in Week 13 of the 2014 season.
So, upon further review, here are a few things Lovie Smith and the rest of us learned from – and/or what new questions were raised by – the Buccaneers' loss to the Bengals.
1. Penalties can nullify even the most important advantage in football.
Smith has emphasized the importance of winning the turnover battle many times before, but unfortunately it's been an extremely relevant topic the last two weeks, and not in a way favorable to the Buccaneers.
Smith's research suggests that teams that manage a turnover ratio of +2 or better in a game come out as victors around 85% of the time. That is almost eerily accurate when it comes to Buccaneer history; combining all of the games in which the Buccaneers either won or lost the turnover battle by two or more, the team that had more takeaways won 85.8% of the time (265 of 309).
Over the last two weeks, however, that number has been only 50%. Tampa Bay was dominant in many ways during its Week 12 game at Chicago but ended up on the wrong end of a 21-13 final after three key second half turnovers (and a -3 ratio overall) directly led to a Bears rally. On Sunday against the Bengals, the Buccaneers won the turnover battle by two, thanks to three first-half interceptions, but still came up short on the scoreboard. Why didn't that add up to a win this time? Well, the Bucs changed the formula by adding the unlucky number 13…that's how many penalties the home team absorbed on Sunday.
"Normally I preach turnover ratio, and if you win that, you're going to win the football game," said Smith. "What I've found out this year is that that many penalties can offset anything you do with the turnovers. Again, I knew it, but I've seen it too many times right now. And again, that shouldn't be one of the harder things that you do. If you just went into every game and said, 'Hey, we've got to keep the penalties under double digits – got a great chance to win the football game,' we'll take those. But it hasn't worked out that way."
Obviously, the 12-men-on-the-field penalty that robbed the Bucs of an apparent opportunity to kick a game-winning field goal was the most destructive of those 13 flags. Some of the other 12 were ones Smith considers acceptable or unavoidable, such as wide receiver Mike Evans drawing a pass-interference flag because he was trying to prevent an interception.
What causes Smith or any NFL coach to shake his head is not the penalties that occur during the heat of the action – such as the killer hands-to-the-face flag Johnthan Banks drew late in the overtime loss at New Orleans – but the ones that are a matter of procedure, things that are covered in practice over and over. Obviously, having 12 men on the field is an example of that, but so is an illegal-formation call that wiped out a 28-yard run by Doug Martin in the first quarter. The Buccaneers also had a holding call with 43 seconds to play after gaining a first-and-five at the Cincinnati 31, from which spot the winning field goal would have been a very doable 49-yarder. Had the Bucs simply tacked on a few relatively ineffective runs at that point, they would have had a great chance to win; instead, they moved backward and had to scramble. The 12-men-on-the-field sequence came two plays later.
"The discipline part comes back, though, when you have that many at the end of the game," said Smith. "Trying to separate exactly what happened – we had too many [penalties] on the offensive side yesterday. Again, most of them brought big plays back or put us in a hole. Mike's offensive pass interference? [I] can live with that; [he] thought the guy was going to get the interception. So I'm not talking about those. The rest of them, no defense for. They're killing our team.
"[It's] situational football right up until the end of the football game when [there are] certain things you cannot do, especially when you're in field goal range already."
2. On a normal afternoon, the Bucs' special teams play would have been a winning edge.
Smith believes that a team can steal a win or two a season by winning the battle on special teams, and that's why he insists on placing an emphasis on that phase of the game. However, the kick-and-return game has rarely been a winning edge for the Buccaneers this season and occasionally has been a significant advantage for the opposition.
Not on Sunday, however. The Bucs were solid in every phase of their special teams and likely would have considered that a deciding factor had they been able to kick the game-winning field goal.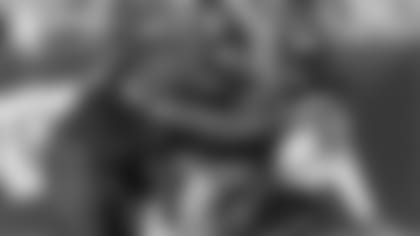 LB Orie Lemon helped the Bucs completely shut down dangerous return man Adam Jones on Sunday
Rookie kicker Patrick Murray never got that chance, but he did hit on both of his attempts, from 32 and 42 yards. Punter Michael Koenen finished with a strong net punting average of 38.3 and also hit all four of his kickoffs into the end zone, two for touchbacks. New punt returner Bobby Rainey fielded the ball cleanly without difficulty and got a respectable 21 yards on three runbacks. Special teams ace Russell Shepard downed one of Koenen's punts at the Cincinnati one-yard line in the first quarter.
The starring unit on the day, however, was the punt-coverage squad. The Bucs were facing one of the league's most dangerous return men in Adam Jones but they kept him (and his eventual replacement, Brandon Tate) completely bottled up. Jones was swarmed over instantly on both punts he tried to return, and he even called a fair catch in the second half, breaking a streak of 96 straight returns without using that option. Overall, the Bengals got -1 yard on three returns.
"Special teams [held] down their return game, especially their punt returner," said Smith. "Good coverage with it. Since the bye week, some of the coverage teams have improved quite a bit."
Shepard had two kick-coverage tackles to go with his big play on the first-quarter punt and continues to build his resume as one of the more valuable special teams players in the league.
"Russell Shepard has played well, but he really played well yesterday," said Smith. "He had about as high of a grade you can get on special teams yesterday with an A, but we've gotten great play from him throughout, not only as a special teams player, but when he's had to play receiver for us, [and] of course a little quarterback. Quite a bit that we've gotten from him and again, that's why it's still disappointing, we have some players on our offense and defense, we have players getting better, we hold them to the same standard and we just haven't gotten that consistent play from enough of our guys on both sides of the ball right now."
3. The play in Tampa Bay's secondary continues to improve.
Late in the fourth quarter, Tampa Bay's defense was trying to stop Cincinnati deep in its own end in order to force a punt that would set up good field position for a potential game-winning drive. The Bucs did eventually get that punt, but not before the Bengals converted a third-and-11 from their 19 with a 30-yard completion from Andy Dalton to James Wright.
That play hurt, but in the bigger picture of the last three weeks, it was a serious aberration. Wright's gain was the Bengals' longest of the day and one of only two plays that gained at least 20 yards. WR A.J. Green, one of the game's best big-play receivers, topped out with a 20-yard catch on a failed drive in the first quarter. Those two plays actually rank as the longest by any wide receiver against the Buccaneers over the last three weeks. Smith's defense is supposed to make it difficult for opposing teams to get big chunks through the air, but that wasn't the case in the first half of the season when the players were struggling to grasp the system. Now, the tide seems to have turned.
Part of the reason is good health for the starting cornerback duo of Johnthan Banks and Alterraun Verner. Banks has three interceptions over the last five weeks and has been repeatedly praised by Smith for his rapidly-improving play. Verner has come back from a hamstring injury to provide instant stability to the pass defense. That has allowed such young players as Brandon Dixon to play smaller roles as they become acclimated to the NFL. Banks, Verner and Dixon all picked Dalton off in the first half on Sunday, with Dixon getting his first NFL interception on a leaping play in front of Green.
"A lot of good things happened yesterday defensively, like I've talked about since the bye with our defense," said Smith. "[We] played hard throughout, right up until [the end] – gave up a big third-down play at the end of the game, but came back and held them without a field goal to give ourselves a chance there late. Johnthan Banks; Alterraun Verner – since he's come back from the hamstring injury; Brandon Dixon getting his first pick.
"A.J. Green is a great player, one of the best receivers in the league and we're asking a young player like Brandon Dixon to guard him and he stepped up to the plate. To get your first interception against a great player like that – there's a lot good things going on behind the scenes, that's why it's just disappointing that our record doesn't show that right now. In time, getting guys like that valuable reps will pay off for us."
S Major Wright has helped stabilize the back end of the defense, too, since taking on a bigger role following the trade of Mark Barron. Wright didn't play against the Bengals, however, due to a shoulder injury, so the team leaned on the promising young Bradley McDougald. McDougald had four tackles and no major malfunctions as the Bengals were held to 176 net passing yards.
"Bradley played a good football game yesterday," said Smith. "He's good football player, I've been saying that all along and that's what we'll continue to get from him if he continues to play. He did a good job yesterday."