STORY HIGHLIGHTS
Failing to establish the run early kept the Bucs from getting fully into their playbook Sunday
A clearer picture on Logan Mankins' injury probably won't be available until Wednesday
Offensive Coordinator Jeff Tedford came back to work on Monday and is expected to be calling plays in Week Two

Lovie Smith met with the press on Monday afternoon, less than 24 hours after his Tampa Bay Buccaneers absorbed a 20-14 loss to the Carolina Panthers in the 2014 season opener. In the interim, Smith had an opportunity to review the tape from that game and gain a more detailed understanding of what went right and what went wrong during those three hours.
So, upon further review, here is what Lovie Smith and the rest of us learned from – and what new questions were raised by – the Buccaneers' disappointing but far from demoralizing season opener.
1. The failure to establish the run early was the first falling domino that led to the team sputtering on offense for three quarters.
Smith and the rest of the Bucs' coaching staff didn't discuss their offensive plans in great detail before the season, preferring to keep whatever small advantage they might have from being unknown. That's one reason the Bucs' offensive "identity" remains a bit of a mystery; the other is that it may take a few games for that identity to be established. That is, Smith and Jeff Tedford and the rest certainly have plans for what they plan to do on the ground and through the air, but they couldn't be sure which parts of the attack would end up working the best when the real games began.
They still don't. The Bucs had a 10-minute disadvantage in time of possession and didn't sustain many drives until the fourth quarter on Sunday. The success in the final period was at least somewhat encouraging, but it's fair to say that the Panthers were more concerned about the Bucs' using up the clock at that point.
"Well as you look at what we did yesterday, first off in the first half, we didn't have the ball enough," said Smith. "In order to establish an identity, you have to have the ball. And I don't think any team has an identity until you get to the season and then you see what you're going to be, what you can do. And it changes each day, each game."
For the game against Carolina, with its outstanding front seven and league-leading 60 sacks in 2013, the Buccaneers did have one specific goal in mind when it came to their offense: Establish the run early. That didn't happen, and certainly the injury to Pro Bowl left guard Logan Mankins in the first quarter was a blow to those hopes.
"Yesterday, what we wanted our identity to be was we wanted to establish the run, which would open up other things for us," said Smith. "We weren't able to do that. It does hurt you when you lose one of your starting guards right away. But that can't be a reason why. Some days, you get in, you need to run the ball. Some days, the run isn't there, and you have to be able to pass the ball. We've talked about balance. So if you ask me what we'd like to be, we would like to be a balanced offensive attack."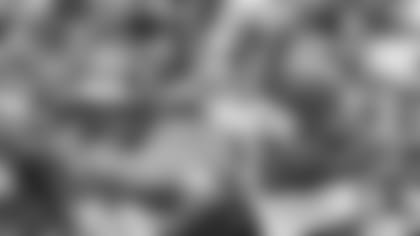 RB Doug Martin found little room to run on Sunday against the Panthers
The Buccaneers did prepare some up-tempo options during the offseason and training camp but didn't go to it much in the season opener. Again, that was a result of insufficient time with the football overall, which itself was the result of an ineffective rushing attack.
"Eventually we would like to be an up-tempo team, but again in order to be an up-tempo team you have to have plays, you have to sustain drives and we weren't able to do that," said Smith, though he did note that the team's 50.0% success rate on third downs was an encouraging sign. "You look at all of the different stats, there was one that if we can continue convert 50 percent of the time on third downs, that will help us in the long course of the season. That's about the only thing that we really did well yesterday if you want to throw out a number.
"We prepared for a hot day and we wanted to finish strong at the end. I think we did finish strong at the end, even though our play wasn't as up-tempo or as exciting as we wanted it to be early on, we did finish that way. You have to build on that from the first game heading into the second."
2. The Bucs did get a little banged up in the opener, but the extent of their new injuries won't be made clear (at least publicly) until Wednesday.
Each NFL team is required to give its players one off day per week during the season, and the most common approach is to do so on Tuesday after using Monday to review the previous game. The Buccaneers flip that schedule, so the players are off on Monday. As such, Smith doesn't have his first team meeting with his players until Tuesday, and he's a little reticent about disseminating certain types of information before he can tell it to his players. That includes injury updates from the previous game.
As such, it likely won't be until the team returns to practice on Friday and then puts out its first official injury report of the week that we get particularly useful updates on the players who suffered bumps and bruises against the Panthers. Smith did say there were a "few" new injuries, though he considered that normal for the opening game.
Obviously, the headliner there is the knee injury sustained by Mankins, who did not re-enter the game after he was helped off the field in the first quarter.
"We're evaluating him, and that could be [an] MRI, all doctors checking up him every which way we can," said Smith. "But right now, we can't really talk an awful lot on it. We don't know a lot more right now."
Garrett Gilkey, who was claimed off waivers from the Cleveland Browns just over a week ago, got the call at left guard when Mankins went down. If Mankins has to miss any additional time, the Buccaneers will turn to their own depth chart for a replacement, rather than the waiver wire.
"As you look at our roster right now, we kept 10 active players or we have 10 guys on our 53-man roster on the offensive line," said Smith. "We'll probably be choosing from those. Normally we keep eight offensive linemen, so we are a couple over right now and we'll probably choose from that group, if Logan can't [play]. Logan has been injured before and he feels like he'll be able to go. I'm not saying much about injuries right now, let me hold on a little bit."
Smith also revealed that defensive end Michael Johnson, a critical new piece in trying to rev up the Buccaneers' pass rush, rolled an ankle early in Sunday's game and was less effective the rest of the way because of it. Third-year player Scott Solomon saw a lot of playing time with Johnson hurting.
3. Rookie Solomon Patton was a bright spot, and could continue to be one for the Buccaneers.
Many analysts were surprised when the Buccaneers waived Patton, the undrafted rookie receiver out of the University of Florida, in the previous weekend's final round of roster cuts. Patton had looked sharp as a return man during the preseason and had even briefly gained the top spot on the depth chart for that job.
As it turned out, Patton didn't miss a single practice or even a game. He was first re-signed to the practice squad, and when he was promoted to the active roster on Saturday it gave the Bucs an opportunity to keep him in that role for the regular season.
Patton handled it well, averaging 14.0 yards on four punt returns and 26.0 yards on two kickoff returns while also showing no difficulty securing or holding on to the ball. With the Bucs trailing by 10 and down to their last half-quarter of action, the rookie nearly turned the game around with a breakaway punt return, getting 33 yards to set up a touchdown drive.
"Going all the way back to the week before when we released Solomon, the [roster] numbers kind of got him a little bit," said Smith, who had been prepared to use Bobby Rainey on punts and Chris Owusu on kickoffs. "He did enough in the preseason to really show us that he could help us. We had an opportunity to bring him up and of course he jumped at it. I thought he was one of the bright spots that had a winning performance from that game from start to finish. Rookie, undrafted free agent, the game definitely didn't seem too big for him. He was going vertical with it and almost being able to break one. I'm pleased with what he was able to do in his first game."
4. The team is planning on having Jeff Tedford back at the helm of the offense next weekend.
Jeff Tedford was largely absent from team headquarters during the preparations for the season opener as he continued to recover from a medical procedure that took place in late August. Tedford did swing by the office a few teams to offer his input, and he stayed on top of film review, practice tape and the like with his team-issued Surface tablet. But he and the team were cautious, as they should have been, and all along the target for Tedford's full return was Week Two.
"As we talked about Jeff last week and we mentioned him being able to do a little bit more, he was able to do that last week," said Smith. "Friday's practice he was here, [he was] in the press box giving a little bit of input [Sunday], but we were really kind of gearing towards him being ready this week. He's in the office, he was in there early this morning, full-time, ready to go, leading the meetings and hopefully we're back on track . We need Jeff out there."