STORY HIGHLIGHTS
A "club" type bandage is a potential option for Gerald McCoy and his injured hand, but not necessarily the preferred one
If McCoy and LB Mason Foster can't play in Atlanta, that could change the team's play-calling on defense
The offensive line was a bright spot for the Buccaneers in Sunday's loss

Lovie Smith met with the press on Monday afternoon, less than 24 hours after his Tampa Bay Buccaneers took a last-minute, 19-17 loss against the visiting St. Louis Rams at Raymond James Stadium. In the interim, Smith had an opportunity to review the tape from that game and gain a more detailed understanding of what went right and what went wrong during those three hours.
So, upon further review, here is what Lovie Smith and the rest of us learned from – and what new questions were raised by – the Buccaneers' second game of the year.
1. Gerald McCoy's hand injury makes him a significant question mark for the Atlanta game, especially on a short week.
The Buccaneers did not practice on Monday, which is normal in one sense in that the players usually get that day off under Lovie Smith. However, Monday also happened to be just three days before the Bucs' next game, which is usually when the team holds one of its two most involved practices of the week. As such, Smith provided a hypothetical practice status for three of his players, stating that defensive tackle Gerald McCoy, linebacker Mason Foster and tight end Austin Seferian-Jenkins all would have been unavailable had the team practiced on Monday.
That's not particularly surprising news, since the former two missed significant parts of Sunday's game with hand and shoulder injuries, respectively, and the latter didn't even suit up due to an ankle sprain. All three are very valuable players for the Buccaneers, but it's McCoy who mans perhaps the most important position on the team's defense and plays at an All-Pro level. His status will be more clear on Tuesday, when the Buccaneers do practice, but the team is obviously preparing for his potential absence.
The Buccaneers signed former Seahawk Clinton McDonald during the offseason and installed him as the starter at nose tackle next to McCoy, but McDonald was also seen as a player who had the pass-rush skills to capably manage the under tackle position. He had one of the Bucs' two sacks on Sunday, and 5.5 of them last year in a reserve role in Seattle. Last year's starting nose tackle, Akeem Spence, is obviously available for that role and the team is comfortable playing big defensive end Da'Quan Bowers inside.
"We have a couple of options; of course Bowers is one inside," said Smith. "You still have Akeem Spence, Clinton McDonald – we'll have a three-man rotation for the most part unless we were to bring somebody else up, but that's not the plan. Right now Gerald wouldn't practice today, we're going to let that play out."
McCoy tried to go back into the game after his obviously painful hand fracture but didn't last long. The team will consider covering his hand in a large bandage often referred to as a "club," but Smith doesn't appear to be favoring that idea at the moment.
"That is an option," said Smith. "Some positions, you can get by with that a little bit. But on the defensive line, that's a lot harder to do. You need to be able to grip and hold. So yes, that's an option. But hopefully, we won't have to go that far down the road with it, but we'll see."
2. Without the services of McCoy and Foster – not to mention Adrian Clayborn and possibly Michael Johnson – the Buccaneers might have to tweak their defensive play-calling a bit.
While it's misleading to paint the Buccaneers as a "Cover Two" team on the vast majority of snaps, Smith doesn't shy away from that description as his team's defensive base. He also doesn't argue that the Cover Two works best when the front four is generating an adequate amount of pressure.
That wasn't the case in the second half of Sunday's loss to the Rams, when the defense was unable to force reserve quarterback Austin Davis into any critical mistakes. Eventually, with a number of starters on the sideline, the Buccaneers' defensive staff was forced to change up the game plan a bit and look for other ways to try to get to the quarterback.
"We probably did that a little bit in the game," said Smith. "Getting back, now having the chance to watch the video, you still can't get too far away from who you are. The next guy up has to do a better job rushing. We'll never get too far away from the Tampa 2 in certain situations. Losing Gerald McCoy, of course it hurt an awful lot; but other teams in the league lost good players too. And Mason Foster, the Mike linebacker – just picture your quarterback on the [defensive side of the ball]. But we have guys; it's why you have a 53-man roster – we need other players to step up in those two key roles."
Bowers and fellow end William Gholston are two of those players, and Gholston did have the Buccaneers' second sack on Sunday. Moreover, the two players showed decent stamina after missing roughly a month of game action each. Still, if those two and – if he returns – Michael Johnson don't get enough pressure on Matt Ryan on Thursday night, it might be time to dip into the blitz packages again.
"We thought they did some good things, more in the run than the passing game, but I was pleased with how [Bowers and Gholston] started," said Smith. "We need to get more from them and they're a part of that, we're not getting enough. We've had two quarterbacks come in here and we haven't pressured them enough and have gotten ourselves in a position we feel like we had to blitz more just to be able to get some pressure."
Smith knows something has to change, because with just one takeaway and three sacks through two games, his formula for success on defense isn't being met by a long shot, even though the Bucs are tied for 13th in the league in fewest points allowed.
"A lot is being said about our offense and what we're doing in certain situations, but we're really not performing well enough right now on the defensive side," he said. "From long drives to taking the ball away to third downs and our first goal on the defensive side is to score and we haven't come close to any of those things right now, at this stage of our season we haven't. They will come."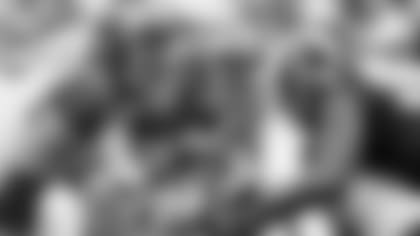 The Bucs' front line helped open some good running lanes for Bobby Rainey on Sunday
3. When the O-Line isn't a major storyline, that's a good thing.
Without a doubt, the Buccaneers' offensive line was the most scrutinized position for the first eight months of the calendar year. That group was almost completely overhauled, with only right tackle Demar Dotson holding on to his job and several long-time Buc vets leaving town, and the two starting guard positions remained questions marks well into August.
A dramatic late-summer trade for Pro Bowl guard Logan Mankins added continued to fuel the conversation, especially when Mankins suffered a temporarily-frightening knee injury in his first quarter of play as a Buccaneer.
Mankins powered through the injury, however, and started against the Rams. There's little doubt that his renowned run-blocking had something to do with a strong performance from the Bucs' line, which helped produce 157 yards on the ground and allowed only one sack. Lovie Smith's desire to field a balanced offense can only be met if the offensive line is playing well, so that was at least one encouraging aspect of Game Two.
"I think just about every time I've come in here someone has asked about the offensive line," said Smith. "I don't hear any questions now and that's a good thing. Our offensive line, that's a good front that we played against. Bobby Rainey, talking about my glass half full as it is, the job Bobby Rainey did stepping up and the offensive line put him a position to do those things. Those are the things that we will build on."
And while we're specifically discussing Smith's review of the game, it's worth noting that Rainey had high praise for his blockers after his 144-yard outing.
"We're going to run the ball first, anyway," said Rainey. "That's our focus, that's what we do, run the ball. The offensive line did a great job in that game and we look forward to having the same thing going in this game. Every play I know that I ran, for the most part, the line was there, on to the 'backers and the front four. They did a great job getting on those guys and getting to the second level. The type of holes that we had, it was easy for me to run the ball."