STORY HIGHLIGHTS
The Bucs' pass rush came alive on Sunday, and one reason for that was better coverage on the back end
Tampa Bay players didn't let a bad stretch before the half shake their confidence against the Redskins
DT Clinton McDonald hasn't received much press but he's been everything the Bucs were hoping for when they signed him

Lovie Smith met with the press on Monday afternoon, less than 24 hours after the Tampa Bay Buccaneers completed a dominant 27-7 over the Washington Redskins at FedExField. In the interim, Smith had an opportunity to review the tape from that game, meet with his team and gain a more detailed understanding of what unfolded on Sunday afternoon in Maryland.
So, upon further review, here are a few things Lovie Smith and the rest of us learned from – and/or what new questions were raised by – the Buccaneers' second win of the year.
1. The Bucs' rejuvenated pass rush owed something to stronger work by the secondary.
There were plenty of factors that led to the Buccaneers posting their best single-game sack total in almost a year. The return of starting right end Michael Johnson from injury certainly did not hurt, and conversely the early-game exit of stud left tackle Trent Williams almost certainly weakened Robert Griffin III's protection. The Bucs had a lead for much of the game, and they were facing a quarterback that tends to keep some plays going longer than usual, sometimes to negative ends. Ringleader Gerald McCoy would tell you that the Buccaneers' front line did a much better job of "rushing as a unit," something he has been harping on for much of the year.
But Tampa Bay's defensive backfield deserves some credit, as well. Playing without starting left cornerback Alterraun Verner, the Buccaneers faced a team that not only featured the strong-armed Griffin but also had one of the league's best deep threats in DeSean Jackson and enough of a run-game commitment to keep the safeties honest. And yet, while Bucs quarterback Josh McCown recorded a fantastic average of 12.52 yards per pass attempt, Griffin's was just 6.47, and a lot of that was thanks to the open-field running of his tailbacks. RBs Roy Helu, Jr. and Alfred Morris accounted for 93 of Griffin's 207 passing yards.
Simply put, most of Washington's passing yards came after the catch, and almost none of Griffin's passes were caught more than 10 yards down the field. That's indication of a secondary that is taking away the quarterback's options downfield, leading to sacks and dump-offs (though, to be sure, many of the short passes to backs were planned screens).
"It has to go hand-in-hand," said Smith of the pass-rush and the pass coverage. "We did do a pretty good job in the back end covering them and I think the defensive staff did a good job of mixing things in, bluffing and showing, playing man, playing zone and for the most part playing our defense."
The pressure on Griffin began with the very first play, when a blitzing Lavonte David found a clear path to the quarterback. David's blitz ended strangely, with him seeming to pull up, perhaps in an attempt to bat away the pass, but that worked out for the Bucs because Griffin's pass was bobbled by TE Niles Paul and then intercepted by LB Danny Lansanah. The Bucs never let up after that, keeping the heat on Griffin with a total of 11 QB hits. The secondary's work obviously helped, and the Bucs are going to need more of that going forward.
"It's critical, it's a must and I would say to a man that they would all say that," said Smith. "Of course the defensive line better say it, but all of our defensive guys, everything starts up front. I know they had a couple of injuries on their offensive line [and] we had six sacks or so, but there was a lot more than six sacks, there was constant pressure throughout. It's hard for a quarterback to complete throws."
2. The Bucs took the right mental attitude out to the field…at the start of both halves.
The Buccaneers have had a couple good starts to games this year, and a couple good finishes, but rarely both on the same day. And Sunday at FedExField was the first time in 2014 that the team has been able to feel in any way comfortable in the fourth quarter.
There was a point, however, where the Bucs' Week 11 game could have started to resemble the series of disappointing close calls that preceded it. After using three takeaways to control the action for most of the first half, the Bucs saw a potential 13-0 halftime lead turn into a much less satisfying 13-7 edge thanks to a successful two-minute drill by Washington.
The Bucs weren't going to fold after giving up one score, but they could have started to lose confidence and fray a bit around the edges. Instead, they let their disappointment over that final Washington drive run its course and came out in the second half as if they were still in control.
"We had dominated the game for the most part," said Smith. "And for them to get that…we were in great position still. We had the lead, we had the ball coming out of the second half, and I thought we were a better football team. Our guys felt that way. It [was] just about getting back out there and dominating the second half.
"We lost some games in the past, but this was a new day. That wasn't the mindset because of how we played that second half. We kept the pressure on throughout. Again, there was disappointment [in the Washington TD], but no more than that. I think the guys felt like they were the better team. 'This time, we're going to finish the job.' [We] just really felt like we were in position to finish a game."
The Bucs had started the game believing they were going to win, too, despite bringing a 1-8 record to D.C. While Smith's first season at the helm hasn't gone remotely as expected, at least in the W and L columns, his team has never checked out on him or his coaching staff.
"I know you have to have faith before [you win] and believe in what we're doing," said Smith. "When you've lost as many games as we have, you have to keep believing, and then just kind of go on what is actually happening – looking at reality. The reality is we've been improving. We haven't been able to finish football games, but we've been in games. I believe you are what your record says you are, but it's a little bit more to it than that. And for our football team – I know, as a head coach –they're getting the message. And you can look in their eyes and see and know when they believe in what we're doing. But you need to get wins to truly validate what you believe. And when you go on the road in a hostile environment and dominate a team like that, it has to help."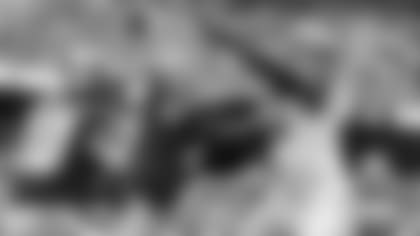 DT Clinton McDonald has sacks in each of the last two games and a total of three on the season
3. We might need to talk about Clinton McDonald a little more.
The Buccaneers signed four veteran players in the first 24 hours of free agency in March. Three of those four – defensive end Michael Johnson, quarterback Josh McCown and cornerback Alterraun Verner – have been very prominently featured in the discussion surrounding the team this season, in large part because all three have had to deal with frustrating injuries.
Johnson and McCown were back on Sunday, and that proved to be a very good thing for the team. Verner was out for a second straight week with a hamstring injury, and that could have been a very bad thing if the pass-rush hadn't been so strong and Johnthan Banks hadn't continued his second-half surge.
Meanwhile, defensive tackle Clinton McDonald kept plugging along. A week after recording the Bucs' only sack against Atlanta, McDonald was the first of five different linemen to get to Griffin on Sunday, dropping him for a six-yard sack two plays into the second quarter. That play came on third-and-four from the Bucs' 39; it was the classic right-play-at-the-right-time. A third-down conversion could have led to a touchdown drive, and even a short gain would have put the Redskins in solid field goal range. An incomplete pass might have prompted Washington to go for it on fourth-and-four rather than settle for a low-impact punt. Instead, McDonald pushed the Redskins back six yards and suddenly the only logical choice was a punt.
McDonald has three sacks on the season and has played more defensive snaps than any other lineman on the roster. In fact, only Banks and linebacker Lavonte David have played more snaps than McDonald among all the defenders. Not only has the former Seahawk been a rock on the field, he's apparently been the same thing in the locker room.
"A lot of times when you get a nose guard, you're not asked about him an awful lot," said Smith. "But Clinton McDonald has been everything we've wanted him to be coming here. We wanted him to be a force. He's one of the elder statesmen – guys listen to Clinton. Because he's not a 'B.S.-er. And for a nose guard, he's rushing the passer fairly well. [I've] just been very pleased with the leadership he's brought. His overall [work] in our locker room, on our football team has been outstanding."