STORY HIGHLIGHTS
Lovie Smith has already begun the process of locating the Buccaneers' next offensive coordinator
T Demar Dotson did nothing over the final three weeks to hurt his chances of starting at left tackle in 2015
Smith has reason to believe the Bucs are close to being a playoff competitor next year and beyond

Lovie Smith met with the press on Monday afternoon, less than 24 hours after the Tampa Bay Buccaneers concluded the 2014 season with a 23-20 loss to the New Orleans Saints. In the interim, Smith had an opportunity to review the tape from that game, meet with his team and gather some perspective on how the season unfolded.
So, upon further review, here are a few things Lovie Smith and the rest of us learned from – and/or what new questions were raised by – the Buccaneers' loss to the Saints and the conclusion of the 2014 campaign.
1. Smith wants to hire a new offensive coordinator as soon as possible, but he will be thorough in his approach.
Lovie Smith knew exactly who he wanted in place as his offensive coordinator when he got his second NFL head coaching gig, and indeed the Buccaneers hired Jeff Tedford just two days after they brought Smith aboard in early January.
Obviously, Smith could not have foreseen the health issue that removed Tedford from the Buccaneers' picture just before the start of the regular season. And while the team did its best to operate in Tedford's absence, it was clear by the end of the season that the offense had found that hurdle difficult to overcome.
Once again, Smith would like to have his offensive coordinator in place as quickly as possible for the 2015 season. He did not have a year away from the game to plan his moves this time around, however, so the process isn't nearly as far along. He called the OC search "one of the first orders of business" on Monday but he'll also make sure he takes enough time to get the decision right.
"We're not playing a game tomorrow or anything like that, but I'd like to get the staff in place really as soon as possible," said Smith. "But at the same time, [I'm] not rushing anything; we have time. So I'm going to take my time and use this opportunity, as I said, to talk to as many people as I possibly can and go from there."
Four NFL teams – the Atlanta Falcons, Chicago Bears, New York Jets and San Francisco 49ers – have fired their head coaches since the end of the season, which obviously increases the number of proven coaches looking for work. Since it became clear that Tedford was not returning, Smith has had a chance to survey the league and get a feel for some of the candidates who might be available.
"I've been looking throughout [the season]," he said. "[I've been] evaluating coaches on my staff and, of course, I'm a football fan, just looking at what's happening in our profession, too. There are a lot of people I'd like to talk to. I want to talk to as many people as I possibly can to get the right fit for us. But we have coaches in the playoffs that can't talk and different things like that. I'll just say the process has begun."
When the time comes to start narrowing down the coordinator prospects and enticing the preferred option(s) to come to Tampa, Smith thinks the Buccaneers' pole position in the 2015 draft should offer some added enticement.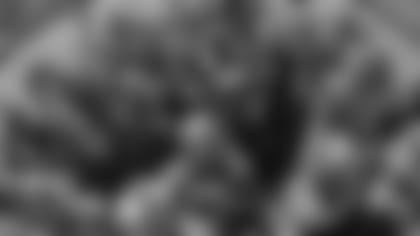 Despite a disappointing record in 2014, the Buccaneers were upbeat and optimistic as the season came to an end
"That will definitely be a part of it," he said. "To me, it should be an attractive job for guys out there and that will affect it a little bit, but it's not like we will reinvent how football is played or anything like that. There are certain parameters that I'm looking for in an offense coordinator and I think we'll be able to get those."
2. The offensive line needs help, but it may not need a new left tackle.
Sixth-year veteran Demar Dotson played the final three games of the 2014 season at left tackle after opening the previous 44 for the team on the right edge. According to the grades on Pro Football Focus - which were very high on Dotson's work at right tackle in 2013 – he was slightly above average in one game, average in one game and very slightly below average in the other.
Considering the on-the-fly manner of Dotson's switch, that's quite encouraging.
"The next day [after a game] you show up: 'Hey Demar, guess what? From right you're going to left,'" said Smith, describing how the former undrafted free agent learned of the next progression in his very interesting pro career. "'Ok coach.' And that's pretty much how that happened. 'You think I can do it?' 'Yes, I think you can do it. Do you think you can do it Demar?' 'Yes, I know I can do it.' That was a step that we needed to take."
The move was quite obviously a 2015 addition for Dotson, who could still serve the team quite nicely at right tackle if that's the ultimate decision. But left tackle is one of the premium positions in the NFL – one of the positions you frequently see addressed with very high draft picks like the one the Bucs now possess – and Dotson possesses many of the qualities a team looks for in that spot. Dotson may or may not end up on the left edge, but he apparently did nothing to hurt his chances over the last three weeks of the season.
"Everything is to be determined, but I thought he did a pretty good job there," said Smith. "And, again, his better days are ahead of him if we decide to keep him at the left tackle position. As I talk to you right now, I don't see why not. Nothing has said he can't do it."
Dotson was the one holdover from the Buccaneers' disappointing O-line of 2013. The team signed first-week unrestricted free agents Anthony Collins and Evan Dietrich-Smith to man left tackle and center, respectively, then swung a surprise deal before the season began to land Logan Mankins for left guard. Collins ended the season as a reserve, inactive for the last few games, and the Bucs' offense ranked 29th in rushing and 27th in sacks allowed per pass play. Those numbers and the late-season switch up front indicate that the Bucs will once again be looking to make some changes to that all-important crew.
"What we tried to do this year was to add as many pieces as possible," said Smith. "We thought we needed some help on the offensive line and we're going to go through the same process – and it's just not through free agency. I know everyone talks about the first pick in the draft – which is pretty important – but I don't know if there are any offensive lineman worthy of that pick right off the top of my head, but we also get in the second round and third at the top of the round quite a few times. We're going to get some good football players from the draft, I feel very confident of that, but also through free agency too. Right now as I talk to you a day after the regular season ends I just feel like we can make some moves to get some other good football players in here to help us win games."
Smith did confirm that he sees Dietrich-Smith as continuing to have a future with the Buccaneers.
"Evan would be the first one to tell you, like all of us, we didn't perform as well as we will next year," said Smith. "But yes Evan is a part of our future. I said that then and I'm saying that now."
3. Smith thinks the Bucs are in position for a quick turnaround.
Smith and General Manager Jason Licht, both hired last January, made an aggressive effort to turn the 2013 team into an immediate contender in 2014. Obviously, that didn't work out, but the franchise still heads into 2015 with plenty of optimism. As Smith has told his team and the media on several occasions in the last 24 hours, he believes the foundation has now been put in place for the Buccaneers to contend in the seasons to come.
"I think we are close," he said. "As I look at the season – and, again, I haven't had a chance to go back and really analyze everything –but three football teams were better than us, really better than us, on that day. And I thought that we matched up fairly well throughout. We didn't handle some situations the way [we should]; we will handle some situations a lot better this coming season, 2015. But I think we are close. I know where we're drafting first and that's what you are, what your record says you are, but I just feel like we can move up the ladder fairly quickly.
"I think when you play games, you realize whether you really had a chance to win the football game or you didn't, and most of the games, we had an opportunity to. That's why I say that we're close."
The Buccaneers had a surprisingly upbeat locker room on Monday as the players cleaned out their lockers and met the press for the last time in 2014. Smith's last meeting with the team was optimistic and those players who consider themselves a part of the aforementioned foundation are ready to get to work in 2015.
"I talked about the positive things, about laying the foundation and how they came to work every day, trying to get better, coachable, they took coaching," said Smith. "Through adversity we just saw them [handle it]; there was never any pointing, any of the blame game.
"This is always a sad day for your football team, when you say it's the last time we're together as a group. Nothing stays the same. Some of the players in there that helped lay this foundation, they're not going to be there to reap all the benefits at the end. That's a sad time. So we talked about things like that for the most part, and just let them know that offseason [workout programs] will be here a lot quicker than they think."