STORY HIGHLIGHTS
A change at QB does not seem to be a priority for Lovie Smith as he contemplates ways to improve his team
Rookie WR Mike Evans has been a consistent presence in the Bucs' passing game but could see more action going forward
The Bucs are not likely to turn their season around without getting more effective play from both lines

Lovie Smith met with the press on Monday afternoon, less than 24 hours after the Tampa Bay Buccaneers experienced a painful 19-13 overtime loss t0 the Minnesota Vikings. In the interim, Smith had an opportunity to review the tape from that game and gain a more detailed understanding of what unfolded on Sunday afternoon.
So, upon further review, here are a few things Lovie Smith and the rest of us learned from – and/or what new questions were raised by – the Buccaneers' seventh game of the year.
1. A change at quarterback isn't the key to getting the Bucs back on track.
Sunday's game marked the first time since the opening half of a Week Three contest at Atlanta that both of the Bucs' primary quarterbacks – Mike Glennon and Josh McCown – were healthy and active at the same time. McCown returned from the thumb injury he suffered in that Atlanta game and was ready to go if needed, but the Buccaneers stuck with Glennon, who had turned in some impressive play in the weeks since. On Monday, the Buccaneers waived quarterback Mike Kafka, who had been serving as Glennon's backup while McCown was healing.
The Buccaneers' offense struggled for much of the day on Sunday and finished with just 225 yards and 13 points. As has been a common occurrence this year, Tampa Bay struggled to put anything consistent together in the first half before rallying in the fourth quarter. Just as there have been for much of the year on defense, there are issues to address on the offensive side of the ball.
It does not appear, however, as if Smith and the Buccaneers' coaching staff believe that making a change to the status quo at quarterback is the key to addressing those issues. Smith does not have to state his plans at the position explicitly, but his comments on the matter don't seem to be setting the stage for a switch this week.
"I never kind of go over starting lineups or anything like that until the end of the week," said the coach. "If we were going to make a change, I wouldn't talk about it an awful lot. The plan isn't for that. I thought Mike [Glennon] did some good things yesterday. You'd always like to have a couple of plays back. The first thing I thought about as far as improving our ball club wasn't, 'We've got to make a change at the quarterback position.'"
One could at least make the argument that McCown, who is considered the more mobile of the two quarterbacks, might have an advantage if the protection problems of the last two games persist. However, Glennon has shown he can make plays on the move, as well, and the Buccaneers expect to get better play out of the offensive line anyway. Smith is more concerned with getting the rushing attack going so opposing teams can't devote so much attention to rushing the passer, whoever it might be.
"Being able to run the ball will help our offense," he said. "The one game that we've won, we had the same guy back in the pocket. For the most part, the same offensive line. And I'm going to go back – we're one play away yesterday, one defensive stop late, one interception, one play earlier and we have a win. So we're close is what that's saying. So to make drastic changes – we didn't start fast yesterday on either side of the football. But we hung in there. We consider all things."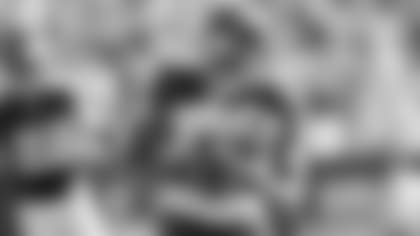 Rookie WR Mike Evans has at least four catches in every game he's played this year, but bigger numbers may be on the way
2. The rookies might deserve even more attention on offense.
Wide receiver Mike Evans, the Bucs' first-round draft pick in May, led the team with 78 yards on four catches and would have had his first NFL 100-yard game if a 26-yard play wasn't erased by a holding penalty in the third quarter. Evans' 40-yard catch on a fly down the right sideline was the big play in the Bucs' first field goal drive, which started a 13-point rally.
Evans has been very consistent, with either four or five catches in every game he's played this year and at least 50 yards in the last four. He might soon be more prolific, as the Bucs look for ways to get him even more involved in the passing game. Tight end Austin Seferian-Jenkins secured his first NFL touchdown pass at the end of that rally and has been gradually picking up steam as he distances himself from a Game-One ankle injury. Obviously, the fumble that led to the Vikings' winning score in overtime is something Seferian-Jenkins would like to have back, but overall he's starting to emerge as a key player for the Bucs.
"There were some things we did [well]," said Smith. "Mike Evans had a pretty good game yesterday. We need to be able to get the ball to him more. Austin Seferian-Jenkins – you want to take away that one play at the end – I thought he did a few good things. Just overall right now, as a group offensively, we're not where we need to be."
One more rookie could soon be joining Evans and Seferian-Jenkins as a key contributor. RB Charles Sims, the Bucs' third-round pick, has missed most of the first half of the season due to a preseason ankle injury but is close to returning from the injured reserve/designated for return list. Sims started practicing last week, and even if he's not ready for Sunday's game in Cleveland he could still be a factor in the second half.
Smith said he was "very" excited to be getting Sims into the mix.
"As I talk about not being able to get more from our running game, of course it's just not on the front – we say it starts up front. A lot of the big plays you see happening in the league in the running game is based on yards after contact – making someone miss in the open field. That's all a part of it also."
3. This is not a newsflash: It starts up front.
Over the last two games the Buccaneers have absorbed 10 sacks on offense while creating just one on defense. Whether it's a Super Bowl-winning veteran like Baltimore's Joe Flacco or a green rookie like Minnesota's Teddy Bridgewater, every passer is going to be more effective when he has time to operate. Glennon has been at a pretty significant advantage, relevant to his counterpart on the other team, the last two weeks.
This is not deep analysis, nor is it news to Smith and his staff. Smith's Buccaneers have made it clear on many occasions that they believe success starts up front on both sides of the ball. Still, the point was emphasized once again on Monday.
"We as coaches are going to say it starts with us," said Smith. "And everything starts up front on both sides of the ball. For us to have success, we need to be able to play well and dominate on both sides of the line of scrimmage. We haven't done that. Their defensive line played better than we did on our offensive line yesterday. Our defensive line didn't get as much pressure as we need to."