STORY HIGHLIGHTS
QB Josh McCown made an encouraging return to the lineup in Week 10 but the Bucs need more out of their offense
DE Michael Johnson and T Anthony Collins return to action, but CB Alterraun Verner remains out
Tampa Bay's defense faces a serious challenge Sunday in Washington QB Robert Griffin III

Josh McCown's return to the starting lineup last weekend didn't produce the victory for which the Tampa Bay Buccaneers are starved, but it was encouraging in quite a few ways. McCown threw for more than 300 yards, tossed two touchdown passes and also ran effectively when he knew he could move the chains with his feet. He also threw a pair of interceptions, but one was a diving play by a second defender on a deflected pass in the end zone and the other was on a desperation pass in the game's closing seconds.
McCown later said he felt more comfortable than he had during the first three games of the season, before he suffered a thumb injury, and indeed his command of the offense was promising for much of the afternoon. Again, however, it did not result in a victory at the end of the day – something that left McCown himself emotionally raw in the minutes after the game – and so the Bucs are hoping the second start of his return to the lineup will be even better.
"I think he made good decisions, and not just when to throw it," said Head Coach Lovie Smith. "He had a couple passes he'd like to have back, but [he made good decisions] not just on the throws but when to take off, use your feet to get a first down. It's about keeping drives going and keeping everybody up. We just felt like every time we went on the field we had an opportunity to make something good happen.
"We continue to make progress. We did do some things well offensively most of the game; didn't finish the way we wanted to. Those takeaways late of course hurt us, but things like improvement on third down and starting the game off with a long drive, even though we got a field goal…we made progress."
The Bucs had their best yardage output of the season against the Atlanta Falcons last Sunday, but it could have been significantly better had the running game found a groove. That has happened on a few occasions this season, but not often enough, and it has yet to happen at the same time that the passing game was putting up good numbers. McCown, who enjoyed a well-formed pocket at several critical moments in last week's game, could be at the helm of a truly productive offense if the front line also opens up more running lanes.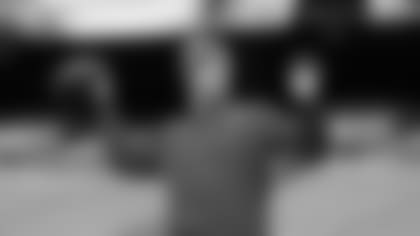 QB Josh McCown will make his second start since returning from a Week Two thumb injury
"I think our offensive line did a pretty good job last week of protecting the quarterback, but we still need to get more from our rushing attack, as much as anything," said Smith. "It was good getting Charles Sims his first action; Bobby Rainey did some good things. But we just need to be more of a force. We consider ourselves a running football team."
The Bucs' O-Line will welcome starting left tackle Anthony Collins back from injury but will once again try to establish that ground attack without input from opening-day starter Doug Martin, who will miss his third game in a row due to an ankle injury. As a whole, Tampa Bay's roster is in much better shape than it was a week ago – and that includes the return of starting right defensive end Michael Johnson – but the defense will also be without one key performer. Starting left cornerback Alterraun Verner will be sidelined for a second consecutive week due to a hamstring strain.
"He's been making progress but he will not go this week," said Smith of Verner. "The other guys, Johnthan Banks and Crezdon Butler, will need to step up."
Banks and Butler will have their hands full with the Washington Redskins receiving duo of DeSean Jackson and Pierre Garçon. Jackson is perhaps the best receiver in the NFL at producing explosive plays, while Garçon is just one year removed from a 113-catch campaign. The good news for that dangerous pair is that they are once again working with Washington's supremely talented young quarterback, Robert Griffin III. Griffin returned last week from an ankle injury that had kept him out since Week Two and threw for 248 yards and two touchdowns in a narrow loss to Minnesota. Though he hasn't had much of a chance to develop it yet this part of his game yet in 2014, Griffin is also capable of making huge plays as a runner.
"As I look at Washington's team, Robert Griffin, it's a different dimension when he comes back," said Smith. "I know he's coming off an injury, but I didn't see any effects, really, from that. They still have parts of the option that they like to run, which causes you trouble when you're defending a typical NFL offense. He's making all of the throws. They're committed to the run and we'll need to stop the run first to have an opportunity to win."
In addition to Martin and Verner, the Buccaneers declared the following players inactive: DE Da'Quan Bowers, WR Robert Herron, T Kevin Pamphile, TE Luke Stocker and CB C.J. Wilson. Martin, Verner and Stocker are out due to injury.
The Redskins do not have any players sidelined due to injury. Their seven inactives are: QB Kirk Cousins, WR Aldrick Robinson, CB Greg Ducre, G Spencer Long, De Stephen Bowen, T Tyler Polumbus and WR Santana Moss.
The Buccaneers take on the Redskins in Week 11 of the 2014 season on Sunday afternoon, with kickoff scheduled for 1:00 p.m. ET at FedExField in Landover, Maryland. The game will be broadcast on television by FOX and on radio through the Buccaneers Radio Network and its flagship station, US 103.5 FM. That radio broadcast will also be carried live on Buccaneers.com.