STORY HIGHLIGHTS
The Bucs had five starters limited by injuries Wednesday, including four who did not participate in practice at all
CB Johnthan Banks is even more important to the Bucs' defensive plans after the loss of Mike Jenkins
Chris Owusu wasn't the primary target on the play that led to his first NFL TD, but he was ready when called upon

The Tampa Bay Buccaneers may not be in midseason form just yet, but their injury report is.
The Buccaneers absorbed a loss and a litany of new aches and pains on opening day against the Carolina Panthers, and that may affect their lineup against the St. Louis Rams in Week Two.  Of the 10 players listed on Tampa Bay's Wednesday injury report – a number more commonly associated with Week Nine or 10 – five are starters: defensive ends Adrian Clayborn (elbow) and Michael Johnson (ankle), tackle Demar Dotson (hamstring), guard Logan Mankins (knee) and running back Doug Martin (knee).  That does not include rookie tight end Austin Seferian-Jenkins who was introduced before Sunday's opener as a starter along with tight end Brandon Myers.
All five of those players sustained their injuries on Sunday, beginning with an awkward step by Mankins that knocked him out of the game with a knee ailment.  Even if Mankins is able to return in time to play the Rams – and he's well-known for being tough when it comes to playing through pain – missing practice time isn't the best development for him right now.  Mankins was traded to the Buccaneers by the New England Patriots less than two weeks before the start of the regular season and is obviously still in the process of absorbing a new offense.
But Mankins did miss Wednesday's opening practice, as did Johnson, Martin and Seferian-Jenkins.  Cornerback Rashaan Melvin, who is working to recover from his own ankle injury suffered during the previous season, was also held out once again.  Clayborn was limited.
"Austin Seferian-Jenkins is getting better – he's still in a boot right now so we'll kind of see how it plays out with him," said Head Coach Lovie Smith.  "Logan Mankins is getting better. Availability for this weekend with the guys, we don't really know right now."
One would be hard-pressed to predict the Buccaneers' defensive end rotation on Sunday.  Clayborn and Johnson will try to make it back into the mix by game time, but Johnson played fewer snaps than anticipated and, according to Head Coach Lovie Smith, was less effective than he normally will be after rolling his ankle early in the game.  Da'Quan Bowers and William Gholston are their primary backups, but neither of those two has played since early in the preseason due to abdomen and shoulder injuries, respectively.  In a bit of good news on the injury front, those two returned to practice on Wednesday, Bowers as a full-participant and Gholston in a limited role.  Bowers also took part in the final two practices of last week.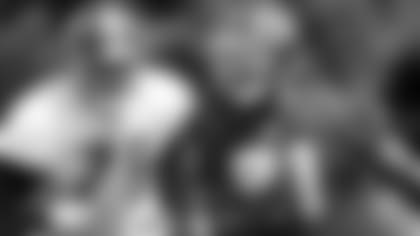 DE Da'Quan Bowers practiced fully on Wednesday and could give a banged-up Bucs D-Line some needed reinforcement this weekend
Behind those two are two players just added (or brought back) to the roster this week: Larry English and Marquies Smith.  While English spent several weeks with the Bucs during August and should have at least a passing knowledge of the defense, Smith is new to system after being claimed off waivers from Buffalo on Wednesday.
No matter how the Buccaneers' injury report shapes up by Sunday, they won't be getting any sympathy from the visiting Rams.  The St. Louis injury report is only half as long as the Buccaneers' list, but it includes some very significant names.  Of the five names on the Rams' list, three are starters: left cornerback Trumaine Johnson, left defensive end Chris Long and quarterback Shaun Hill.  None of the three practiced on Wednesday.
There will be no mystery surrounding Long's status; Rams Head Coach Jeff Fisher revealed on Wednesday that Long will have surgery to repair an ankle injury and will be out for a couple months.  Long, of course, is a key cog in an almost unfairly talented St. Louis defensive line, and he forms perhaps the top defensive end duo in the NFL with Robert Quinn.  The Rams do have very experienced reserves to fall back on, however; William Hayes is a seventh-year vet who had 12 sacks over the past two seasons and Eugene Sims is a fifth-year vet with five sacks in that same span.
Hill is already the Rams' second quarterback of the season, as presumed starter Sam Bradford went down in the preseason with a knee injury for the second year in a row.  Hill stepped in but wasn't able to finish the opener after suffering a thigh injury; Austin Davis stepped in and played the second half, completing 16 of 23 passes for 192 yards and one interception in a 34-6 loss to the Minnesota Vikings.
Cornerback Mike Jenkins suffered a pectoral injury in Sunday's game but was not mentioned on the aforementioned injury report.  Unfortunately, that's not actually good news for the Buccaneers.
Jenkins' injury was serious enough to land him on injured reserve, so his 2014 season is over almost before it started.  His loss technically robbed the Buccaneers of one of their starting 22.
Though the seventh-year veteran missed all four preseason games with a hamstring injury, he was never moved out of the top spot at right cornerback on the depth chart.  While he was out, second-year man Johnthan Banks, the incumbent starter, rolled right on in that capacity.  When Jenkins returned for Sunday's season opener, however, he immediately began sharing times with Banks, who did get the start.
If the spot opposite Alterraun Verner (who had an excellent Buc debut at the left cornerback spot) was going to be an ongoing competition between Banks and Jenkins, that is no longer an issue.  The issue now is how strong Banks can be an expanded role.
"He did a lot of good things Sunday," said Defensive Coordinator Leslie Frazier.  "He tackled well and I don't recall him giving up plays in the passing game, with them trying to pick on him or anything like that. He graded out well in the ballgame. He'll really have to step up now; our rotation has gotten a lot thinner. Alterraun had a good game for us, but we're going to need the both of them to play well."
The Bucs still have six cornerbacks on the roster after signing Crezdon Butler on Wednesday, but both Butler and undrafted rookie Brandon Dixon are very new to the system.  With Rashaan Melvin still not practicing, the Buccaneers are suddenly a little thin on experience behind their starters.  The most experienced corner behind Verner and Banks is Leonard Johnson, who is the team's starter at the nickel back position.  Smith made it clear that Johnson will remain in that role and the team will turn to the rest of the depth chart for support of Verner and Banks.
"Playing the nickel position is a valuable position," said Smith.  "Just anybody can't go in there. No, we're going to keep Leonard at the nickel position and play some other guys. Our starters are both still there. We'll keep developing the backups from other guys."
On Monday, former Buccaneer tight end Anthony Becht broke down one of the Buccaneers' most encouraging plays from the season opener, Josh McCown's 19-yard touchdown pass to Chris Owusu, in his inaugural "Film Session" segment.  Becht described how routes run by Vincent Jackson and Mike Evans drew the Panthers' safeties away from Owusu just enough to allow McCown to get him the football on the left edge of the end zone.
Becht's analysis was spot-on.  Making the discussion even more interesting is the fact that Owusu was not McCown's first read on that play.
"The intent was to go a few other places with the ball, to be honest with you," said McCown on Wednesday.  "But coverage dictated something that we talk about but very rarely get to. So credit to Chris for running his route and staying alert because a lot of times, guys that get stuck in those situations, they kind of cruise down there and it's kind of for the love of the game and they don't really intend on catching the ball. He ran his route with intention and purpose and the ball came his way and he made a play."
Owusu's focus resulted in his first NFL touchdown.  There will likely be more, but there is no guarantee that the third-year receiver will put up big numbers in this year's Buccaneer offense, given the other targets that McCown has at his disposal.  Regardless, McCown is obviously confident that Owusu will be ready to take advantage of any opportunities that do come his way.
"We talked about Chris throughout the spring and camp and really liked his progress and the way he was coming along," said McCown.  "[He's a] strong player and [has] good speed and good hands. So he's continuing to grow and progress. When you're in his role, when you're kind of the third or fourth guy – depending if Austin [Seferian-Jenkins] is on the field – the opportunity for balls is not significant. But when you get a chance, you've got to make them, and that was kind of case-in-point the other night in the game."