STORY HIGHLIGHTS
C Evan Dietrich Smith thinks the Bucs' O-Line will communicate more efficiently as the starting lineup becomes more set
The Bucs claimed T Edawn Coughman off waivers from the Buffalo Bills and released WR Lavelle Hawkins
Changes to the practice squad rules could affect how the Bucs' arrange their 53-man roster

Center Evan Dietrich-Smith, one of a handful of new starters the Tampa Bay Buccaneers brought in during the first week of free agency in March, has consistently drawn rave reviews for his work from Head Coach Lovie Smith. The starting offensive line of which Dietrich-Smith is the anchor in the middle has not been as regularly praised, especially after a rough preseason game debut in Jacksonville on August 8.
That group showed progress in last Saturday's follow-up against Miami, if not necessarily a quantum leap, with second-year player Patrick Omameh taking over at right guard. It appears as if Omameh and Oniel Cousins will get a second opportunity as the starting guard tandem on Saturday in Buffalo, and Dietrich-Smith thinks that's a good decision.
"Pat and Oniel, they're doing a good job," said Dietrich-Smith. "They've been earning their reps. Obviously, [the coaches] are giving them to them. We'll see how it goes this week. I'm expecting to see improvement from us as a front. By the time this game comes around, you should be seeing more of what we are as blockers."
The Bucs are still working to determine their best options at the two guard spots, and since those positions flank Dietrich-Smith on either side, those are very important decisions for him. Just getting a chance to work with the same group several weeks in a row is helpful.
"I think we're taking steps in the right direction, that's for sure," he said. "Having some consistency with the guys being next to me is definitely starting to help because we can start learning how to communicate with each other nonverbally, not always having to make lengthy calls. You kind of just say one word and the guy just knows what you mean, just little nuances where you're not always having to talk so much at the line. Everything is a little more nonverbal and you're not tipping your hand. Defenses aren't going to be able to pick up on your calls and those kinds of things.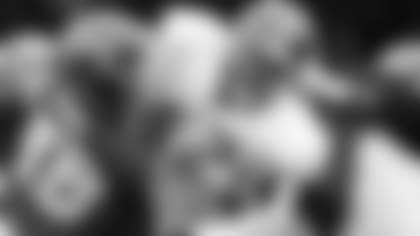 C Evan Dietrich-Smith has seen good things from starting guard candidates Patrick Omameh and Oniel Cousins
"The consistency of knowing who was going to be there and they're going to be there day-in and day-out for you, that's going to help with the process."
The Buccaneers released WR Lavelle Hawkins on Wednesday morning, and they had an idea of who they wanted to get to fill his roster spot. They just had to wait for the results of the waiver wire to come down from the league office at 4:00 p.m.
Tampa Bay had put in a claim on first-year offensive tackle Edawn Coughman, who had been waived by Buffalo on Tuesday. That claim was successful, which means Coughman should join the Buccaneers on the practice field on Thursday.
The 6-4, 313-pound Coughman played two seasons of college football at Shaw University in Raleigh North Carolina before signing with the Toronto Argonauts of the Canadian Football League in 2011. He then broke into the NFL as a free agent with the Seattle Seahawks in 2012, spent the 2013 season on the Dallas Cowboys' practice squad and was signed by the Buffalo Bills early in 2014.
The Buccaneers needed a little extra depth to share reps throughout the week at offensive tackle, with undrafted rookies J.B. Shugarts and Matt Patchan both sidelined by minor injuries. Meanwhile, the receiving corps remains deep after the release of Hawkins, with eight players presumably battling for three or four spots behind starters Vincent Jackson and Mike Evans. Those eight are Chris Owusu, Louis Murphy, Tommy Streeter, Robert Herron, Solomon Patton, Skye Dawson, Eric Page and Russell Shepard.
Click here to WATCH the Bucs vs. Bills Game LIVE Online via NFL Pre-Season LIVE!
The NFL announced two rule changes regarding the practice squad on Tuesday, expanding each team's allowed number of players from eight to 10 and creating two spots that can be used on players with up to two seasons of accrued free agency credit. Theoretically, those two spots could be filled by a player who had seen action in as many as 32 NFL games over two years.
It should come as no surprise that Lovie Smith was pleased by that announcement, as were his peers in the coaching profession. Players have to like the creation of 64 more jobs during the regular season around the league, and coaches are always eager to keep as many talented prospects as possible in the fold.
"That's an easy one: a coach getting more players," said Smith. "I think it's a great thing. They add more players. There's a lot of young players that just aren't ready for whatever reason. So I'd say it's universal in all the coaches of course loving that decision to add two more football players to our squad. And we have a good group of young players. You can't keep everyone. There are a lot of players that deserve to stay in the league, and as many as we can keep in the league and continue to develop, it's a good thing for our game."
While the expansion from eight to 10 players will keep more players around in total, the second rule change could very well affect which players the Buccaneers keep, even on the 53-man roster. The opportunity to keep some more experienced veterans on hand will likely play into how team's address depth at certain positions on the regular-season depth chart.
"It affects a couple of our players," said Smith. "A couple that come to mind. As much as adding two football players, the requirement on how and who all can stay does affect [my decisions]. Our roster, in my mind, has probably changed just based on that decision."
For instance, the elimination a few years ago of the "inactive third quarterback" spot on game day prompted many teams to stop keeping a third passer on the active roster. Teams who carried just two QBs among their active 53 would then carry a third one on the practice squad, largely to run the scout teams in practice but also to develop for the long term. Due to practice squad restrictions, those third quarterbacks were usually young players with very little regular-season experience, such as Jordan Rodgers, who was on the Bucs' practice squad for most of last season.
Now that quarterback could be a player with a little more NFL seasoning. As an example, the Buccaneers are carrying four quarterbacks during the preseason, led by the likely regular-season duo of Josh McCown and Mike Glennon. Smith has said that his usual approach is to keep just two, which meant it was an uphill battle for reserves Mike Kafka and Alex Tanney. Tanney was already eligible for the practice squad under the previous rules; now Kafka, who was not, is eligible as well.
Cornerback Alterraun Verner took part in full-team drills in practice for the second straight day and continued moving in the right direction in his recovery from a hamstring injury, according to Smith. Barring a setback, Verner is expected to play in Saturday's game in Buffalo, though Smith said he would not see as many snaps as most of the other starters, who have already played two games.
Defensive ends Michael Johnson and Steven Means also returned to the practice field today after sitting out on Tuesday. Means is returning from a more lengthy absence and his status for Saturday has not yet been determined but Johnson, who merely missed one day to a knee bruise is expected to be ready to face the Bills. Smith said that while Johnson has yet to make many impact plays this preseason, he remains fully confident that the big-time free agency acquisition will be a force in the regular season.
"I've seen good play from Michael," he said. "But the dominating play that I feel like we're going to get? No we haven't seen that. But we haven't seen that from any guys on our football team. Gerald McCoy has been dominating. But I would say, around the league, a lot of the players that will end up playing great ball during the season haven't played this great ball during the preseason. So I don't look into too much from the preseason on how guys play. One thing, of course, is stay healthy and get the defense down and we'll turn them loose from there. Very pleased. No disappointment in Michael Johnson."
Two other Buccaneer defenders who have shown promise this spring and summer are having a hard time solidifying their spots on the 53-man roster because injuries are keeping them from the field, in practice and/or in games. Defensive end Da'Quan Bowers and cornerback Rashaan Melvin have both missed significant time in recent weeks.
"I think every day you don't practice you're hurting your chances," said Smith. "We've seen enough to like Da'Quan a lot, but the reps that he's not getting, someone else is getting them. The best way to beat your competition sometimes it's just to stay on the field. You can't get Wally Pipped. Da'Quan is trying to get back and again I think he has a future in the league whether it be as a defensive end outside or a more of a third down rush-guy inside.
"Melvin has shown us enough to like him a lot, good size. I would say that he's a tough guy, he will tackle, he's got good size…but again there's a lot of guys like that on the sideline. He has to figure out a way to stay on the field and right now he's losing that battle."