-Practice was bumped up with the officiating crew on hand for the first practice this year. Refs were not only watching team drills but also took a look at one-on-one drills between receivers and defensive backs. Coach Koetter told them to throw the flags like they would in a game today as the team learns and adjusts to the new rule changes. The officiating crew will also be holding a video session with the team as well as talking with coach individually to make sure everyone has an understanding of what's new this year.
-The defense came up with some takeaways today. Both linebacker Kwon Alexander and safety Justin Evans got their hands on the ball for interceptions. Alexander got one over the middle and Evans jumped in front of Mike Evans to intercept Fitzpatrick. Rookie Carlton Davis III had a chance at his own but settled for a nice pass break up with the first team. Linebacker Lavonte David got in on the action too as he wrapped up tight end O.J. Howard from behind and stuck his hand out to bat the ball away.
-The kicking game was solid today. Both kickers Chandler Catanzaro and Trevor Moore were perfect through the uprights, nailing all five of their kicks.
-Wide receiver DeSean Jackson is being used all over the field and in all different scenarios. He's been working on getting as many reps in with both Fitzpatrick and Winston in order to get his timing down with each. There was a nice play where Fitz scrambled outside the pocket, giving Jackson time to cut back underneath and create separation. Jackson grabbed the ball and turned upfield to finish the play, bobbing and weaving between defenders.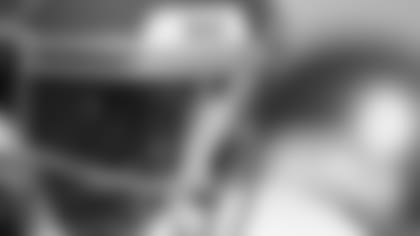 -From what I saw, wide receiver Chris Godwin caught every pass thrown his way today. He's been extremely consistent in camp so far in general. He had a great catch in 1-on-1 drills where he stretched out to make a diving grab over top of the defender and somersaulted while keeping the ball securely in his hands.