STORY HIGHLIGHTS
DT Gerald McCoy, who knows Buccaneer history well, thought his team could benefit from copying a meeting held in 1996
Tampa Bay's win in Pittsburgh could mimic a late-'96 turnaround if the momentum is carried into New Orleans
Both the Bucs and the Saints have ruled three injured players out for Sunday's meeting in the Superdome

In case you haven't heard, the 2014 Tampa Bay Buccaneers have had their "San Diego Moment."
Since the arrival of Lovie Smith as the team's new head coach in January, many people have drawn parallels between the current team and the one Tony Dungy took over in 1996. That was to be expected; Smith was on Dungy's staff from 1996-99, he projects the same leadership aura of calm strength, he's got a similar defensive philosophy and track record and he took over a team that hadn't tasted success in a while. In addition, while Dungy had the young duo of Derrick Brooks and Warren Sapp around which to build, Smith inherited a seemingly similar pair in Lavonte David and Gerald McCoy.
McCoy, the All-Pro defensive tackle and gregarious team leader, knows Buccaneer history well. From the America's Game documentary about Tampa Bay's 2002 Super Bowl win, he learned a story that long-time Buccaneer fans know well, the one about a particularly formative meeting in a San Diego hotel. Well into that '96 season, with Dungy's first team sitting at 2-8, Sapp, Brooks and John Lynch got together and figuratively drew a line in the sand. Tired of being referred to as 'The Yucks' on ESPN, they vowed, then and there, to put an end to it. Then they went out the next day and beat the Chargers, 25-17, part of a 5-2 end to the season. Historically inept in West Coast games to that point, the Bucs had never before won in San Diego. The next year, the Bucs captured their first five games and started a long run of playoff contention.
This story came to McCoy's mind after the 2014 Bucs started the season with a surprising 0-3 record, including a blowout loss at Atlanta that several players described as 'embarrassing.' McCoy himself had missed all but a few snaps of the previous two games with a hand fracture, but he was set to return in Week Four when the Bucs played in Pittsburgh. Unsurprisingly, there were few outside of One Buccaneer Place who gave the team much chance on the road against a Steelers team that had just trounced the Carolina Panthers.
That perceived dismissal…that was what the 1996 Bucs fought against, and McCoy decided it was time for his group to do the same. So in a quiet moment in the locker room last week, before the trip to Pittsburgh, McCoy gathered David and several other D-Linemen around him and the 2014 Bucs had their own San Diego Moment. Buccaneer fans can only hope the rest of history repeats itself. It has certainly followed the script so far; the Buccaneers won in Pittsburgh for the first time in team history, 27-24.
"Well, I talked to Lavonte and a couple guys and told them that story," said McCoy. "I kind of told them about Sapp and Brooks and the decision they made that day, and I told them, 'That has to be us. Nobody is thinking that we can win; this is the Terrible Towels; the historic Pittsburgh Steelers. Nobody's expecting us to win. Let's go out there and change that.' If people think we're the worst team in the NFL, that's awesome. Keep thinking that."
The '96 team endured a five-game losing streak to start the season, and then three more narrow losses, all on the road, after its first win. They had actually won the week before the San Diego trip, in overtime at home against Oakland, but that apparently didn't buy them any serious admirers. The 2014 team got to its San Diego Moment far more quickly, mostly due to that hard-to-swallow Atlanta experience.
"It was just one of those reality checks like, 'We're 0-3, we were here last year, we can't keep allowing this to happen,'" said McCoy. "But it definitely was an eye-opener like, 'We're already 0-2, then you go and allow this to happen? Nuh-uh. We can't keep this going.'"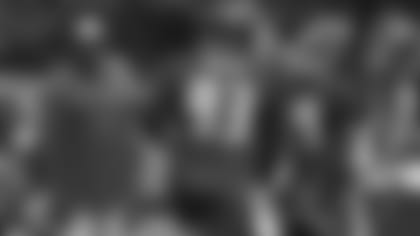 If Head Coach Lovie Smith's team is going to achieve a turnaround, it will likely be led by DT Gerald McCoy and LB Lavonte David
Those '96 Bucs came home the next week and beat New Orleans; the current group has to go on the road again, and to yet another challenging venue. The Saints are waiting for the Bucs in the Superdome, where they have won nine straight, a streak that includes a 42-17 thrashing of the Bucs' last December. If the Bucs can manage another win in those circumstances, it will obviously be a big boost to their confidence.
"You just build off that momentum," said McCoy. "We've got a lot of momentum going into New Orleans. A lot of guys were not here last year or the year before, so they don't know what has happened the last couple of years going up to New Orleans. But a couple of guys like myself, Demar Dotson, Da'Quan Bowers, Lavonte, we were there. We got to feel it, so we've just kind of been letting those guys know, 'This is what's been happening the last couple of times we've been in that building.' They play really, really, really well at home, so we've got to be on it. No letdown. We can only go up from here."
McCoy will play with a protective covering on his left hand for the second straight week, but three of his teammates have already been ruled out for Sunday's game in New Orleans. Defensive end Larry English will miss a second straight contest due to a hamstring injury he suffered on the practice field, while starting free safety Dashon Goldson (ankle) and rookie wide receiver Mike Evans (groin) have bene sidelined by ailments suffered in Pittsburgh.
Like those three, quarterback Josh McCown did not practice all week, but he has actually been given the "questionable" designation rather than out. That's not an indication that the team is still deciding on a starter for Sunday; second-year man Mike Glennon is sure to get his second straight start but the Bucs could choose to keep McCown active if something were to happen to reserve quarterback Mike Kafka.
The Bucs also have six players listed as questionable, but the only one who didn't play last week in Pittsburgh is Mason Foster. The team's starting middle linebacker has actually missed two games due to a shoulder injury suffered against St. Louis in Week Two, and while it's a good sign that he was able to get some limited work in on the practice field this week, that doesn't make him a sure bet to play against the Saints.
"He's getting better each week," said Head Coach Lovie Smith on Friday. "He's done just about everything we've asked him to do this week. We'll kind of see."
The Saints have also declared three players out for Sunday's game, including starting free safety Jairus Byrd, who was just added to the report on Friday. Byrd has actually been placed on injured reserve after sustaining a season-ending knee injury in practice on Thursday. Byrd, who is the son of Buccaneers' Cornerbacks Coach Gill Byrd, was New Orleans' major free agency acquisition of the 2014 offseason and is responsible for the team's only defensive takeaway of the season to this point, a forced fumble in the season opener at Atlanta. He will be replaced in the starting lineup by fourth-year player Rafael Bush, who also started six games last season.
Also out for the Saints on Sunday is the backfield tandem of running back Mark Ingram (hand) and fullback Erik Lorig (ankle). The other eight players on New Orleans' injury report are all considered probable to play, including starting offensive linemen Terron Armstead (concussion) and Jonathan Goodwin (neck).