STORY HIGHLIGHTS
QB Josh McCown returns to the starting lineup against the same team he was playing when he suffered a thumb injury in Week Three
Tampa Bay's defense will be without CB Alterraun Verner and DE Michael Johnson
The Bucs will get their first look at rookie Charles Sims as they try to mount a sustained rushing attack

Josh McCown is back but several other starters are unable to play as the Tampa Bay Buccaneers get their rematch against the Atlanta Falcons on Sunday.
McCown, whose three-game run as Tampa Bay's starting quarterback ended with a thumb injury before halftime of the last Bucs-Falcons tilt, has regained his job to open the second half of the 2014 season. He'll help the Buccaneers seek revenge for a lopsided loss in Atlanta in Week Three, but he'll have to do it without starters Anthony Collins, Michael Johnson, Doug Martin and Alterraun Verner. Those latter four will all be sidelined by injuries in Week 10.
The Bucs are confident that McCown can coax more out of an offense that has shown some definite signs of life in recent weeks.
"We started the season that way," said Head Coach Lovie Smith. "Josh was our starting quarterback, he had an injury and he's healthy now. We felt like we needed a spark, and felt that he could give us one. He had a good week of practice and we're excited about him leading us this week.
"He has been in this role before, giving a spark coming off the bench. So it isn't new to him. He knows our offense and he's really stayed involved throughout. You ask guys to play different roles throughout the season. He did that other role well, but now we need him to play top ball at the quarterback position."
McCown's job will be easier if the Buccaneers' running game finds the same groove it had in the first half of last week's game in Cleveland. That ground attack will once again rely on Rainey, with Martin out for a second straight week with an ankle injury, though Rainey will have support from rookie Charles Sims. Sims spent the first half of the season on injured reserve but was activated eight days ago and is set to make his NFL debut on Sunday.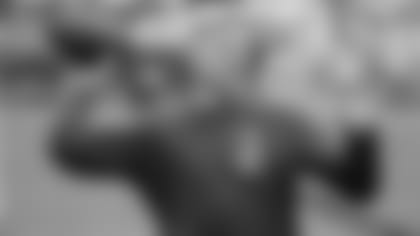 Veteran QB Josh McCown could provide a spark for a Bucs' offense that has been on the cusp of breaking out in recent weeks
"We feel good about our one-on-one matchups in the pass," said Smith. "In order to get those, you need to be able to run the football. We were able to do that last week. Outstanding job by the offensive line – of course it starts up front – and Bobby Rainey was productive. So we want to get into a similar situation this week. Charles Sims could give us a boost also.
"This is [Sims'] first time out, but we've taken our time getting him back on the football field. How he can help us is just by being himself. He has great ability to make you miss in the open field, he can still run between the tackles and I think it's been documented us talking about him as a pass-catcher."
Oniel Cousins, who filled in quite well for Collins (foot) at left tackle last week, will get a second straight start. On defense, the Bucs will turn to Crezdon Butler to start for Verner at cornerback and will likely rotate their defensive ends liverally. Da'Quan Bowers' return from a two-game suspension should help in that regard, as should the recent strong play of first-year man Jacquies Smith, who will get the start. Whoever is on the field for the Bucs' defense, they will be asked to build on a Week 10 effort that included three sacks and two takeaways.
"[We want] more sacks, more takeaways, as much as anything," said Smith. "Doing a better job on third downs - there were a couple third-and-long situations. Same thing I'm going to say on the offensive side of the ball. Just being better on third downs can help us both ways. Keep the penatlies down. And then just play hard ball. This is a division opponent coming in town and you should get good play from both teams.
"After a half a season of football, I think our players know what we need to do. They know how important it is to start fast. Whether it's defense, offense, special teams, whatever, we need to get production from all three phases. It will take that this week."
Even at 1-7, the Buccaneers' division title hopes aren't completely buried. That's a worry for a later week, however. At this point, the team simply wants to notch its first home win of the 2014 campaign and make up for an inadequate effort the last time Atlanta was on the opposite sideline.
"We'd be excited about the game even if that hadn't happened," said Smith of the Week Three loss to the Falcons. "Division opponent, playing them for the second time, they beat you the first time. But the way they beat us the first time, I'd be lying if I said it's not still there. Yeah, we remember what happened. We were embarrassed on national TV. We didn't play our best ball. They showed up, we didn't. We play on showing up this time."
In addition to the four aforementioned Buccaneers sidelined by injuries, the team will also be missing TE Luke Stocker (hip) and rookie G Kadeem Edwards (foot). That left the Bucs needed to make just on healthy scratch, and that was rookie WR Robert Herron.
The Falcons declared the following seven players inactive: QB Sean Renfree, WR Freddie Martino, CB Javier Arenas, LB Tyler Starr, T Jonathan Scott, T Cameron Bradfield and DE Cliff Matthews. Scott is out due to injury.
The Buccaneers take on the Falcons in Week 10 of the 2014 season on Sunday afternoon, with kickoff scheduled for 1:00 p.m. ET at Raymond James Stadium. The game will be broadcast on television by FOX and on radio through the Buccaneers Radio Network and its flagship station, US 103.5 FM. That radio broadcast will also be carried live on Buccaneers.com.