STORY HIGHLIGHTS
Head Coach Lovie Smith already likes what he sees from a deep and promising stable of Buccaneer running backs
While Mike James is still waiting to get back on the field, RB Doug Martin has recovered well from his shoulder injury
Smith envisions Martin, James and Smith all getting a chance to carry the ball in Tampa Bay's offense this fall

The Tampa Bay Buccaneers touched on almost every position on the roster at some point during their free agent shopping spree in March and April, looking to add depth wherever they could. One notable exception was the running back corps, which was already possessed of impressive depth before free agency began, including three different backs who cracked the 100-yard mark in a game last fall.
Depth, yes. Height, not so much.
"I went in the room the other day," quipped Head Coach Lovie Smith, "and I asked them if there was a requirement of being under 5-10 to be in this room."
Fortunately, an NFL rushing attack doesn't have rollercoaster restrictions, and the Buccaneers can and have succeeded with the likes of the 5-9 Doug Martin, the 5-10 Mike James and the 5-8 Bobby Rainey. All of those tailbacks are compact and quick (as is third-year man Michael Smith, who stands 5-9, and utility man Jeff Demps, who is 5-8), and all of them had their separate opportunities to shine in 2013. As Lovie Smith has made clear since he took over the team in January, he foresees a 2014 offense in which those three can excel together.
The Buccaneers hit the field for organized practices for the first time on Tuesday, and what Smith saw reinforced his beliefs that the team is loaded in the offensive backfield and that there is a way to get everybody involved.
"I love what I've seen from them," said Smith after that first practice. "We have three running backs that have a 100-yard game on record and that's hard for most teams to say. I like their quickness that they have. I like everything about all of them, they can catch the ball even though they haven't been used that way, they can run inside the of the tackles, [they] have good quickness, they can make you miss, they come to work with a smile on their face every day."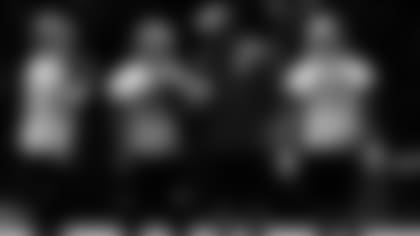 While Doug Martin (22) is the clear starter the Buccaneers intend to use a collection of running backs this fall
Martin is back in action, having been cleared to practice two weeks ago after recovering from his season-ending shoulder injury. James is close; his 2013 campaign ended with an ankle injury but he's running at close to full speed now. Rainey, who took over the starting job after those injuries shelved Martin and James, is starting his first offseason in Tampa, having been stolen off waivers from Cleveland last October.
"Is [Martin] coming off an injury?" asked Smith in jest after Wednesday's practice. "Can't really tell. He's done everything, taken every rep we've asked him to. Seriously, Doug has been around here rehabbing an awful lot, but to finally see him on the football field…he's compact and he runs downhill an awful lot, and the wiggle that he has, making people miss in the open field. He's a happy guy. You like being around him; he takes coaching. Not just Doug – Bobby Rainey is a good football player. Same thing – he can make you miss, he's a compact player. We say we're going to be a team that runs the ball, and those guys need to be guys we can count on."
The Buccaneers last contemplated a 1-2-3 punch in the backfield in 2009 after signing former Giant Derrick Ward to add to their Cadillac Williams-Earnest Graham combo, though that idea never got off the ground. It's been done numerous times throughout the league, however; last year there were varying degrees of three-back involvement in Carolina, New Orleans, New England, San Diego, St. Louis and Denver.
Smith and/or Demps could muscle their way into the picture, but in the early part of the offseason a Martin-James-Rainey triple play seems quite possible come September.
"As far as how many play, Doug Martin is our starter but … they'll all play," said Lovie Smith. "We'll let them have their reps."
Smith has referred to Martin as the "bell cow" in his backfield, and he'll need one if his team is going to emphasize the run, as he has suggested it will. By the same token, it would be best not to be wholly reliant on one player, as the team found out last year.
Rainey says his group is already working together as if the goal is to succeed as a unit in the fall.
"We've all tried to help each other," he said. "We've got a new offense, everybody coming in new, so we all help each other. Whatever we can do for each other, we do that. We've been working out for so long – now it's time for us to get out on the field and play.
"So far, basically, we know that we're going to run the ball. And that's always great to know as a running ball. We're going to pass it, too, we're going to be balanced, but you've got to be able to run the ball in this league. I'm excited about the whole thing, the coaching staff, everybody. There's a great vibe with everybody."
Martin is the clear #1, as Smith mentioned, based on his hugely productive rookie season in 2012. After ranking third in the NFL with 1,926 yards from scrimmage in his debut campaign, Martin saw his follow-up season marred by injury and a general offensive ineffectiveness early in the year. Still, he had a vintage 144-yard performance in the second week of the season against New Orleans and likely would have gotten into a second-half groove had not he landed awkwardly on his shoulder in Atlanta in Game Seven. James immediately stepped in and ripped off a stunning 158-yard performance in Seattle, of all places, before his own injury. Rainey had two 100-yard outings during the season's second half, including an eye-opening 163-yard, three-touchdown explosion against the Falcons.
So Martin has the lead, but the Bucs have at least three backs they want to get involved, so the internal competition between now and September will be to determine how large each player's slice of the pie will be. For Rainey, the best way to earn more playing time is to be locked in to his assignments every time he takes the practice field.
"[It's about] consistency, really, just being consistent," he said. "A lot of us know the playbook already; now it's just a matter of being consistent."