STORY HIGHLIGHTS
K Connor Barth has returned from an Achilles tendon injury that cost him the 2013 NFL season
Barth believes he has returned from his year off stronger both physically and mentally
He hopes to top a 2011 season that ranks as the best ever by a Buccaneers kicker

Just before he was going to take the court for a charity basketball game in Wilmington, North Carolina last July, Connor Barth heard his friend say, "Just don't get hurt."
It's the kind of thing buddies say to each other hundreds of times, laugh over and then never think about again. This time, however, Barth can remember the conversation clearly because he did get hurt on that court minutes later, injuring the Achilles tendon in his right ankle. At that point, the friends and family members who were with him at the game turned positive, telling him they thought it was just a sprain. But Barth knew he had torn the tendon, and he knew what it meant: He wouldn't be kicking for the Tampa Bay Buccaneers in 2013.
This was not a particularly joyous moment for Barth and his family. A picture made the social media rounds a few days later, Barth spread out over two folding chairs, his ankle propped up on a bag of ice, his face staring forlornly at the camera. For those who know the Buccaneers kicker, it wasn't a familiar sight, as Barth is relentlessly upbeat and almost always cracking a joke. But Achilles injuries are no joke, and this one was hitting awfully close to home in terms of Barth's occupation. One could gaze at that picture and wonder if this was a man contemplating what might become of his NFL career as a whole.
That never happened, Barth insists. As jarring of a blow as the freak injury was, it didn't shake his fundamental optimism, or his confidence. Those traits came in handy in the months that followed, too. While longtime Buffalo Bills kicker Rian Lindell handled field goals for the Buccaneers, Barth dived into the process of reclaiming his spot in the NFL and in Tampa in 2014.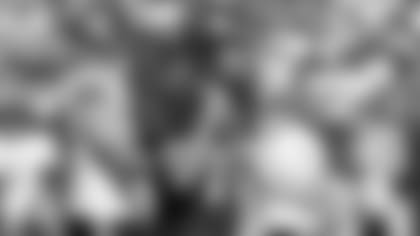 K Connor Barth set a Buccaneers single-season record in 2011 by making 92.9% (26 of 28) of his field goal tries
"You never want to think about [a career-ending injury]," said Barth. "I've always had a positive attitude about things, always felt like I could come back strong from things. Fifteen years ago, yes, my career might have been over. But with the technology now and the way these doctors can do different surgeries, I honestly think it's probably stronger than it's ever been. Hopefully it will hold up and be great for another 10 years."
It's April now, and the Buccaneers have just begun the offseason training program that will prepare them for training camp and the 2014 season. On Monday, Barth and fellow rostered kicker Patrick Murray spent awhile banging field goals through the uprights on the easternmost of the three practice fields behind One Buccaneer Place. Kick after kick, Barth hit it strong and straight; afterwards, he declared himself in midseason form. On Tuesday, he spoke with members of the local media, and it was the same Connor Barth they had come to know since 2009 – confident and easy-going. Hurting himself playing basketball was bad, and sitting out a season was worse, but he has come out on the other side better than ever, he believes.
"I haven't had a year off since 2000," said Barth. "It's been 14 years, so it was good to get a year off to rest my leg and work on the mental aspect, because kicking is so mental. I'm kicking from 60 yards, so my leg strength is the same. If anything, hopefully it's a little bit stronger. That's what I've been trying to focus on with my trainer back home, more strength stuff instead of the cardio-based stuff, trying to get my leg strength back and get it stronger. Shoot, I want to have a better year than I had in 2011, because that was my best year."
That was, in fact, the best year any Buccaneers kicker has ever had. Barth drilled 26 of his 28 field goal attempts through the uprights, setting a franchise single-season record with a 92.9% success rate. He started a streak of consecutive made kicks that would stretch into 2012 and eventually reach 25, obliterating the previous team mark of 16. His two misses were a 46-yarder that hit the right upright and a 55-yarder that came up short. He did hit a 55-yarder that year, though, and was good on 15 of 17 tries from beyond 40. And then he was handsomely rewarded with a long-term contract the following offseason, though that deal was later redone after his non-football injury.
There's not much room for improvement on that single-season performance, but perhaps Barth can chase the rare perfect season. Only six NFL kickers have ever turned in a full-season 100% field goal percentage (with a minimum of 0.75 attempts per team game played): Tony Zendejas (1991), Gary Anderson (1998), Jeff Wilkins (2000), Mike Vanderjagt (2003), Garrett Hartley (2008) and Shayne Graham (2010). It's a little silly to predict a perfect season for a kicker, of course, but a 100% success rate would do one nice thing for Barth: It would allow him to watch his entire film reel for that year.
"As anyone knows, kicking is 90% mental," Barth said. "Everyone can kick, but the guys who are really performing well have that mental edge to them. It's all about visualization, seeing kicks before they happen, lying in bed at night and seeing them all go through the uprights. I've had success with it. I'll never watch myself miss them. I hate watching film of myself missing. I always want to watch myself making them, because what's the point of putting negative thoughts in your head?"
And why would he envision anything but a full return, back in the early days after his injury last summer, after the initial shock had worn off? Barth got his reparative surgery and got back to work. By October, he was on the field hitting "no-steps," kicks without the approach. This got him over his first mental hurdle, the worry that his foot wouldn't feel right when he struck the ball. After rebuilding his calf muscle back to full strength following the time in his cast, he began kicking regular field goals in July. On Monday, he ran cutting drills with the rest of his Buccaneer teammates and found, after some initial trepidation, that his Achilles tendon responded perfectly.
"I'd never missed a game all the way back to high school," said Barth. "So it was kind of a whole new experience for me but it kind of let me take a step back and understand how blessed I am to be doing what I'm doing, to see it from a different perspective and be a fun for once. It was good. I got a year off to rest my league – that's the positive thing. I've been kicking great, and I'm looking forward to this big year and having fun with my teammates."