I got to sit down with Bucs' first-round pick Devin White on the day he arrived in Tampa after being drafted fifth overall. It was a whirlwind day where the former LSU linebacker bounced from one part of the building to the next, being introduced to the media as well as his new Buccaneer coworkers.
During one stop right before he and I sat down, a staffer who works in corporate partnerships introduced herself, telling him her name and that she works for the team. He responded saying, 'Hi, I'm Devin. I work here, too."
His infectious, bubbly personality shines through that quickly. We sat down in a quiet room flooded with light from the floor-to-ceiling windows that overlooked the practice fields at AdventHealth Training Center, and before I knew it, we were over 15 minutes in and I was smiling from ear-to-ear the entire time.
I know you're probably tired of talking about this, and probably talking in general, but I have to ask more about your horses – how many do you own?
I personally own four. My pop, George Shaw, my guy, before I owned any horses, he used to let me ride his horses, so I claim his horses sometimes. I won't talk about his horses, but I'll just talk about my four. My first horse was named Ricky Bobby. He's a pain. I got him when I was in middle school, I begged my grandfather for a couple hundred dollars and I paid for him and I put him at Shaw's house. He took care of my horses. The second horse I got is my favorite, my beloved Daisy Mae. [Yes, he said beloved and you could actually see the twinkle in his eye when he talked about her.] July 8 will make a year with her. I saw a YouTube video of her, a guy was training her, and I went to Tennessee to get her this summer right when I got done taking a test in summer school. Ever since then it's just been love at first sight. She's been great. We done had our ups and downs, she's had hoof injuries and I've had to go doctor on her, but it just made everything even better. Then I have two-year-old horses that are brother and sister to each other, they have the same dad. The stud, which is the stallion, his name is Overdrive and the girl, her name is Taylor Made. Like one of a kind [smiles]."
You talk about them almost like you would family.
They are my family. They're my kids. I spend money on them, I do everything that you would do for a normal child besides letting them sleep in the bed. They don't come in my house. But they drink water, they eat food, they like snacks, they have to get new shoes, they gotta take baths, they gotta get their hair braided, you name it, they do it. They're very special to me and it also gives me something to look forward to in my free time because I'm not a guy that likes to party. Like last night I got drafted, I went to the hotel and went to sleep.
I saw on your Instagram that the night before the Draft you were in the gym…
It was one in the morning.
Good lord. Is that normal? Do you always do that?
The days at the Draft were so long, I didn't get free until it was late. But it was like okay, I gotta get my workout in because at the end of the day I was up there for the Draft but I was on a mission. My mission is to be a great linebacker – to be THE greatest linebacker to ever play. That might take a long time for me to accomplish but if I take days off, I won't accomplish it.
Where does that drive come from?
It just comes from, you know, it's really not even sport-related. Anything I did I set out to be the best. To be the best, I have to aim for the best. If I wanna be a linebacker, I got to want to be the best linebacker to ever play and I have to strive to get there. That's where that comes from.
When did football start for you?
Football started for me when I was probably seven years old. I played on like a nine and 10-year-old team. I was the starting running back and we used to lose every game. So, the football team kind of shut down after that one year and I quit anyway because we were losing too much and I thought I was going to be a basketball player. But this guy, who is my mentor today, his name is Shaun Houston, he's from my town and he started football again and so I played and look how it worked out.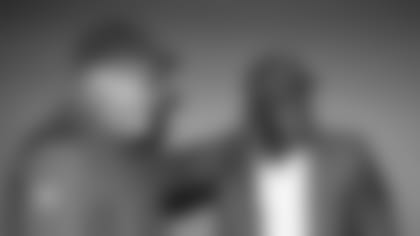 And look how it worked out. Someone else you were with at the Draft and someone you seem really close to is Charcandrick West.
Ohh yeah. See that's my cousin.
[West is an NFL running back who spent the 2014-2017 seasons with the Kansas City Chiefs. He was picked back up by the Chiefs at the end of 2018 and is currently a free agent.]
Oh, your cousin? I was wondering the relationship there. He was posting stuff about you saying how proud he was of you --
He was crying. He was crying before I got the pick. We was just sitting in the green room and they weren't even on the picks yet and he just starts crying. He made it and he's fortunate, he's a running back, played five years so far and I think he's still looking to get picked up by another team after the Draft but he went through the hard route. A lot of people don't know his story about him almost losing his life. He was literally in the hospital - he was purple. He had some type of condition and he wasn't ever supposed to play football, but he's blessed.
We both really believe in a higher power and He'll show you if you just put your faith in Him what your life can be and look how his story turned out. He played five years so far and he's living a great life. He's always dressed nice, he's always smiling. He's got the biggest smile in the world and that's basically why I come off as such a great person is because – I can show you text messages [from West] where it's like, 'Bro, be you, be the same person. I see guys out here they get the money, they get the fame and they change. They do things that they shouldn't do.' And I'm like thank you. Just keep that in me. He's like 'You ride horses? Embrace it. Everybody might think you lame for that or whatever but just embrace it.'
Just the respect of me and him growing up, he's way older but we used to work out in his backyard. We didn't have gyms to go to, we pulling sleds on the dirt. The dirt dirt. No grass. The dirt. We got iron poles outside doing pullups on them. The bench was outside. We know where we come from and that's why he was so excited.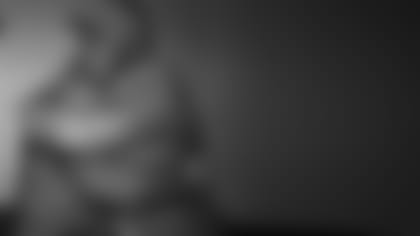 I talked to Coach Caldwell [the Buccaneers' and Devin's inside linebackers coach] whose niece is the women's basketball coach at LSU. I know he talked to her about you and often times how someone treats others is how you gauge them. He told me she said you would always stay after every game --
-- Interacting with kids. Why is impacting children so important for you?
For me, the kids' cause is important because I didn't have that growing up. I always watched TV and today, I'm the biggest LeBron James fan. If I ever get the chance to meet him, that might be the only person I'd freak out and be like, 'Man, that's LeBron.' My favorite movie is LeBron James' More than a Game, seeing that documentary, because I grew up a basketball fan, and man I never had the opportunity to grow up around that and meet those people. I don't want the kids to think just because we play football that we got this status that we don't care about them. Because I care about you. I wish they would have cared about me when I was younger so I want to give them what I didn't get and that's why I'm so big on it."
The biggest LeBron fan, huh? What is it about his game that you love so much?
It was just him being different. Him being 280 pounds, able to jump so high like it don't happen very often. And when people see me, they're like bro, you're six-foot, you jump 40, you 240, you run 4.4, it don't happen very often, so I see similarities in our game. I respected him and now as I get older, I respect what he doing in the community. LeBron James started a school and it's doing ten times what he thought it was going to do. Like I really applaud that. If I ever get on that level financially, I want a school. I want to be able to have an impact like that. Him saying he's more than an athlete, that really means a lot to me. That means more than anything to me because we do have voices and it all depends on how you use your voice. I want to use my voice to help others, not for myself.
I mean like growing up, we didn't always have the biggest house, I lived in a single-wide trailer. Me and my brother, before he passed, we shared the same room. Literally, you couldn't walk around the room because we had bunk beds in there, the dressers in there then that was it. You're walking in and walking out, ain't no doing nothing in there. We had a curl bar. We used to stand in the middle of the room and do curls, actually.
But growing up in Louisiana, it wasn't hard. It was fun. I say all those things about how I grew up in the house I grew up in but my mom and my stepdad, they made sure we had everything; four-wheelers, scooters, golf carts. I had everything but a horse. They wouldn't buy me a horse. I had to do that one on my own. We had everything, though. We enjoyed each other and that's one thing – that's why I'm not big on money. I'm big on love and family. At the end of the day, if that money leave, or that money get lost or burnt, they gon' be there. My family gon' be there so that's all I care about.
[Devin has six siblings, some of which are step-siblings, but he says he doesn't do the 'step' thing. They're all his brothers and sisters.]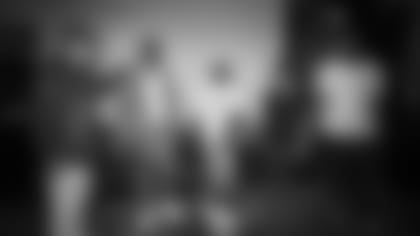 Speaking of family, at the Draft, the camera caught one of your sisters not looking too happy and giving you the cheek after your name was called. I think a lot of people thought it was your girlfriend.
[Laughs] The lady said move fast. That's my mom's daughter, my other sister who was sitting beside her that's my stepsister. So, I was like my sister is on the edge, I have to show her some love because I know she proud of me. She didn't expect it and then I was trying to get her cheek because she got that makeup on. So, me not trying to get the makeup on me, cuz somebody got me on my other suit, and then they told me to try to make it fast plus we didn't really know what to expect and she just got done crying and stuff."
That makes a lot more sense – cameras just tend to have bad timing. And now you're on your way here in Tampa. What are your first impressions so far?
This is only my second time here but it's just beautiful. Even if it rains, it's just beautiful. Look at the trees. We don't see trees like that where I'm from. Those are palm trees, correct?
[Devin points out the window towards the practice fields of AdventHealth Training Center.]
Yeah, we don't see those. There's a beach close by, we don't have that. So, my impressions are everlasting. This place and this red and – what do we call it?
[At this point, a back and forth about how to pronounce 'pewter' ensues, which included a very nasally over-dramatization by yours truly that makes us both laugh. Also, did you catch that 'we' in 'What do WE call it?' Devin's all in already.]
"Pewter. Red and Pewter. That red is shiny. I have an old school 1996 Chevy Caprice and it looks pewter – no I'm kidding, it's shiny red, I just like that word [he proceeds to say 'pewter' a couple more times]. But no, I love red. I like white new cars and red old cars."
Old cars? Are you a classic car guy?
Mmmm yeah, I got two old cars.
My 1996 Chevy Caprice and a 1987 Monte Carlo SS.
Wow, yeah, ok, when I think classic cars, I think like 70s…
Oh no, I can't go that old. You gotta think about it, I was born in the late 90s, almost 2000s. So that's old to me, I grew up looking at them cars, you grew up looking at station wagons.