STORY HIGHLIGHTS
The Buccaneers will retire #55, making Derrick Brooks just the third player in franchise history to receive that honor
Brooks' number will be retired during his Ring of Honor induction ceremony on Sunday, Sept. 14
In addition to Brooks, the Bucs have also retired Warren Sapp's #99 and Lee Roy Selmon's #63

During a press conference to announce that he would be the next person inducted into the Tampa Bay Buccaneers' Ring of Honor at Raymond James Stadium, Derrick Brooks learned he was also going to bear an even more exclusive distinction in franchise history.  Co-Chairman Bryan Glazer, whose family purchased the team the very same year Brooks was drafted, in 1995, made the announcement: The Buccaneers will retire the #55 that Brooks wore for 14 unparalleled seasons.
Brooks joins Warren Sapp (#99) and the late Lee Roy Selmon (#63) as the only three players to have their numbers retired by the franchise.  Those three are linked in many ways: They're all Ring of Honor members, they all got the call from the Pro Football Hall of Fame and they all won NFL Defensive Player of the Year honors as Buccaneers.  And, of course, those three are almost inarguably the three best players in franchise history.
"My family and I look forward to making the trip to Canton this summer to help celebrate the culmination of Derrick's football journey, where Derrick will receive the highest honor pro football can bestow," said Glazer.  "Then, in Week Two of the season as we take on the St. Louis Rams, we will honor Derrick as the sixth inductee into the Tampa Bay Buccaneers' Ring of Honor.  And, in addition, we will bestow Derrick with the Buccaneers' highest honor.  On that day, we will retire number 55."
Long before his number was officially retired, Brooks kept it out of the hands of any other Buccaneer by lasting nearly a decade-and-a-half in the NFL without ever missing a game.  His career ended after the 2008 season, but the Buccaneers did not issue #55 to any other players over the next five seasons.  Now they never will again.  Brooks said that the weight of this exclusive honor would likely not sink in until he sees his number on the stadium façade, but he was both thrilled and humbled to receive the news on Tuesday.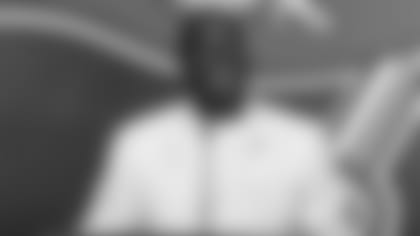 Derrick Brooks joins fellow Hall of Famers Lee Roy Selmon and Warren Sapp as the only Buccaneers to have their numbers retired
"It's extremely important," said Brooks.  "Walking in, [it was] said that this was probably one of the worst-kept secrets alive today, but I don't look at it that way.  As I told Mr. Glazer, you don't take anything for granted, you don't make any assumptions.  Today is a very important day in my life and to have my number retired is extremely special on top of that.
"No one has worn it since I left, but to know that it's part of this franchise's history is a tremendous honor.  I've had the opportunities to have my number retired in high school and college, but this is a little bit different for me, because every time something goes on in that stadium and they see that number up there they get a piece of me."
Brooks' outsized achievements on the field and his incredible, ongoing efforts in the community make it unlikely he will ever be forgotten by Buccaneer fans, with or without his number on the stadium.  Still, retiring his jersey is a recognition of just how significant a part of the franchise's history he has become.  Brooks, in fact, is the perfect model of a Buccaneer for the generations of players that will follow.  Those players, and the millions of Buccaneer fans who will come through Raymond James Stadium in the years to come, will always have that #55 to remind them of that model.
For his part, Brooks simply wants to be remembered as the same sort of man his Buccaneer teammates knew for 14 seasons.
"I just want to be a servant leader," he said.  "That's how I live my life.  I live it to serve others and to try to do it from a leadership standpoint, to make everybody relevant.  As far as the game of football goes, I would like for people to say that the game was better because I was blessed to be a part of it."