STORY HIGHLIGHTS
Soon-to-be-enshrined Hall of Famer Derrick Brooks is waiting to experience the Canton atmosphere before finishing his speech
Brooks has delivered important words many times in his life through his charitable programs and his goal is always to change lives
Brooks will be presented by his 15-year-old son, Decalon, who will be speaking for his three siblings, as well

In just 10 days, Derrick Brooks will deliver one of the most important speeches of his life, or at least one that will reach the most people. He's not ready yet.
In fact, Brooks won't be fully prepared a week from now, either. As one of seven members of the Pro Football Hall of Fame's soon-to-be-inducted Class of 2014, Brooks will arrive in Canton, Ohio late next week to begin a weekend of festivities. It isn't until then that he'll put the finishing touches on the speech he'll deliver upon his enshrinement on Saturday night.
"I really like to speak from the heart," said Brooks of the process he is following to formulate his words for enshrinement night. "A lot of that feeling in my heart is still out there, waiting in the next 10 days, for me to touch down in Canton and start to breathe that air, be in that environment amongst all those greats. I still want to leave room for that. So, yes I've worked on it but at the same time probably much of my speech will be from the heart because that's who I am."
Brooks will surely take an opportunity to stroll through the Hall of Fame and check out the famous bronze busts that represent all the Hall of Famers who came before him. He won't have to guess at their thoughts, however, as more than 80 living, breathing Hall of Famers are descending on Canton for the weekend. They'll all assemble for a photo opportunity on the front steps of the Hall on Friday morning and a "Gold Jacket Dinner" later that evening.
"Yes, I've [put] a lot of thought into this speech," said Brooks. "[But I] don't want to write too much of it down. For me, I just want to get up there and obviously thank people that were big influences on my football career and my life, and at the same time leave with the message of who Derrick Brooks is today and who Derrick Brooks wants to be moving forward."
Brooks, a polished speaker, isn't likely to be overwhelmed by the moment. And, in fact, he has probably delivered more meaningful speeches in his adult life than he can count, just to smaller audiences. Through his extensive community work, during and after his playing career with the Tampa Bay Buccaneers, Brooks has done his best to reach young people and change their lives for the better. His speech on August 1 will be on a much grander scale, but he doesn't think they are any more important than the words he has said to boys and girls in his program. That has given him a calming perspective.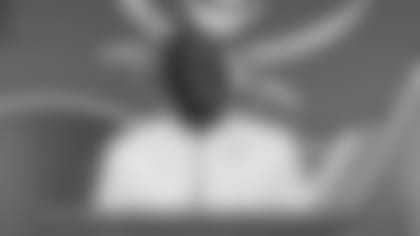 Former Buccaneers linebacker Derrick Brooks will be enshrined in the Pro Football Hall of Fame on Saturday, August 1
"I like to try to keep the same mindset, that this is a speech that is going to go out and touch others," he said. "But I don't want to put any added pressure on myself to say this [or] this, [make it] any more important than one-on-one conversation with somebody who's life you're trying to change.
"he bigger picture is that I'm extremely humble to say that I changed the life of one child. The general theme of our foundation is that we changed the life – and are still trying to change the life – of one child. Whether it's one or a thousand, as long as it's not zero, that's what I'm most proud of. I thank God that playing the game of football provided that stage for me to stand on to help change our community."
The former Buccaneer star won't be the only Brooks speaking during the enshrinement ceremony. The elder Brooks chose his oldest son, Decalon, to be his presenter that evening. The 15-year-old Decalon has three siblings – older sister Brianna Monai, younger brother Darius Dewan and younger sister Danie Denice – and Brooks only chose Decalon after failing to get the Hall to allow all four children to take the stage together. Derrick is counting on his other children to give Decalon the strength he needs to make it through such a potentially nerve-wracking experience.
"I had to tell all four of them that my plan was to have all four of them say something, but the process had to be that only one could speak," said the elder Brooks. "I told them that because he was the oldest son and he played football, I wanted him to take the first shot. He said yes and shyly smiled and my kids kind of had their own little huddle-up to talk about it. We really just got him comfortable with the idea. I would say that remembering from how shy his smile was that he's going to be happy to do it. He's probably going to be a little nervous but we'll get him through it."
And how is Dad going to feel when Decalon is at the podium? Nervous? Proud? Again, Brooks doesn't want to think that far ahead. He wants to make sure he enjoys the moment for the emotions that it brings.
"I just know that he's going to do a good job of representing his siblings," said Derrick of Decalon. "He's excited for this opportunity. I don't want to have any preconceived emotions about how I'll feel because I don't want to rob myself nor him of those moments. I will say this: I'm very grateful that my son gets a chance to do it because he's a football player himself."