STORY HIGHLIGHTS
New Hall of Famer Derrick Brooks is still trying to grasp such a prestigious individual honor in a team sport
Brooks thanked many of his Buccaneer teammate during his acceptance speech on Saturday night
Brooks joins Lee Roy Selmon and Warren Sapp as Tampa Bay's three Hall of Famers so far

In the last few hours before his bronze bust was to be unveiled at the enshrinement ceremony for the Pro Football Hall of Fame's Class of 2014, Derrick Brooks was still trying to fully grasp what the honor meant. In particular, he was struggling with the dichotomy of receiving a highly prestigious individual award after a career spent in the ultimate team sport.
"Usually when you've won awards and your teammates have had success, they're just a part of it," said Brooks, the 11-time Pro Bowl linebacker for the Tampa Bay Buccaneers, on Saturday afternoon in Canton, Ohio. "But when you're singled out to be a Hall-of-Famer in this game, that is something that I've got to learn to get used to. It has made me reflect on what we accomplished as a team."
By 8:00 p.m. on Saturday evening, Brooks had his bust, his gold jacket and his spot among the 287 best players ever to put on a football uniform. That individual-versus-team distinction still seemed to be escaping him, however, and perhaps it always will.
During his acceptance speech on Saturday night at Fawcett Stadium, Brooks paid his respect to two Buccaneers who preceded him into the Hall of Fame: Warren Sapp and the late Lee Roy Selmon. As of yet, they are the only three players in the Hall who were primarily Buccaneers, but Brooks obviously believes that they represent many, many others. From the podium, he gestured to Sapp, who got his own gold jacket just a year ago, and made that sentiment clear.
"Warren, we had some great guys with us along the way," said Brooks. "We couldn't have done it by ourselves."
Few would argue that Brooks is one of the greatest linebackers ever to play the game, and perhaps the greatest Buccaneer ever (why quibble between Brooks, Sapp and Selmon when all three are now in the Hall?). According to Hall of Fame Selection Committee member Ira Kaufman of The Tampa Tribune there was virtually no opposition to Brooks' candidacy when the Class of 2014 was chosen in February. He could easily get into the Hall simply on his black-and-white resume: 11 Pro Bowl invites, five first-team All-Pro selections, NFL Defensive Player of the Year honors, a Super Bowl championship and a Walter Payton NFL Man of the Year award. Now that Canton has opened its doors to a second Buccaneer great in as many years, all six men in NFL history who have earned a Defensive Player of the Year award, won a Super Bowl and been named to at least seven consecutive Pro Bowls are in the Hall.
But Brooks would insist that he couldn't get into the Hall on those numbers alone because he couldn't have accomplished all of the feats they represent without the hard work of so many Buccaneer teammates and coaches during his 14 seasons in the NFL.
Dozens of those teammates and coaches made the trip to Canton over the weekend to help usher Brooks into the Hall. Fullback Mike Alstott, who Brooks singled out during his acceptance speech for his incredible work ethic and team-first attitude behind closed doors, knew Brooks was sincere when he sought to share his honor.
"You feel like this is a team accomplishment," said Alstott. "Derrick was a team guy, and for us to be side by side for so many years and grinding each and every day for one common goal ,and then to be here to honor him, it's really an honor."
Brooks spent most of his speech thanking those who helped him on his "wonderful journey" to Canton, beginning with his early years in Pensacola, Florida and continuing on to the present day. He traced his success and his humility to three people: grandmother Martha Brooks, stepfather A.J. Mitchell and, most of all, mother Geraldine Brooks Mitchell. He specifically thanked a litany of coaches throughout his days in youth, high school and college football, explaining the most significant thing he learned from each. But, as Brooks himself said, he's going into the Hall of Fame based on his NFL exploits, and he shared the credit for that with many, many people.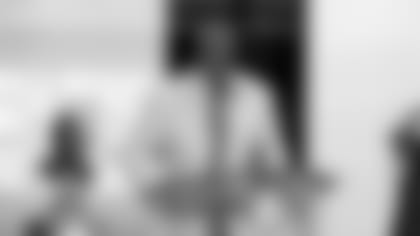 Derrick Brooks had heartfelt thanks for his parents, his many coaches and a long list of former Buccaneer teammates during his Hall of Fame speech Saturday
In the most fascinating stretch of his acceptance speech, Brooks named a long list of former Buccaneer players and coaches, some that were expected – Alstott, Sapp, John Lynch, Ronde Barber – and some less so – Martin Gramatica, Brian Kelly, Jeff Gooch, Lonnie Marts. Those names shed light on the fact that Brooks' 14 years in the NFL – during which he famously never missed a game – really were a long and winding journey. A journey were the relationships were the most important things.
"It was awesome playing with Derrick Brooks," said cornerback Donnie Abraham, Brooks' teammate from 1996-2001. "Everything you hear about him being a true leader, being a great guy, a great man, a father, everything about him, is true. It was unbelievable being able to play with him and I know I'm fortunate and blessed to play with such great guys that we had."
Even after moving on from the gridiron to the halls of Canton, Brooks was still thinking in terms of team. He gestured to the 100 or so men in gold jackets gracing the stage around his podium on Saturday night and once again offered up his humble service to the designs of a larger group.
"Now that I'm a part of this team, it's going to be a better team, because I'm going to work my butt off to make the Pro Football Hall of Fame a better organization," said Brooks. "As a servant leader, I just want to do the best I can to make something better than it is when I come in touch with it. When the Bucs drafted made me, I gave them my commitment, I gave them my all. Part of that commitment as a servant leader stands before you today."
There were more former Buccaneers in the Fawcett Stadium stands on Saturday beyond the ones Brooks specifically mentioned. Without the time to recognize every one of them, he instead asked them all to stand so that he could bow to them.
Most of those former teammates on hand were part of the franchise's stunning turnaround in the mid-1990s and/or the team's run to its first Super Bowl title in 2002. The decade of excellence that began shortly after Brooks' arrival obviously has a lot to do with the Bucs' Hall of Fame representation suddenly tripling, with several more additions possible in the next few years. That was Brooks' team, but even in 2014, six years after his final season, he still considers the Buccaneers his team. And since that seems to be the most important word in his football vocabulary, it's no surprise that Brooks was also thinking about the future of the Buccaneers franchise on his big day.
"I was blessed to play in front of home crowds since 1997 that were never empty," he said. "Every seat was filled. Sold out the whole stadium. All of those games mattered to us. [We can't] lose that essence. We've got to get it back. We truly need to get our franchise back to where we want it to be – back to being relevant, back to winning, back being the talk of the NFL, where nobody wants to face the Buccaneers."
Buccaneer fans who cheered on Brooks and his teammates know very well how that feels. And that's one of the very best reasons that Derrick Brooks, Pro Football Hall of Fame Class of 2014, will never be forgotten by those fans. As he himself said in the conclusion of his speech on Saturday:
"Most people will forget what you say and some will forget what you do, but no one ever forgets how you make them feel."