STORY HIGHLIGHTS
Derrick Brooks is one of 32 NFL greats who will announce picks during the second round of next week's draft
The list includes 11 Hall-of-Famers, including five from the Class of 2014
If the Buccaneers stay at pick #38, Brooks' announcement will come before 7:45 on Friday night

This summer, Derrick Brooks will follow Warren Sapp into the Pro Football Fame. This spring, he'll follow his former running mate to the podium at the Radio City Music Hall.
On Thursday, the NFL revealed a list of 32 NFL greats – one for each team – who will get the honor of participating in next week's draft. Brooks, one of five members of the Pro Football Hall of Fame's Class of 2014 on the list, will represent the Buccaneers, just as Sapp did last year before his own induction into the Hall.
The 32 former players will announce their team's second-round picks next Friday, May 9. If a team does not make a pick in the second round, the team representative will stick around to take its third-round pick to the podium. Last year, Sapp revealed the Bucs' second-round pick to be Mississippi State cornerback Johnthan Banks; in 2012, Super Bowl XXXVII MVP Dexter Jackson had the honors, reading the name of future All-Pro linebacker Lavonte David from the card.
The Hall of Fame's Class of 2014 will be heavily represented by Brooks, Aeneas Williams (representing Arizona), Claude Humphrey (Atlanta), Andre Reed (Buffalo) and Walter Jones (Seattle). Six other teams will send Hall of Famers to the podium as well in Mike Singletary (Chicago), James Lofton (Green Bay), Curley Culp (Kansas City), Larry Little (Miami), Harry Carson (New York Giants) and Willie Brown (Oakland).
Interestingly, the list also includes four other players who spent portions of their playing careers in Tampa, a few of them only briefly: Joey Browner (Minnesota), Mark Carrier (Carolina), Kevin Carter (St. Louis) and Terry Hanratty (Pittsburgh). Carrier is the Buccaneers' all-time leader in receiving yards.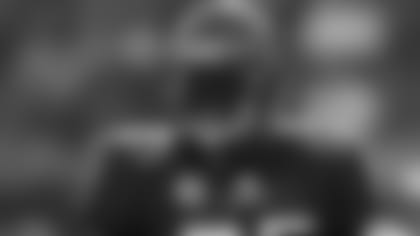 Derrick Brooks will read the Bucs' second-round pick next Friday, an honor previously bestowed on Warren Sapp and Dexter Jackson
The 2014 NFL Draft will kick off next Thursday night with the first round, beginning at 8:00 p.m. ET. The second and third rounds will take place on Friday evening, beginning at 7:00 p.m. ET, with the remaining four rounds held on Saturday, beginning at noon. The Buccaneers are currently scheduled to pick sixth in the second round, 38th overall. Given the seven-minute time limit for second-round picks, Brooks will be headed to the podium before 7:45 on Friday night, assuming Tampa Bay remains in that spot.