The NFL Scouting Combine is underway in Indianapolis, and on Saturday, the first group of players will take the field at Lucas Oil Stadium. The Tampa Bay Buccaneers' contingent of coaches and scouts, led by Head Coach Lovie Smith and General Manager Jason Licht, is already on the scene and will be in the stands for every workout from Saturday through next Tuesday.
That includes Sunday, when the quarterbacks take the field.
The Buccaneers own the seventh overall pick in May's draft, and that carries with it a wide variety of intriguing possibilities, including a handful of potentially elite signal-callers.  On Thursday, Smith conceded that the Buccaneers would have to at least consider the option of adding a franchise quarterback at that number seven spot.
That should definitely not be considered an indication of any dissatisfaction with Mike Glennon, the 2013 third-round pick who handled himself well as a rookie starter in 13 games last fall. Smith and company recently completed their in-house appraisal of every player on the roster – a necessity after the new regime was put in place in January – and they clearly liked what they saw in Glennon.
"As you look at an NFL quarterback and what you expect from them, Mike Glennon can make every throw you ask an NFL quarterback to make," said Smith. "Mike isn't the most mobile guy in the pocket, so we will always be working to improve on some of those. He's a willing guy – for a rookie to come in and have success in the league, you have to like that part of it. He has a lot to learn, like most rookies do. As a rookie player to come in and see improvement and know that you can win with them, you play good football throughout. That's what we like right now. We're not a finished product by any means, but it's a starting spot."
Smith addressed a variety of topics, including Mike Glennon and the Buccaneers' need for improvement on the offensive side of the ball, during a press briefing in Indianapolis on Thursday.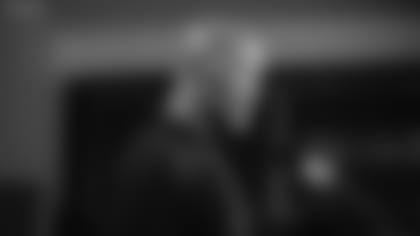 Tampa Bay Head Coach Lovie Smith says Mike Glennon can make all the throws necessary for an NFL quarterback to succeed
(Opening statement)
"Really excited to be back out on the sideline, can't wait to get started. I have a history with the Tampa Bay Buccaneers, getting my first start there. We kind of hit the pavement running. Really excited about the staff I was able to put together. Most of the guys I've had a chance to work with sometime during my career. Being off this past year, I had a chance to watch a lot of football, so I knew a little bit about some of the players. I knew there was a great foundation in place, led by a guy like [defensive tackle] Gerald McCoy, [linebacker] Lavonte David. I got a chance to watch them play a little bit during the course of the year, so I kind of realize where we are. We're a 4-12 team in a tough division. We just feel like we can gain some ground. Having that year off, I had a chance to really kind of see what our football team would look like, wherever I would end up going this coming season. I had a chance to confirm some of the things I believe – how you play offensive football: tough running game, with the big play ability in the passing game. Every year I've been in the league, we've played the same defense; we won't veer off from that too much. I just had a chance to confirm, too, how much I really believe in winning football games with the special teams. I'm excited to be in Tampa; I have a lot of work to do. We start the evaluation process of looking at our current roster, looking at free agency and, of course, starting some of the draft preparation with the combine this week. I'll take your questions."
(On Tampa Bay's offense)
"Offensively, it's like our football team: we're a 4-12 team right now. We didn't have enough production on the offensive side. I liked what [quarterback] Mike Glennon was able to do, being a rookie quarterback, stepping in – that's tough to do. Running back-wise, we had a lot of injuries, starting with Doug Martin. It seemed it was always that next guy up that did a great job with it. Didn't play as well as we need to on our offensive line. We have a lot of money on our offensive line, we should have better production from it. We didn't play as well as we need to in order for us to really compete on the offensive side of the football. Again, that evaluation process is going on."
(On wide receiver Mike Williams)
"We watched all of the players, so I have had the chance to evaluate what Mike has done in the league, not just last year. We're disappointed in some of the off-the-field issues that have come up. We just won't put up with it, it's as simple as that. Coming in new, you have to kind of set your program up on how you're going to do things and that takes a while to get that done. Just him as a football player, he was like the rest of the team: saw some good things that he did, but there are things that we need to improve upon also."
(On what he took from his time coaching in Chicago)
"I think whenever you have the chance to be in a place for nine years, the next place should be easier. Starting in the new job with the Tampa Bay Buccaneers, there hasn't really been anything that's caught me off-guard or anything like that. Having a year off helps, I strongly recommend it. If you get fired, take the year off like I did. It will help you an awful lot. It has helped. I've had a chance to evaluate everything that I believe in and came to some of the conclusions that I thought."
(On how this Tampa Bay team reminds him of his first team in Chicago)
"That was a long time ago, in '04. As I recall, I think [linebacker] Lance Briggs, [linebacker] Brian Urlacher, [cornerback] Charles Tillman, were there. That was a pretty good foundation to start with. I know right now Gerald McCoy, Lavonte David, [cornerback] Darrelle Revis, [safety] Dashon Goldson – there are a few guys in place right now. A great foundation in both places."
(On the similarities between Briggs and David)
"He does remind me of Lance [Briggs]. Being from Tampa, people will probably try to compare him a little bit more to our new Hall of Famer, Derrick Brooks, which isn't fair to anyone. Lance Briggs was a great player and it's good for a player like Lavonte to see what Lance was able to do in our system. Both are great players and it was a privilege for me to have a chance to coach Lance Briggs. We can't wait to get our hands on Lavonte David."
(On changing 'the law of the land' in Tampa)
"I don't know about the law of the land. We're bringing in our program on how we do things: how we deal with discipline, what's expected of our players – so that's what we're going to do. When you come in new – I haven't had a chance to meet with all of the players. Some have come through and introduced themselves. We start up our offseason program April 7 and get a chance to set the tone on how we're going to do things then. You have a starting spot and then you start putting things in place from then. Can't wait to get started to do that."
(On the locker room situation in Miami)
"What happened there has nothing to do with what we're doing in Tampa Bay. The locker room has been there all along. You have to have strong veteran leadership in the locker room. As a head football coach, I have to have a pulse on what's going on in the locker room. I rely on a lot of different people and have a relationship where information comes to me. We're not going to change what we've done. Our program has always been about acceptance and everybody feeling like they're part [of the team], everybody feeling good about coming to work every day [in] an environment they feel like they can be at their best."
(On his time in Chicago)
"It's a Bucs' life for me now. My focus is definitely on that. I've worked a lot of different places in the past. I like to talk about Big Sandy High School, I used to work there, great experience there. I'm excited about Tampa and what we're doing. I've had an opportunity to work at a lot of great places. Chicago is one of them."
(On using multiple running backs)
"With the Tampa Bay Buccaneers, I've always thought that you need more than one good running back in today's time. Doug Martin, of course, can carry the load as a lead back, but it's about more than that. Last year, as I mentioned, I think maybe four or five running backs they went through, so the type of football we're going to play, we're going to need that. Doug Martin's rehab is coming along well. I know he's excited to get back on the football field. He has an excellent running backs coach in Tim Spencer that will be tutoring him."
(On the fact that no NFC South division winner has repeated as champion)
"Never? I didn't realize that. Hopefully that holds true, that means we have an opportunity, right? We eliminated one of the teams right now. Hopefully that's the case. I think as you look in the league, not just in our division, there are some quick turnarounds that happen. There's no such thing as a rebuilding year. People want to see immediate improvements and success. I'll just say that we have a plan in mind, a philosophy that we're going to bring in. There's' a good foundation there and our plan is, of course, for us to go from 4-12 to becoming relevant again and where it matters at the end."
(On being hired by Tampa Bay)
"I was contacted right away by the Tampa Bay Buccaneers. Immediately, we met, we came to a conclusion that day, the day that we met, which was the following day after I was contacted. It was just a perfect fit. That's about all I really remember from that. I know there were some other jobs, but it never really came to that. It was Tampa Bay and it kind of went from there"
(On what he learned working with Tampa Bay during his first stint with the team)
"Back in Tampa, that was a long time ago. The base foundation of what we were as a defense was laid then, but every defense has been different. It's been awhile since I coached with [Dallas defensive coordinator] Monte [Kiffin]. It hasn't been that long ago that I coached with [Dallas defensive line coach] Rod [Marinelli] and I just know what Rod's going to bring to the table. Most of you guys that were in Chicago know what he's going to bring – same guy each day. Fundamentals will be strong. It's not going to be high and low – consistent with the message. Clarity with what he wants. He's got a system – guys doing it a certain way. Just look at his track record. I don't know exactly the personnel he's working with, but I know he'll bring out the maximum in them."