Rookie guard Kadeem Edwards will be on the practice field with his new team, the Tampa Bay Buccaneers, by Tuesday, just three days after he learned where his NFL home would be. As it turns out, that's not far from his actual home of Sanford, Florida, which is about a 90-minute drive from Buccaneer headquarters. The oppressive heat of a Tampa summer has recently started to descend on those Buccaneer practice fields, but it won't be new to Edwards.
That doesn't mean he's in for a simple transition. Between his prep days at Seminole High and his upcoming debut in Buccaneer red, Edwards spent his collegiate days at Tennessee State in Nashville. That's an FCS school, not an FBS program, and that means he faced, on average, a lower level of competition than, say, new teammate Mike Evans of Texas A&M. That makes the leap he's about to make a little bit higher, but his background has also supplied him with plenty of motivation.
"I always was an 'underdog,' so it's nothing for me to come in and work," said Edwards. "I like to earn stuff because respect is not given, it's earned. I just want to come in and I just want to show everybody that I am from a Division 1-AA school, but I am here to compete with the best."
Edwards has already had a taste of the type of competition he could have had at an FBS school, as well as the type of offense he'll see in the NFL, during the 2014 Senior Bowl in Mobile, Alabama. He held his own there among mostly FBS teammates and opponents, confirming his belief that he belongs.
"I think the experience at the Senior Bowl helped me out a lot," said Edwards. "The major leap, it's not a problem. I'm not afraid of anyone, they put their pants on just like I put my pants on, so if they line down, we're going to war."
Edwards' upcoming transition wasn't the only topic being discussed on Saturday at One Buccaneer Place as the team wrapped up its three days of draft work. Below are the full transcripts from press conferences held by Jason Licht and Lovie Smith as well as conference calls with Edwards, tackle Kevin Pamphile and wide receiver Robert Herron.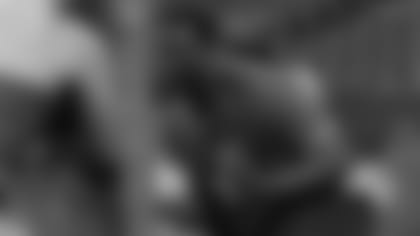 At the NFL Scouting Combine and the Senior Bowl, Tennessee State G Kadeem Edwards became convinced he could compete equally with prospects from bigger programs
General Manager Jason Licht
(Opening Statement)
"If anybody sees [Defensive Coordinator] Leslie Frazier, let me know. And if anybody sees [Head Coach] Lovie [Smith], we told him that the draft was next weekend and so he's on vacation right now [crowd laughs]. We're really excited, again, with the additions today. We were able to add more speed, with [wide receiver] Robert [Herron], who we feel has a chance to compete for a starting slot receiver, he's got some return value. Then the two offensive linemen, both Florida guys – just so happened to be that way – they weren't from Texas. Three guys that we're very excited about and once again, we targeted and it happened to fall to us. We chased one of them and got him. We're excited about the overall class. Obviously an all offensive draft, I don't know if that's some sort of record, but it wasn't the plan, I can tell you that. It just fell that way. The plan was to go get the best players and we were lucky to get the guys that we did."
(On trading up to draft offensive lineman Kevin Pamphile)
"We knew – and we were correct with our intelligence – that there were teams going after him, so we felt like it was a good opportunity to use an extra pick that we had next year to go up there and get him. He's a developmental player with a big upside. He's only played a year-and-a-half at offensive tackle – he went in there as a defensive lineman. He was a heck of a basketball player at Miami Central in high school. He's one of those tall, athletic, tough, strong [guys]. We brought him in for a visit and he's really sharp. Those are the kind of guys we want to take a risk on."
(On if Pamphile is better suited at tackle or guard)
"We'll experiment with that. There's a lot of discussion about that. We feel that it's definitely worth, moving in, at some point, getting him the chance in there, but right now we're going to be working with him at tackle. We felt like we needed some tackle depth and in today's day and age, that third tackle, that swing tackle is a pretty valuable piece of the puzzle."
(On if guard Kadeem Edwards is better suited on the right or left side)
"We're going to play him at guard. We'll have him swing at both, see where he feels most comfortable. Big guy, strong, powerful, athletic, interesting background – he's from Sanford, [Florida]. He's one of those guys that is going to be successful at anything he does. He's dealt with some adversity in his life and he always keeps a smile on his face. He's a very tough – mentally – individual, as well as being a good football player."
(On the depth at the guard position)
"We feel better today and today was just another piece of the puzzle. We have tonight, we have the offseason, we have the preseason, we have camp – we'll have several avenues to continue to look into to upgrade or get better. Rome wasn't built in a day. We're still plugging away at it."
(On drafting all offensive players)
"There were some areas we wanted to improve. We got the big guys and today we got the point guard. We felt like we needed to get faster, bigger, more athletic. [Quarterback] Josh McCown sent a text message: "If you're wishing to get more than a Christmas card this year, mission accomplished." He's happy with the job that our staff did. I know [quarterback] Mike Glennon is excited too."
(On Glennon's future with Tampa Bay)
"We're very excited about Mike. Josh is excited about Mike. Josh, we talk about his leadership a lot. He really is like an extra coach and he's working to get Mike better and it's working. There's a lot of interest in Mike and we want to keep Mike, I guess I should just say. We want to continue to work with Mike and we're very excited about his future."
(On other teams' interest in trading for Glennon)
"Not necessarily trading, just feeling it out and I know that Mike has a very good reputation around the league about his developmental future."
(On Jeff Tedford's vision for the offense)
"He's no different than most – he wants fast guys, he wants athletic guys, he wants guys that can catch the ball. He wants to be versatile, he wants to keep teams off-balance. Guys it kind of starts at the root – they got to run and they've got to be able to catch. They've got to be able to be versatile in this offense. We felt like we are on the road to accomplishing that."
(On seeing Edwards play against FBS completion at the Senior Bowl after playing collegiately at an FCS program)
"It's a tremendous help. I'm not saying that we wouldn't have drafted him if he wasn't [at the Senior Bowl], but it's better than any workout you can put him through. Coach Hop [offensive line coach George Warhop] put him through a good workout there, a private workout. George went there and came back beaming ear-to-ear. He's a happy guy today."
(On if the team's defensive additions during free agency allowed them to improve their offense through the draft)
"Absolutely, it helped us. Like I said earlier, we weren't pigeonholed into having to get one particular thing. It allowed us to take the tight end, which wasn't a big area of need and running back, which definitely wasn't a big area of need."
(On what the team is looking for in undrafted free agents)
"Toughness, speed, passion for the game."
(On when the team became interested in Pamphile)
"I think we were going through the offensive line, Lovie and I, we did that back in March. We had the reports on Pamphile, we knew what he was, but when we got together and watched him together, he was one that Lovie wasn't sitting back in his seat."
(On if Pamphile is similar to tackle Demar Dotson)
"Yeah, that basketball background, raises your attention a little bit, that athleticism."
(On how many draftable players will make it to the free agency period and the competition for undrafted free agents)
"I don't know exactly the number, I would have to look at our board right now, how many we have left that we think are draftable. There are several. It's always a competition. It's like you're on the trading floor. You try every year to make it as organized as possible, but then you have voices coming from all over – 'I got so and so for this much.' You just have to 'Ok, we'll do that one.' It gets a little crazy here."
(On the team's plan at running back after drafting Charles Sims)
"Our plan right now is to take them all to camp. Look at the history here, there's bound to be an injury. We're trying to see what's best for us. We don't want to just part ways with somebody who could be a valuable piece of our team."
(On not moving back into the fourth round)
"I think it worked out the way that we wanted it to. It was better in the end."
(On his first draft as general manager)
"It was awesome. This is, I think, the third shirt I'm wearing today [crowd laughs]. But it's been awesome, couldn't ask for better ownership. They're just as fired up as we are, jumping around in my office when we get the guy that we want. It was cool."
(Opening statement)
"It's kind of good to get one draft over with, as far as the draft is concerned. We still have a lot of work to do with free agency getting ready to start up. I mean, what can I say? First off, you can't assume people are a certain way. I do believe in offensive football, and you just can't win by just playing defense. I know I've been telling you guys that; I think now the actions are speaking a little bit louder than the words. But [General Manager] Jason [Licht] and our scouting department, our coaches, everyone that was involved, a lot of research, a lot of hard work went into us getting to this point to come to an agreement on the direction we wanted to go. We didn't plan on the draft being an all-offensive draft, but we had a ranking that we wanted to stay by, and I just feel real good about all the players, all six players we were able to select, starting, of course, with Mike Evans and really finishing out with Robert [Herron]. You know, positions of need, a little bit for us, we felt like the wide receiver position was one. We were able to, of course, add some good players with that tight end in Austin [Seferian-Jenkins], just a guy you couldn't pass up. And then offensive line, we had a plan. We knew we had to address the offensive line need. [Offensive line coach] George Warhop went out and worked out, Kadeem Edwards and really loved him. Kevin Pamphile came in and we got a chance to watch him, feel like we're really getting a good athlete at that position. So, [we] like this group, and as I said before, can't wait to add some more guys to the mix. Our plans a little bit for the rookies, it's changed a little bit this year, which is kind of exciting, having the draft a couple weeks later. Tomorrow, all of our rookies will be in. We'll fly them all in tomorrow. Monday morning, our main eight o'clock meeting we start off with our veterans, they'll be in the group with them, introducing themselves to Tampa Bay Buccaneer football. Take physicals Monday night and Tuesday they'll be out on the practice field practicing with our guys. The following weekend: rookie mini-camp, so there's a lot of football we're going to start cramming into their minds as soon as we possibly can. But again, excited about the group, we're a better football team right now with the mix of some very good football players. I'll take your questions."
(On if the later date of the draft makes it more challenging for rookies to learn systems)
"All rookies are under the same time schedule. I never complain, very seldom complain about a rule on how something plays out as long as we're all going by the same rules. So, again, as I said earlier, it's helped us with our evaluation, being behind some of the teams that didn't have a coaching change. And guys pick it up. We have plenty of time, believe me, to get our work in, which we'll do. We have excellent teachers on our staff and the players will get it down."
(On how well-coordinated he felt the weekend was)
"Very. You know, once you prepare and the preparation has been good and you go over all the scenarios that can happen, things normally work out about how you pictured it, and that was our case. Yeah, a new GM, but again, I've spent more time with Jason than I have my wife MaryAnne, so we've gotten a chance to know each other fairly well. And of course, our ownership group was just very supportive. They're with us as we were making decisions and it went smoothly, but I expected that."
(On addressing needs on the offensive line)
"We made a lot of changes on our offensive line in the offseason, so when you remove players you have to bring in players, so I felt good. We knew we had to do that coming in, and as far as what order – I mean, we had players in the first round, offensive line-wise, we liked. Every round there was someone, you just had pluses and minuses on what way you went. But we felt like all the way up until the end of the draft there were good football players that we thought could come in and help our team, make our team. So after the first day, without addressing those offensive needs, there was a little bit of concern. My young grandson was a little concerned about the offensive line position just like you guys – not [my grandson] Jackson, but we have others. But again, you had a plan, we were able to address it, and just really feel like [when] you look in the league, they're not all first-round draft picks that end up playing on the offensive line throughout the league, and these are two players that have a chance to contribute for us."
(On hosting draft-eligible quarterback prospects and what he saw out of Mike Glennon to solidify his impression of him)
"Well, we brought in a lot of positions, period. We used all 30 of those visits we could – wanted to see what's out there. And when you have a chance to compare, you make as many comparisons as you can. And again, we had a lot of good quarterbacks come through. I enjoyed meeting them all, and feel like there's a lot of them [that] will play and play well in the league. I didn't get a chance to get to know them and really see them in action like I've seen Mike, and what I've done is I've been in position meetings with Mike, I've been around Mike in every environment that you can think of, and then just watching him on the football field. And what you ask a quarterback to do – smart, make checks, and then throw the football, Mike can make all of the throws. I knew what he could do throwing-wise and all that before, but to just see it up close and personal – and a lot of talk that's going on about Mike Glennon, what I've said is that Josh McCown is our starter, which he is. Love Josh, and Josh is pretty excited – more so than, or as excited as any fan as we have about the offensive group – but what I said was we like Mike Glennon and Mike has an excellent future in the league, and that's how it has played out."
(On what he likes about wide receiver Robert Herron)
"4.31 [40-yard dash]. Great speed, quickness. He told me he's also working on returning punts. Marcus Arroyo, our quarterback coach, of course coached him at Wyoming, so we knew quite a bit about him. And just, again, he gives us a different dimension. You look at Vincent, you look at Mike – big, fast receivers – but what you need in the slot, a lot of times, you need a guy that's kind of quick that can do some of those things inside, and he brings that to the table."
(On if he had any interaction with Tampa Bay during the draft process)
"Yes, I had a workout for the Buccaneers about a month ago. The coach loved me and he stayed in contact with me throughout the whole process."
(On what he needs to improve on)
"I need work on my body, that's first and foremost. My strength and my pad level I think are the key areas that can help me excel in my game if I improve them."
(On how excited he is to come back to Florida)
"I'm very excited. It's home, there's nothing better."
(On how much playing in the Senior Bowl helped him in the draft process)
"It helped me out a lot because it showed me a pro-style tempo of practice and it's good competition. It was just slowed down and a lot faster. I had to really get in my playbook and do the whole – I studied a lot, but I really had to get in my playbook and execute my assignments."
(On if he had any basketball background)
"I played a little bit in high school, but it was mainly for conditioning. I wrestled and played a little bit of high school basketball."
(On if he has a problem switching from the left side to the right side)
"No sir, not at all. I think it will enhance my game. I want to play all three inside [positions], so I think going to right [guard] will really help me a lot."
(On playing in a run-heavy offense)
"I love the run. I think if you can take a person out of his game in the first three plays of the game, if you hit him before he hits you, it's telling him it's going to be a long day. I like a run-style type of offense."
(On learning from guard Carl Nicks)
"It's going to be great. I'm just going to piggyback off him and be like a sponge and see what he has to offer me and see what his learning curve is so I can adapt to the NFL just like he did."
(On what we through his mind when he got the phone call)
"It was a lot of emotions; it was a lot of relief. I finally know what my destination is. It was great. I'll be back home with my family and it's a lot of stuff, overwhelming, but it was joyful at the same time."
(On what the difference is between players who make it in the NFL and those who don't)
"It's the drive after they get drafted. They think once they get in the NFL, everything comes easy; therefore they think they can just sit back and relax and they don't have the same mentality that got them there."
(On what he thinks is his ideal playing weight)
"A lot of teams want me to put on a lot more muscle mass. If I can still be athletic, it really doesn't matter."
(On his impressions of Tampa Bay's offensive line coach George Warhop)
"He's a teacher, he makes sure you get your craft and your technique right and he's really a hard worker, but he makes sure you understand the game inside and out. He makes sure you're smart enough to know the game and on the backend makes sure you're physically ready."
(On who he patterns his game after)
"[Washington tackle] Trent Williams. I like Trent Williams, he's real aggressive, he's a hard-nosed tackle. Carl Nicks as well because he did play for the Saints, but I think he's small-school guy as well. He gave me a lot of inspiration patterned my game after his."
Offensive Lineman Kevin Pamphile
(On playing at Miami Central High School and returning to play football in Florida)
"It feels amazing. It was kind of tough for my family to come see me all the way up at Purdue. I'm happy to be close to home, not too far for my family to come see me. I'm excited."
(On his pre-draft interactions with Tampa bay)
"Coming in and visiting them, I felt at home, I felt a family warmth and everything. I love the coaches, [Head Coach] Lovie Smith is a great guy, offensive line coach [George] Warhop is a great dude. Just talking to him, I really enjoyed the meeting that we had. I just felt comfortable and I know they felt the same way. I had a feeling it would be them."
(On his versatility on the offensive line)
"I can play any position except center. It's kind of hard for me to snap. I can play either side, inside – guard is not a problem for me at all."
(On where he learned his versatility)
"Usually when I'm watching somebody, I like to watch people who played in front of me [on the depth chart], and see how they play the position. I think learning through the coaches and the players, I'll be very versatile"
(On transitioning from basketball to football)
"I didn't think it was going to happen this fast or happen the way it is happening right now. I'm just happy and I'm blessed. I want to thank God and my family, for trusting me and believing I can do this. My teammates, my coaches who helped me – it's great."
(On who convinced him to play football as a senior in high school)
"Football coaches that were at the school at the time. Telly Lockette – he now coaches for the University of South Florida – he kept convincing me, telling me I should come out and play. He kept hounding me, telling me I should go play football. After my junior year of playing basketball and no scholarships I looked for, I came out and gave it a shot. I'm excited about my decision that I made."
(On switching from defensive to offensive line)
"I started playing offensive line halfway through my redshirt sophomore year. I started playing defense first, then halfway through the season they moved me over because the offensive line was getting beat up."
Wide Receiver Robert Herron
(On his reaction to being drafted by Tampa Bay)
"I'm just excited. It was a long wait, but I feel like it was the best position for me to go and I'm just ready to get to work."
(On his 40-yard dash times)
"The fasted I clocked in was 4.25 [seconds], I heard, but I'll take that 4.31 any day, though."
(On his connection to Tampa Bay's quarterbacks coach, Marcus Arroyo, who coached at Wyoming from 2009-10)
"He was the one who recruited me, actually, and stuck with me the whole way. When I had some grade issues, he stuck it out and somehow got me up there [to Wyoming]."
(On Arroyo's involvement during the draft process)
"At the NFL Combine, he was in the meeting with Tampa Bay, and I called him after I got picked and told him that we were back at it."
(On his role and improvements he can make)
"Just working at the slot [receiver position]. I know they have some great outside receivers and I know they are in need of a slot, so just coming in, trying to get these plays down, get into the playbook and work hard and just play with a chip on my shoulder."
(On playing a role in special teams)
"I can return and also go down and try to tackle for them, too."
(On players he models his play after)
"Steve Smith, Victor Cruz."
(On where his speed comes from)
"I was just born with it. I feel like you can't really make anyone faster - either they're fast or they're not. I ran track in high school, which made me fix my running form, but I was always fast, so I feel like that just put me past the line a little bit."
(On who would win a footrace between Herron and Tampa Bay running back Jeff Demps)
"I don't know. I'd put my money on myself, but if he's been in the Olympics or whatever, then you never know."
(On how he spent the day)
"[With] family and friends. We were just chilling. I was waiting; watching at first, then kind of turned it off, just because it was a long wait [and] I got frustrated."
(On his emotions throughout the day)
"Very nerve-wracking. I was getting frustrated because I felt like I should come off [the draft board], but I feel like in everything, God had a plan and I feel like this was it."
(On whether he thinks Arroyo might have helped in the selection process)
"I feel like he did. I'm glad I have the opportunity to be with him again."
(On being from Los Angeles and now playing for a warm-weather city)
"I was praying that wherever I went, it was warm, so I'm loving that."
(On fitting into Offensive Coordinator Jeff Tedford's offense)
"Separation, quickness, being able to take advantages of mismatches; I feel like I will excel in this next level at the slot."