Word association: "Rebuilding?"
What is the first thing that pops into the head of a player or coach for the Tampa Bay Buccaneers when confronted with that word? The answer may not be fit for public consumption.
The Buccaneers went 4-12 under Greg Schiano in 2013 and promptly overhauled…well, everything. The team is definitely getting a fresh start in just about every category, but, please, don't use that "R" word. This isn't a five-year plan; Lovie Smith's team is engineered to win this year, if things go to plan. Sunday's season-opener against the Carolina Panthers won't definitively prove if that plan is working or not, but it could be an early indication of how close the Bucs are to contending.
"I think if you talked to my bosses, they wouldn't like hearing me talk about 'rebuilding,'," said Smith. "We're not. So for us, we're trying to put the best product on the field as soon as we possibly can. Every move we've made is to do that. We plan on playing well this first game. I would hope we will. The guys will work that way, but that's definitely the plan: for us to get back into the mix where they're talking about the Tampa Bay Buccaneers."
Buccaneer players certainly don't see this season as a setup for a later campaign. These guys want to win now, and of course the more "seasoned" veterans feel that more than the others.
"Absolutely not – it's never rebuilding," said 10th-year wide receiver Vincent Jackson. "I think all 32 teams are believing that they're going to get to that ultimate goal, and we're one of them. So this season is big. We only get 16 of these regular season games. Each one is very valuable. We expect to perform well and win."
Rebuilding – or the lack thereof – wasn't the only topic being discussed at Bucs headquarters on Thursday. Below are some additional thoughts from Coach Smith and other Tampa Bay players and coaches.
Opening statement:
"Thursday practice was injury-less. Da'Quan Bowers was able to get back out on the football field today. It's been a long time, of course, since he's gotten any work in. But starting that road to get him back out on the football field. Beyond that, same guys practiced. Everybody practiced yesterday – players that had been injured. All are doing pretty good. We're on pace; we're right where we need to be going into the Carolina game."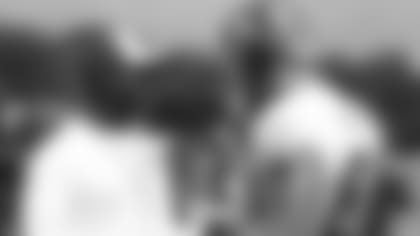 Pictured: Two guys who are not rebuilding
On if it is too much to expect defensive lineman Da'Quan Bowers to play on Sunday:
"It is. Too much. He's making progress. It will take an awful lot for us to move him up right now. It's going to take a little bit longer than that. First step was to get back out on the football field and he's done that. So we'll just move him right along from here."
On offensive coordinator Jeff Tedford:
"He's getting better. There's not a whole lot more we'll be able to tell you. Of course I'd like Jeff to be here every day, but we're holding back on that. He is feeling a lot better. Game-time decision, right? Isn't that what [Carolina head coach] Ron [Rivera] said? 'Cam [Newton] will be a game-time decision.' Tedford, game-time decision."
On if quarterback Mike Glennon did a good job at replicating Cam Newton in practice by wearing his Panthers jersey:
"He's not as dark as Cam. Pretty imposing figure though. Height-wise, he had that pretty much down. Had to give him a little bit of a pep talk to put the jersey on. But seriously, we'll normally have the opposing quarterback [jersey on one of our quarterbacks in practice]. We would like for our defense to have a good visual of who they're going to play. Mike does a good job size-wise; of course Cam's a big man and can sling the ball just like Mike can. So he's been able to give us a great look."
On the use of simulated crowd noise during practice:
"We'll use crowd noise each week. If we're playing at home, we'll have it up when our defense is live. When we're on the road, of course, we'll have it when our offense is up. I assume our crowd will be pretty loud this week and it will be hard for our defensive guys to get their calls in. That's what we're trying to simulate."
On coaching Carolina tight end Greg Olsen during his time as head coach in Chicago:
"When we drafted, I drafted Greg Olsen [as the head coach of Chicago]. Great player, great guy off the field, great player on, can do everything. He's that modern day tight end. Greg can run all the routes outside. It's a tough matchup with a linebacker or a safety guarding him. Excellent hands. So yeah it's good that Steve Smith isn't there, but I hear they have a rookie [Kelvin Benjamin] that's been making some pretty good plays along with Olsen. And then setting it up with the great running game. I think they were fourth in the league in third-down conversions. And that's based on being able to stay out of third-and-longs as much as anything. And when you have third-and-medium to short, you have that quarterback that can take off and fall forward. You know if Cam leans forward, he's got about a couple of yards just doing that. That's tough."
On who will matchup with Olsen:
"We have a couple of different guys: our safeties and linebackers."
On how guard Patrick Omameh was able to climb to a starter on the depth chart:
"The way you get there is to do enough. Get the coaches' attention when you get reps. Be productive, which he did. Take advantage of an opportunity. We moved him up after the Jacksonville game and has had pretty good play since then. And to stay there, just continue to play well. Everything the guys do, we're grading, we're videoing. You have to stay ahead of the competition and that's what he's done."
On if Omameh was one of the players entering OTAs that he did not know much about:
"Definitely. We were talking about how I pronounce him name today. So we're still learning about Patrick."
On how consistent running back Bobby Rainey is:
"Bobby can catch the ball. Very consistent when we've asked him to do it. We feel that Bobby is our three back there Sunday. We feel very comfortable with him catching it and going the distance. I was talking to Bobby today. He had, what, an 80-something-yard touchdown last year? At least that's what he told me. For me of course, I was out of football last year; I didn't really see that. But Bobby can catch it, he can go vertical from there, and we feel comfortable with him returning."
On the progress guard Logan Mankins has made learning the playbook:
"He's been cramming since he got here. On Monday, we gave most of the players off; he was here. He's a veteran. It's the reason he's been an All-Pro this long: he knows how to get himself ready. He knows how to practice, how to prepare. You have to change over some terminology, which he's done. It helps having Anthony [Collins] next to him and of course Evan [Dietrich-Smith] as a center as another coach on the field. They've all helped him quite a bit with what little help he really needed. He has an excellent tutor of course in [offensive line coach] George Warhop."
On if there is anything particular he tells rookies before their first NFL game:
"Not an awful lot. It's a first game for all of us. There will be first game excitement that I've talked to the team about. [I'll] talk about Mike [Evans], Austin [Seferian-Jenkins], some of the guys that will be playing. There's a few people in the stands at Texas A&M; [Mike] has played in a few big games. It's not too big for them. But for all of us, we'll be excited. To me though, a lot of times, that excitement leads to good things happening and that's what we'll assume will happen."
On defensive tackle Gerald McCoy and tackle Demar Dotson being the only remaining players from the 2010 team:
"Every year I've been in the league, I ask all of the players what NFL stands for. What does NFL stand for? They all know, to a man, 'Not For Long.' That's what it is as much as anything. Things are short-term. When you can end up being in a place for a long period of time, it's kind of a special thing nowadays. I guess that's a good thing for us. We're all kind of coming in together – fresh ideas – when you haven't won a lot, that's a good thing. So that's how we're looking at it."
On what he remembers from his first game as an assistant coach with the team:
"I think it was Green Bay. What was it? Thirty-something to…it's vivid – I will say that. It never goes away. Not a butt-whipping like that. When you get beat like that, you don't remember a whole lot of good things that happen. And for us, of course, we started off, we lost a lot of games right away. I can just remember fan-wise, we didn't have a great product we were putting on the field, the fans weren't really interested in what we were doing. We just talked about Sunday. Changed jerseys and it kind of took off the next year. Hopefully we've changed jerseys and we'll kind of take off now too."
On what he remembers from his first game as a head coach:
"Again, bad memories is what I remember about it. Unfortunately, I remember just about all the games I've coached and played in from high school on. Of course Detroit, we played pretty good. Kicking game-wise, how many times do you lose on a blocked field goal for a touchdown? That's what I remember. Hopefully now we've talked about all these things, they're behind us and hopefully there's not a next time. Hopefully we'll just be talking about good things from this game. The guys will practice that way. I feel like we're going to be ready."
Tight Ends Coach Jon Embree
On who has been in control of the offense:
"It's been a collaborative effort, really, with how Jeff [Tedford] had it set up and how Lovie has had it setup from Day One. We will continue to work like we had been. At the end of the day, it will be [quarterbacks coach] Marcus [Arroyo] sending the plays in, but whether it's [offensive line coach] George [Warhop] or [running backs coach Tim] Spencer talking about the runs that they like or [wide receivers coach] Drew [Hayes-Stoker] or myself talking about the passing situations, we'll get it all communicated. Marcus has been on the walkie-talkie since the first day communicating it quarterbacks, so we'll continue that process.
On if Arroyo will be in the coaching booth:
"Marcus will stay on the field. I think it's important since him and Josh [McCown] have a good relationship and I think it's important for them to talk on the field as he comes off in-between series is important."
On if the staff has been in communication with Tedford:
"Jeff has been around a few days. He has the Surface that all of our stuff is on, all of our playbooks and videos. He's been in on a few of our meetings when we've been game planning. We came in yesterday and he had some plays drawn up on the board for us to look at for red zone stuff. Jeff has still been significantly involved."
On who will be calling plays on Sunday:
"It all depends, he might be there. We don't know what's going to happen as far as Sunday. We're preparing for him to be there and for him not to be there. Ask me on Sunday and I'll let you know what the answer ends up being."
On communicating on the headsets during games:
"I think with the coaches that we do have on that side of the ball, we've been good through the preseason of not a lot of chatter while the drive is going on, but communicating in between series. That's important for any play caller, whether it's Jeff in the box or Marcus doing it on the field. Once a guy starts going with the plays that we want to run or see in that series, it's important that we stay off the line and let them think. The only person that talks to those guys during it is Lovie."
On who will communicate with Arroyo calling the plays:
"It could be me, it could be the offense line coach. It's dependent on what it is that we see or the way we think we need to get to."
On how the offense has been able to fill in for Tedford's absence:
"From Day One and through camp, we've kind of worked this way – it's always been a collaborative effort. The fact that Jeff hasn't been around every day so to speak for the last eight or nine days or whatever it's been, it's giving us a chance to work like that, but because we've been doing this from the beginning, from the fact that we knew it was Carolina the first game so we've known that since April or May, we've had a chance to start preparing back then what we wanted to look at in camp, that we wanted to use maybe against Carolina and in our first few games. A lot of the leg work had kind of already been done."
On how Tedford is involved in the game planning:
"Because of the way technology is – again with the Surface being able to have that, he gets to see all of the practices, he gets to see all of the game tape, all of the cut-ups and put all of our scripts for our players and what we're going to run in practice on the Surface, so again he gets to see what we're repping and then match it up with practice. I'm sure he'll do that again today at some point, if he doesn't sneak back in again while we're not around. Because of technology it's been fairly seamless. If it would have been 10 years ago, there probably would have been a few issues."
On if there will be communication with Tedford on Sunday if he's not there:
"No, I doubt it. I think there is a league rule against using cell phones and all of that stuff [on game days], but I guess if we can, you'll see someone on the sideline with their phone and then you know they're talking to Jeff, not ordering anything."
On the last time he saw Tedford:
"He looks good. He came in I think it was Tuesday morning he was around for a while. He was in yesterday, but he looks good, he really does, and we're anxious to get him back in here."
On when Tedford will be back:
"No one has really pressed him on that issue. That's the thing about coaches, generally when we're ready to go, when they say 'Yeah,' we're back in.' We know that whenever they say he's good to go, he'll be back in at his normal time, that early morning time and back on the grind."
On how philosophies differ with Tedford not calling the plays:
"I think the first thing is deciding how you feel like you need to attack that defense to give you your best chance to win. As you go through the week from your practice plays and from things that you like, be it formations, the set-up of other things or whatever it may be, if you feel good about that stuff, getting that kind of stuff going early, and then you want to balance that with getting some things going early that gives the team confidence, whether it's your quarterback or your [running] back or whoever it is that you're trying to get going to get them off to a quick start and then you just have to build with it. You can't really prepare too much for the game because obviously they're going to make adjustments and then you have to answer for that and so it's going to be back-and-forth with that. Lovie has done a great job, he's been involved with stuff with us also, he's done a good job of letting us know a little bit of stuff he sees that we're doing that may be good or like 'Hey that's not as good as you guys may think.' He's helped us streamline things and we feel good about our preparation up to this point, it's important to have another good day today."
On the tight end position and using a three tight end set:
"I still think that you can still do it, we have a kid Cameron Brate on the practice squad and he knows the offense, so you always have that if you need someone in a pinch that you can bring up and do something with. All four of those guys were having really good camps with obviously the fourth being Tim [Wright] that we traded. I am really pleased with where we are from a tight end position and a tight end standpoint. Obviously Austin Seferian-Jenkins coming in has done a lot of good things for us, Brandon Myers has been a great addition. Brandon has done a real good job of helping Austin with different things and nuances of that position. I feel good where we are with that group as a whole."
On who will play the H-Back position:
"It will be done by committee really. It will be Brandon sometimes, sometimes it will be Luke Stocker. I don't know what his history has been before around here, but Luke looks great, he's been healthy, I know that's been an issue in the past, but he's been healthy, he's running good and he's striking people in the run game. He gives us another element."
Defensive Coordinator Leslie Frazier
(Opening statement:
"It's an exciting time to be getting ready for a season opener. All of our players are chomping at the bit to get on the field and we're looking forward to a noisy, noisy Raymond James Stadium. It should be a great day for all Bucs fans. We're looking forward to it."
On if Carolina quarterback Cam Newton's injury affects how they prepare to face them:
"Well, we're going to prepare as if he's 100 percent, that's how we're approaching it. He's a tough guy, he's proven that over the course of his career in the league and that's how we're approaching it. He's going to be 100 percent and he's going to be out there playing as reckless as he always has. We'll see how it goes on Sunday."
On what he learned from coaching against Newton last season that he can carry over to this season:
"There were some things, but there wasn't too much from a strategic standpoint. Lovie and I both have talked, about from our experiences, going against their offense that hasn't changed that much over the last two or three years. There are some things that we will try and do different and try and be little bit better at. They do such a great job of running the football, you've got to find a way to defend their run game, along with the fact that they're so good on third downs and finding a way to get them in longer third down situations. They were fourth in the league a year ago in that area. We just talked about Cam and all of the things that he does. Even when you feel like you've gotten a pretty good pass rush doesn't necessarily mean you can get him on the ground. We're going to try some things that we hope will help us, but they've proven that they can get it done and be very efficient with their offense."
On what rotation will be used for the interior defensive lineman positions:
"We'll see how it goes. [We will monitor] William [Gholston] and Da'Quan [Bowers] as the week goes on, but if they're not able to play, then we have some guys on our roster that we are counting on and we think are capable. Scott Solomon being one of those guys that will have to step up and play well for us, Akeem Spence even inside as a rotational guy, he'll have to help us and Steven Means – those guys will have to play well for us because it will be hard to play 60 straight snaps. We're going to need to have some type of rotation system and the guys that aren't starting will have to step in and I'm sure they'll play well."
On cornerback Mike Jenkins:
"Well you're right, he's missed a ton of time, probably all of training camp for the most part. We're happy to have him back, he had a good offseason program with us and this week we're just trying to get a feel for where he is physically more so than anything. He was always in the meetings and attentive in what we were trying to get done, but the physical part we're still trying to get some of those questions answered here in practice. We'll see what happens as the week goes on."
On what they haven't seen from defensive end Michael Johnson in the preseason:
"I think if you look at his history prior to coming to Tampa, you get a feel for what type of player he is and he's played extremely hard for us. He's done everything we've asked him to do from the time he has arrived. You mentioned that in training camp or the preseason the starters don't get as many snaps; well he'll get a lot snaps this Sunday and we're expecting him to play well. He's looking forward to this game, I think all of our guys are and we think he will play well."
On if Johnson needs to have double-digit sacks for the defense to be successful:
"It would be nice to have, but it's not necessary. We need all of our guys up front to get pressure on the quarterback, our front four. Our defense is predicated on being able to rush the passer with four and not having to bring five and six. Not that we can't do that, but we need our tackles and our ends to be able to rush the passer. It's great to have a guy that can have double digits, but we would like to spread that across the board and get double digits to other positions as well."
On how good he thinks this defense will be:
"It so early and we're still young at a lot of positions, but there are some key components on our defense right now: Gerald McCoy, it starts there along with Lavonte David and a few other guys, but we have some other guys who have only started so many snaps in the football league. We'll have to keep bringing them along and we'll have to add some pieces along the way. We have a chance to have, I think, a very good defense."
On how excited he is to start the season:
"Very. I think our energy is high and we've had a great week of work so far. Still some work to do in preparation for this first week. I thought we built on some great things from this preseason and obviously made some changes structurally-wise in our organization, but everybody in this building is ready to help us win."
On offensive coordinator Jeff Tedford:
"Obviously, our thoughts and prayers are with him. We've seen him around the building a little bit, so he's doing well. We want him to take care of himself and his health, first and foremost. But our offensive coaches are well-versed with this system and he's communicating with them every day. Not having him there physically, obviously we'll miss him, but I think we'll be able to function just fine."
On comparing this time last year to this year:
"It seems like such a long time ago; it seems like it was years ago. We've had so many positive things going on this year that it's hard to look back and think about those anymore. Everything has been smooth and great since we started back in April as an organization. We're just excited; where we are right now, we couldn't put ourselves in a better position to get started. Again, we know how this season goes each and every year – it's a journey. We're not going to be perfect, but we're going to learn from our mistakes and keep getting better every week and do what we need to do to reach our goals."
On how big of a challenge Week 1 will be against the defending division champions:
"It's going to be a big challenge. Defensively, they ranked in the top-10 in multiple categories last year. They had some changes on their personnel, but obviously it's about a system. They got their coaches back; they'll be teaching the same techniques and the same schemes. So I'm expecting it to be very tough and we've got to be sharp. It's going to be a big challenge, opening the season for our offense. But we're excited and we're ready for the challenge."
On the importance of scoring touchdowns in the red zone instead of settling for field goals:
"You have to in this league. It seems like each and every week, you see teams battling in the last two minutes of the game because the scores are always close. Any time you get a chance to get inside that red zone, inside the 10, inside the 20, you've got to come away with touchdowns and not field goals. Preseason, we did pretty well at that, but obviously we've got to have good, long drives to get down there; not just trusting our defense – who's done a great job turning the ball over and putting us in a position to score – but actually putting together long, sustained drives where we can get into position to score."
On quarterback Josh McCown:
"Josh has been great. I've been singing Josh's praises since he arrived here. He's just the ultimate pro. He's everything you want in a quarterback as far as being a leader, being a smart guy, really making great decisions. So I'm having a blast working with him. I think he's the guy to really take us to that next level. So I look forward to Josh having a great year."
On wide receiver Mike Evans:
"I'm very happy with his progress, what he's done, the way he's come in here and approached this season. Despite the fact that he was drafted high and had success at the college level, he knows there's a lot more for him to do, a lot more for him as a receiver that he can learn. He's very hungry; he's working hard at his craft, he's taking all the coaching. So that's all you can really ask for from a young guy: just go out there and continue to learn – it's always going to be a learning process. But he's up to speed. He's doing great things in our offense right now – everything we're asking of him. I expect Mike to be successful as well."
On what people should expect from the team's offense on Sunday in Week 1:
"Hopefully a lot of points. We just want to take care of the football. The first thing that Lovie Smith always talks about each and every meeting is the defense taking the ball away and the offense taking care of the football. So that's going to be our first goal: just putting ourselves in position to win the game in that aspect. But again, we want to be consistent, very well-rounded. We have great players, great skill at all positions and so we're going to spread the ball around, do different things as far as tempo goes."