After practice on Sunday, Head Coach Lovie Smith was asked about Vincent Jackson, and Smith wondered aloud if he had spent as much time talking about the veteran wide receiver as his performance during training camp had warranted.
Indeed, it may be, as Smith noted, that we have taken Jackson's exploits for granted while focusing on more novel storylines: a new starting quarterback, a first-round receiver, a new defensive system with a new pass-rushing defensive end. Well, Smith need not worry about Jackson's profile among those fans who have been in attendance for training camp practices at One Buccaneer Place. Whether or not it's expected, Jackson has been nothing short of phenomenal on the practice field and, most importantly, he seems to have forged a quick bond with quarterback Josh McCown.
Jackson, who has averaged 1,304 receiving yards and 7.5 touchdowns in his first two years as a Buccaneer, but his best season yet might be on tap with McCown distributing the football. Jackson gives his new QB credit for how proficient the duo have looked on the practice field and thinks the best is yet to come.
"I think a lot of it just has to do with his savviness," said Jackson. "He's a very smart guy. He understands space and location and separation on routes and the way the dimensions of a defense work. We spent a lot of time off the field [in the summer] away from this facility going to high schools and just spending some time talking through some things, running some basic routes and getting a feel for each other. I think that relationship is only going to continue to grow."
The chemistry between Jackson and McCown wasn't the only topic the Buccaneers were discussing after practice on Sunday. Here are some additional thoughts from the practice field and the media studio:
Opening Statement:
"First off, just a special time yesterday [at Derrick Brooks' Hall of Fame induction]. I think most of you know how we feel about Derrick Brooks and what he's done for our organization. Having an opportunity to be there and just seeing the emotions that he went through and seeing his family and all of the people that really loved Derrick and having been around him through his career, from back at Pensacola and on, to be able to share that special moment with him was a great experience for me. I've been to the Hall of Fame a few times, but never sitting in the audience and knowing someone personally like that. I couldn't be prouder of him, if anyone deserves to be in the Hall of Fame, of course Derrick does. For our football team, I know most of them had an opportunity to watch it too and he set a standard and it's left up to the players now to carry on that tradition. We're making progress as a football team, I thought watching the video from Friday night's practice at Raymond James Stadium, and we did some good things, but a lot of things we weren't pleased with. OF course the ball on the ground and just some of our sloppy play at times. I thought our offense today really started off strong, got after the defense fairly well, through a lot of the team work. Today was the first day we really had anything live and it was good to see the defense pick up the pace, the defense should have the advantage a little bit when you go goal-line for the first time full-speed like that. Guys continue to show up and make their case and we will continue to look at them and take notice."
On the intensity during the goal-line period of practice:
"Bucs win every day is how I see it. There is a positive to look on and I like it when both have their time up top. Once you get down into the red zone, speaking offensively, you have to get touchdowns. The ball is on the two-yard line, you've got to get a touchdown every time and for the defense to be able to hold them, it shifts momentum quite a bit. I saw a defense without a lot of life pick it up. You can hide a little bit when butting up, but down on goal-line you can't hide, you show your true colors down there. I like some of the things I saw."
On working with offensive coordinator Jeff Tedford:
"Jeff Tedford has been a very good offensive coach for a long time – he has a track record. I saw this from Jeff, it's on record what he's done. We have a long ways to go with our offense, but we see flashes and our players get a little bit more comfortable in it and we have a lot of things going in, when you install a system like that. I've been pleased, if you can be pleased in practice. We're just trying to gear up, of course Jacksonville coming up will really give us a read on exactly where we are."
On safety Bradley McDougald:
"A lot of those we were supposed to be butting off and he was out there tackling, you tend to look a little bit better when you're doing something you're not supposed to. He is around the ball quite a bit, he has made plays throughout and we've taken noticed. A lot of improvement, one of the guys I went to early on. A lot of improvement from the offseason work we had with him, but he's one of the guys fighting for a safety spot. We may keep four safeties, we may keep five – we normally don't get rid of good football players. If you can continue to make plays like that, then we'll find a way. Playing safety is important for Bradley, but also special teams. Again, that's why this game is so important for a lot of the guys that get themselves in position, now they need to finish them."
On wide receiver Vincent Jackson:
"I don't know if I've really talked about Vincent yet up here, we kind of take him for granted because he's just the ultimate pro, goes out each day and does his job. He's having a great camp, made a lot of big plays, he's our [No.1] receiver and we're going to get the ball to him. In order for us to have success, Vincent has to have a great year and he's doing everything to get himself in position to do that. Great size, catches the ball well, good speed, he'll block and there's not a whole lot to dislike about him."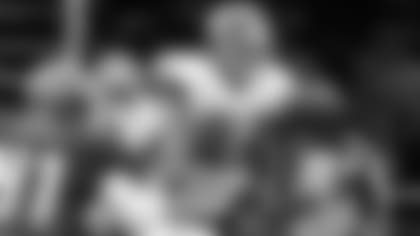 WR Vincent Jackson likes what he sees from the Buccaneers' new offense so far
On wide receiver Mike Evans helping Jackson get open:
"It should help quite a bit. You're talking about our cornerbacks, Danny Gorrer tried to convince me he was six feet today so I had push up against his back, we don't have and most teams don't have a lot of corners over six feet tall. When you go 6-5, 6-5 at the receiver position, you should have some success and everybody of course said 'Hey down in the red zone,' but it's just not down in the red zone, there's jump balls all over the field and again Mike has size to be able to block too. We talk about being a complete wide receiver, you have to block also. You throw [tight end Austin] Seferian-Jenkins in there and we are getting close to that basketball team."
On if he will be ready to play in the preseason opener against Jacksonville:
"I'll be good. I'm getting better. They gave me the day off and I wasn't arguing with them about it."
On the improvement of the offensive linemen:
"We're improving. Guys are taking steps in the right direction, day in and day out. You see guys taking coaching and applying it out on the field. That's what you want to see as a unit and as a player. From my perspective, I always see improvement from these guys and I try and help them out as much as I can."
On where the team is at so far during training camp:
"I'm excited. It's going well. Training camp is obviously a time for us to clean up, sharpen everything we've worked on this offseason. Pretty much three months – April, May, June – installing the system. Now it's time to really crank it up, start defining different positions, getting guys in locations where we have different advantages and getting in a good rhythm. I'm excited where we're at right now. I think we're ahead of the curve for being a new offense with a lot of new guys together. I think we're doing good."
On how he feels about the various weapons the offense has:
"I feel great about the chemistry. I feel like we've got guys in positions where we can spread the ball around. [We can] make a lot of plays at the tight end position, running backs can catch the ball in the backfield, a multitude of receivers – we're going to be very deep there. So it's good. It's a good feeling where we can go out there and get the ball spread around, create mismatches, and know that everybody that steps in can potentially make a play."
On how wide receiver Mike Evans is doing so far in training camp:
"He's doing great. Mike has come in here with a great attitude since we started spring ball. Willing to learn, willing to work on his craft. He's a big, physical guy, obviously very aggressive – he attacks the ball well. He just wants to continue to work on his game and that's all we can ask of him."
TE Austin Seferian-Jenkins
On what level he wants to play at:
"I think you guys have got to wait and see that. I don't really like to talk about it – I like to do it."
On what he has learned from tight ends coach Jon Embree:
"I've learned everything. This is my first coach that has actually played tight end. He has really helped me out with my routes, run blocking, my footwork, hand placement, my eyes. He's really helped me take my game to the next level and I really appreciate Coach Embree because he's done it before. He's not a guy that's going to come yell at you; he's just trying to help you out and get you better every single day. So it's really nice to have a coach that's there that wants to see you get better and have you succeed and push you to that next level. Sometimes you can't see for yourself, but he sees it in you."