The Tampa Bay Buccaneers' offense has had some obvious nice moments during the first week of training camp, particularly in the red zone and against the blitz. Of course, "obvious" is probably the wrong word, because what looks good on the practice field doesn't always translate into success against the next game day opponent.
More to the point, however, it is still very early. Starting quarterback Josh McCown believes he and his crew have a good grasp on Jeff Tedford's system, but he isn't yet certain which portions of it will prove most successful with the current personnel.
"At the start of the year everything is different," said McCown. "You don't know what kind of shape it's going to take on. You kind of have an idea of who your playmakers are, but sometimes you go in thinking one thing and then you end up rushing the ball for a lot of yards. You go in thinking, 'Hey we're going to be a ground-and-pound-it [team],' and then you end up throwing for a lot of yards. You never know and it will really take through the season, that we'll really take on our form of what the 2014 Bucs offense is going to be."
Amidst that uncertainly, all the Bucs can do is continue installing the playbook and trying to develop as many successful strategies as possible.
"It's still early and the main thing is just coming out here every day and focusing on something we can deliberately and intentionally get better at," said McCown. "Just keep stacking those good days and we'll see where we'll end up."
The development of the Bucs' offense wasn't the only thing being discussed after practice on Thursday. Below is a sampling of other discussions that took place with Tampa Bay coaches and players.
(Opening statement:
"We continue to install our game plans for different situations. Today, we had a chance to put in two minute [drill] for the first time, and that's always fun. About half the games come down to what you do at the end of the game in two-minute situations. That last drive determines the outcome of the game, so it's important that we convert on the offensive side and make decisions and all that. On the defensive side, play smart ball [during the two minute drill]. No better time to take the ball away. We did some good things on both sides of the ball today. We continue to get good work. Guys are giving us more to evaluate from before we get to the Jacksonville game. Looking forward to [Night Practice] tomorrow night. It's one thing to practice on the practice field, but when you go to the stadium, it's a different feel. So our players are excited about getting the feel of Raymond James Stadium. Of course a lot of them, this will be their first time going out there. So it will be a big, big day for us tomorrow."
On running back Mike James:
"I saw from last year, [he is a] good football player. Good size. Of course, that injury [last season] kind of set him back a little bit. But he's one of our running backs. We've made it known that we're going to play more than one. You need a lot. In order for us to be a good running football team, we need to have more than one good player, and we feel like we have at least about four that we feel like if we went into a game with them, we could have a good running game."
On whether the team is ahead or behind right now:
"I've never seen a team that's ahead. And it's hard to say if you're behind. I think we're right on par with where we should be at this time. Guys are correcting mistakes from the previous practice. So that's all you really want is daily improvement, which we're making. Again, we continue to put them in different situations. In time, we'll be able to tell that. And to me, when you truly tell whether you're ahead or behind is when you get to the Carolina game [in Week 1]. Till then, we're just going to keep our head down."
On the younger defensive linemen like Scott Solomon and Euclid Cummings:
"You mentioned some names – especially Scott Solomon. Scott has really opened some minds rushing the passer on the outside. Da'Quan Bowers has been criticized around here a little bit. I've been pretty pleased with what he's done on the football field every day I've been the head coach with him. He's done some good things – especially as a pass rusher inside and outside on first downs. You mentioned Euclid Cummings. We have a group of players – Will Gholston – that take their time making big plays. But we'll see in time. Seven guys will dress and we'll kind of determine how many we keep on the roster."
On the new contact rules for defensive backs at the line of scrimmage:
"It's an adjustment. Not much of one. We had officials, as you've probably noticed, at practice yesterday. We had them today and they'll be there tomorrow. It's always good to get them there. Tonight, they'll talk and show a video of rule changes and be able to answer some of the questions that they might have. I don't think it will be too much of an adjustment for us. And it's pretty simple – what are the rules? Here are the rules and you have to abide by them. Simple as that."
On wide receiver Tommy Streeter:
"Tommy, he's another guy with good size, good height, good speed. He's been catching the football. You talk to him, he doesn't want a whole lot of compliments. He just says, 'Hey, I'm trying to do my job and trying to get better each day.' Saying all the right things and just making plays. That's all you have to do as a player. Don't worry about 'Am I going to make the roster? Am I going to get enough plays?' If you get one play, if you do something, you'll continue to get more. We've noticed him. As we initially came to camp, he wasn't one of the guys we were talking an awful lot about, but he's been pretty steady every day."
On how the rotation at defensive line would be helped by Bowers:
"Quite a bit. As a general rule, normally, we'll carry three inside players and three outside guys – three ends. So that's six and of course one more, you would like that seventh player to be able to do both. That's what you have in a player like Da'Quan. He's right in between being big enough to possibly rush inside on third down and a good anchor outside on first down playing the end position. He gives us some flexibility. He's been injured a lot, I know that, but he hasn't missed a beat since I've been here."
Cornerbacks Coach Gill Byrd
On being able to focus on coaching cornerbacks:
"I think that's the thing Coach Smith wanted to get here, where you have three groups, it's just like the linebackers where you have a Mike, a Will and a Sam, in the secondary you have your corners, you have your nickels and your safeties, so you want to have a coach for each position. You can go into a little more detail, the little intricacies of each position, which hopefully will help out in the long run and I'm sure it will."
On what he's seen from the cornerback group early into training camp:
"I think the guys are buying into what we want to get accomplished, they're pursuing to ball really well, they're buying into takeaways, which is what this game is all about. I'm encouraged by what I see in the secondary and especially from the corners."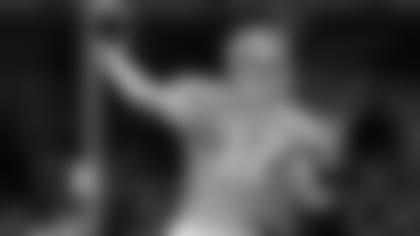 QB Josh McCown has a lot of offensive weapons around him but isn't yet sure which ones will be the focal point of the Bucs' attack
On how training camp has been going so far:
"I feel really good, it's camp, but I feel really good. I like what we're doing, how we're working, not just us offensively, but as a team. There's a lot of give and take, a lot plays being made on both sides of the ball and that's a positive thing for us. I'm pleased with where we're at, we're just scratching the surface on what we can do, especially offensively. We're getting to that point in camp now, day five, day six, day seven and now it's time to push it a little more and we're getting ready to take off. We feel good about where we're at."
On if he's comfortable in the system:
"Absolutely, every day I'm out here, [I get] more comfortable and more comfortable. That's the thing is we're finding about ourselves, finding out what we're going to be as an offense and whose going to be kind of this type of route runner and that type of route runner, and where can we go on this matchup. We're learning a lot and as we do that. As a quarterback you have to make strides in the offense yourself and I think that's coming that's coming together really well."
On the how the skill positions will affect the offense:
"Hopefully it's going to play to it by them being big and fast, catching passes and running fast. We're glad, we like the guys that we have all around and not only at receiver, but at tight end. We feel like there is depth there and at all of the skill positions on offense. Everybody has had their moments where they look good, where they've flashed and made plays. The weapons are there, now it's just figuring out what's the best way to use them."
On the deep competition at running back:
"Competition is great. It elevates your game, depending upon how you look at it. And I'm a competitor, so therefore I look at everything as a competition so I try to be great in everything I do."
On if he's more comfortable in this year's training camp:
"Everybody started at ground zero. It's a new offense, so everybody's at ground zero. Nobody has the upper hand, so best man wins, really. You've got to come and play every practice, no mistakes. The less mistakes that you have, the better chance you have to be on this team."
On how the running game looks so far:
"We're looking good. We've still got a lot of things to cover. That goes all around. But we're looking good. We're striving, step by step. As long as we're being productive each day, that's a great sign."