The fuses were quite a bit shorter on Wednesday when the team returned from a players' day off and stepped right back into a very intense atmosphere. A number of skirmishes broke out during the offensive line/defensive line one-on-one drill, and another melee took place during a full-team period. None were particularly long or involved, but it was still a departure from the nearly unbroken camaraderie of the first week of camp.
Like many coaches, Lovie Smith is not a big fan of fisticuffs on his practice field, but he didn't seem too upset about the issue after Wednesday's 150-minute field session.
"I tell the guys always, 'We don't want a lot of fighting; in the game they throw you out of the game and that's not good,'" said Smith. "As we're getting ready for the season, we want to be as game-like as possible, but if you do feel like you just have to mix it up with a guy, fight him the way you would fight your brother, no cheap shots or anything like that. After that you have to get back in for the next play while you're tired, so we shouldn't have a lot of that."
There didn't appear to be any lingering ill will after the final blast of the air horn at practice.
"It's football," said tight end Tim Wright. "That happens every once in a while. Everybody's working hard and going to the ball and sometimes those things happen. But we are all one family at the end of the day and we know where we stand. We all know where we stand when we get in the locker room."
(Opening Statement:
"Every day at practice you see something different. The longer it goes, the more it gets a little chippy here and there. We had a few more scuffles out there today. Today we put in our red zone offense and defense which is always a fun time. Once you get down into the red zone you need to get touchdowns offensively and to get a takeaway [defensively] down in the red zone, really puts the offense behind the eight ball. Coming back from the day off, you want the guys to be fresh, we don't have a lot injuries, which is good this time of the year."
On the intensity level increasing as the start of the season gets closer:
"A little bit, but we've had intense practices throughout and I don't think fighting proves you're a tough guy or anything like that. We have to fight to get fired up for practice. It's about doing the day to day things and again they don't let you fight during the games, so that's not really helping us an awful lot."
On the contact in practice:
"You're asking me if I like to see guys hitting, football players hitting, is that what you're asking me? It is [practice] and we don't put them down, but yes you do [like to see contact]. There was some contact out there, of course that's what it's all about, but we have physical football players. I know they will hit, they want to hit every time and we got better today and that's the measuring stick. I don't want the players to continue to make the same type of mistakes and I don't think we are."
On the connection between quarterback Josh McCown and wide receiver Vincent Jackson:
"They have to have good chemistry. Vince is our [No.1] receiver, we're banking on him making a lot of plays. Their chemistry or whatever you want to call it between he and Josh has to be good. For Vince, he's a playmaker and when you get down there [red zone] you have to get the ball in your playmaker's hands and we did that today, on more than one occasion."
On linebacker Mason Foster getting better in the system:
"I think in general just by position, our best player is going at the Will linebacker position, there's a reason why Derrick [Brooks] is going into the Hall [of Fame] this week, that has to be our special player and that's the case with Lavonte David. That's tough on Mason to have to play next to a great player and always be compared to a player like Lavonte, but Mason Foster is a good football player, he's made a lot of plays too, like what he's doing. He's growing into the position, couldn't have a better tutor than [linebackers] Hardy Nickerson teaching him how to do it."
On running back Charles Sims:
"I made the statement out there today, 'He's a scholarship player.' If you're looking at it in college terms, he didn't walk-on, and he got the scholarship for a reason. Great feet, we drafted him because of what we saw, of course carrying the ball in between the tackles, but in the open field he can make you miss. He's got excellent hands and the last couple of days he's made a couple of really good cuts that brought a smile to all of our faces. Can't have too many good running backs, Doug Martin made a couple of really good plays and you can talk about Bobby Rainey, Mike James, all of our running backs have."
On tight end Tim Wright and the tight end position:
"As you can see, we'll have him split out from time to time, that seems to be trend in the league now, to have a tight end that you can split out and do different things with and we have one too in Tim. He can lineup outside in the true Y tight end position, we've had him in the backfield, and he does give us a lot of flexibility. I like our tight ends, you just talk about rookies and Austin Seferian-Jenkins has been impressive each day. Big body, tough guy, has picked up the offense quickly, so we have a little depth that tight end position."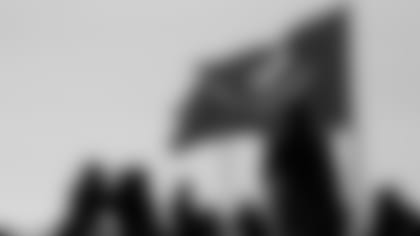 After a day off, Buccaneer players got back on the practice field on Wednesday and brought a little added intensity with them
Quarterbacks Coach Marcus Arroyo
On today's practice:
"We're at that stage now where we're in the final stages of installing [the offense], working on the first day of red zone [today]. So we're starting to work on some of the intricacies of that. I think today was the first day we did it, and we got a chance to work on some things, as you saw us doing. Thought it was a productive day. Always good to get through a lot of the game situations, so you get to teach a lot of them. That's always the best part. [In practice], once you get to red zone [drills], it feels like a full game. You've gone through some normal downs, you've gone through some blitzes, you've gone through second-and-long categories, you've gone through third down, and now you're in the red zone – feels like now you can run it all through the plan. You get to see the full development of a gameplan, and really a full development of a quarterback."
On quarterback Josh McCown:
"Being a veteran, he's seen a lot of those windows that are tighter. I think that gives anybody an advantage, having been in those areas. He does those things well. He's got a good feel for exactly what we want and where we want to put guys."
On if he benefits from having a veteran like McCown on the team:
"Without a doubt. There is no question in my mind. I think any coach would benefit coming into the league for the first time from a guy who has been in the league for 12 years and had upwards of 10-plus coaches – and really good coaches, really good coordinators, really good position coaches, really good head coaches. He is a wealth of knowledge and I'm always trying to pick things up that are within the confines of our room and then within the confines of the team and the unit."
On the increased intensity in today's practice:
"Guys just got out here and competed. It was crazy. That's the kind of things we like to see around here – guys getting out here and competing and getting after each other. We all still know, once we get in that locker room, we're family. That's the thing that Coach Lovie always preaches on, competing and going hard and that's what we did today."
On his mindset during training camp:
"I'm just trying to come out here and do my thing. I got a fresh mind this year – I know what to do, I know what to expect. I'm just coming out here trying to have fun and enjoy the process."
On the difference this year compared to last year:
"I'm smarter than I was last year. I'm not nervous going out there playing timid. I'm playing fast and I'm having fun."
On his comfort level with this defense:
"I love this defense. I played this defense in college. A lot of people said I wouldn't fit, but I caught 16 interceptions and won the Jim Thorpe Award in college while playing this defense. So we'll see."
On the performance of Mike Evans so far during training camp:
"Mike is getting better every day. I can tell he's getting better every day. He's about like how I was last year. The game is slowing down to him and he's getting back to his comfort level where he was at [Texas] A&M. Mike is going to help us a lot this year."
On the relationship among the cornerbacks:
"We're all tight. We're a family. We pretty much know we're going to be here, so we've got to stick tight and coach each other up. We laugh and joke around, but we all know we're competing for a job. So we compete, but we're still boys on the inside."
On his status after coming off an injury last year:
"I'm full-go. I can do anything. I think I'll do some kicking off this year – in the preseason at least. It feels great. That was the biggest thing for me was seeing how I'd be doing on kickoffs because that's a lot stronger of a technique. But it feels great. Everything is right on target and I've been one hundred percent since back in April and March. So I was just coming back out here and really just getting my timing down and putting the pads on – just getting used to that whole thing again. But it feels fantastic. I'm just happy that everything feels strong. And that's the main thing – hopefully it will stay strong,"
On how the team spent their day off:
"Guys spent a lot of time in the meeting room going over plans and going over getting the mentality right so when we come out here today, there's different levels on what guys bring to the field."
On what his focus is during training camp and heading into the season:
"Really, the focus is to excel on what I do well. Running routes, getting better, learning from Vincent Jackson and guys that have been in the league and have a lot of experience. Brandon Myers has a lot of experience, as well, at the tight end position, so he's another good guy to watch on film. Just getting better at the little things, the small details – my footwork. All those things collaborate into one."