On Nov. 13, 2005, Jon Gruden made one of the gutsiest coaching decisions in Tampa Bay Buccaneers history. And it paid off.
The Buccaneers and the Washington Redskins had a late-afternoon kickoff at Raymond James Stadium on that day, as two 5-3 teams would play a game of much significance in the NFC playoff race. Though each team featured a top-10 defense, the scoring started early in this one and never let up. Mike Alstott's two touchdowns helped the Bucs to a 21-10 lead but the Redskins would storm back to tie the game in the third quarter and later take leads of 28-21 and 35-28.
That was the score when Chris Simms and the Buccaneers took over near midfield with less than two minutes to play. Completions to Joey Galloway and Edell Shepherd got the ball into Washington territory and Simms spiked the ball to stop the clock with 1:05 left. On the next play, Simms – who had one of his best days as an NFL quarterback in this contest – lofted a pass deep down the middle to Shepherd, who made a diving catch as he sailed over the goal line.
A simple extra point would tie the game and possibly send it to overtime, and that's initially what the Buccaneers lined up to do. However, after Washington committed penalties on two straight attempts to get the kick off, in a desperate attempt to block it, Gruden changed his mind. He accepted the second penalty, which moved the ball to the one-yard line, and sent in the offense to go for two and the win. Mike Alstott was in the backfield and, with a crowd of 65,421 on hand, there were probably close to 66,000 people who knew he was getting the ball. He did, running over right guard, absorbing one hit and then twisting and extending the ball just over the goal line. The two-pointer was good and the Bucs won the game, 36-35.
Alstott's career exploits have popped up multiple times in our 100-1 Countdown this week, but in this case, it's Shepherd who makes the list. Read below for more details on the big play that set up Gruden's daring call for the A-Train.
Below you will find entries 40 to 21 as we continue that countdown, which celebrates the NFL's 100th season and highlights some of the Buccaneers' best moments in their own 43 years. This section of the countdown also includes the very first points in team history, Lee Roy Selmon's only career touchdown and the day Martin Gramatica scored all the Bucs' points in Champaign, Illinois to clinch a first-round bye in the playoffs.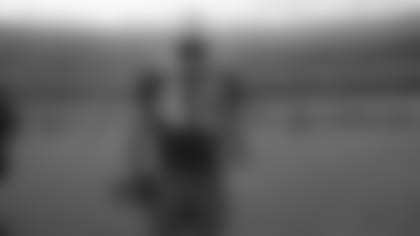 40. Jersey number worn by fullback Mike "A-Train" Alstott, a second-round draft pick who rapidly developed into one of the most popular players in franchise history and part of a memorable "Thunder & Lightning" backfield duo with Warrick Dunn
39. Length, in yards, of the Dave Green field goal versus Buffalo on Sept. 26, 1976 that produced the first regular-season points in franchise history
38. Number of players selected by the Buccaneers in the 1976 Veteran Allocation Draft, of whom 23 actually played for the team and of whom 10 remained Buccaneers beyond that inaugural season
37. Number of times the Buccaneers have gone to overtime during the regular season, games that have resulted in a record of 16-20-1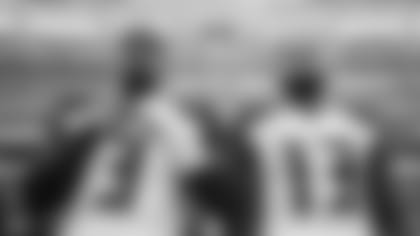 36. Touchdown passes produced by Tampa Bay's top-ranked passing attack in 2018, which set a new record, fully eclipsing the previous mark of 29 set in 2016
35. Points by which the Buccaneers defeated the Cincinnati Bengals at Cinergy Field on Dec. 27, 1988, marking the largest margin of victory in a road game in Tampa Bay's history
34. The overall pick in the NFL Draft in which the Buccaneers have most commonly selected a player, having snagged six players at that spot, including all-time leading rusher James Wilder and current starting left tackle Donovan Smith, along with wide receiver Jacquez Green, running back Errict Rhett, linebacker Demetrius DuBose and wide receiver Gordon Jones
33. Length, in yards, of the longest of the five field goals that Martin Gramatica made at Memorial Stadium in Champaign, Illinois on Dec. 29, 2002, providing all the scoring in a Week 17 shutout victory over the Chicago Bears that won the Buccaneers a first-round bye in the playoffs
32. Length, in yards, of the Buccaneers' game-winning touchdown drive against Washington in the 1999 NFC Divisional Playoff game, as a Brad Johnson fumble that was forced by Steve White and recovered by Warren Sapp set up Shaun King's one-yard touchdown pass to tight end John Davis for a 14-13 final
31. Length, in yards, of the field goal that Neil O'Donoghue kicked to beat the Baltimore Colts, 29-26, on Sept. 9, 1979, ending the first overtime game in Buccaneers franchise history; the field goal try came on the very next play after Randy Crowder had forced a fumble by Colts QB Greg Landry that was recovered by Bill Kollar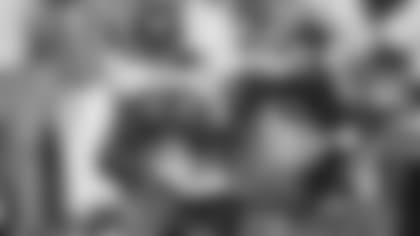 30. Length, in yards, of the diving touchdown reception by WR Edell Shepherd with 58 seconds left in the Buccaneers' Nov. 13, 2005 game against Washington, a play that set up the famous, game-winning two-point conversion run by Mike Alstott in a 36-35 decision
29. Length, in yards, of the only fumble-return touchdown in Hall of Fame defensive end Lee Roy Selmon's career, a play that also happened to be the first touchdown of Tampa Bay's breakthrough 1979 season, as it kicked off a 31-16 win over Detroit on Sept. 1, 1979 and started a five-game winning streak
28. The overall pick in the 1995 draft in which the Buccaneers landed Derrick Brooks, after trading back up for a second first-round pick and becoming the only team since the 1970 merger to select two future Pro Football Hall of Famers in the same first round, as the team also took Warren Sapp at No. 12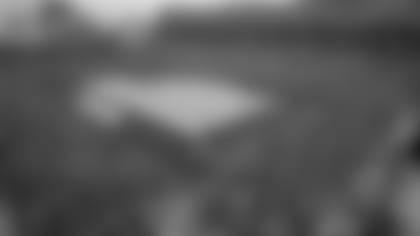 27. Points scored by Tampa Bay in the first game ever played at Raymond James Stadium, on Sept. 20, 1998, as the Buccaneers rallied from a 15-0 halftime deficit to win the inaugural contest in their new home
26. Number of times the Buccaneers have defeated the Detroit Lions, their former NFC Central division foe, marking the franchise's most wins against any other team to date
25. Consecutive field goals made by Connor Barth in games between Oct. 16, 2011 and Sept. 30, 2012, setting a still-standing Buccaneer record and beating the old standard of 16 (by Martin Gramatica, twice) by a large margin
24. Points scored by tight end Jimmie Giles on a team single-game record four touchdown catches in a thrilling 41-38 shootout loss to the Miami Dolphins on Oct. 20, 1985, setting a Buccaneer record that has only been matched once, by Doug Martin against Oakland in 2012
23. Number of tackles recorded by Derrick Brooks on Sept. 30, 2001 against Minnesota, a total that set a still-standing single-game record for the Buccaneers
22. Completions by Vinny Testaverde, on 25 attempts, against Green Bay on Sept. 13, 1992, as Testaverde set the Buccaneers' still-standing single-game record for completion percentage (88.0%)
21. Number of points the Buccaneers were trailing the Chiefs by in Kansas City on Nov. 2, 2008 before rallying for a 30-27 overtime victory, marking the biggest comeback in team history
Friday: We conclude our countdown with the top 20 numbers, with notes that include Ronde Barber's incredible scoring touch, the total list of head coaches in franchise history and the very first Buccaneer win.