The Tampa Bay Buccaneers won a then-franchise-record 11 games in 1999, riding a smothering defense to a division title, a first-round bye and the team's first conference championship game in 20 years. That NFC title match was in St. Louis, against Kurt Warner and the Rams' "Greatest Show on Turf." Warner and the Rams would end up victorious in the end, 11-6, but Tampa Bay's defense put itself on the map by defanging an attack that had averaged just under 34 points a game in its previous 17 outings.
That game kicked off another three years of defensive dominance in Tampa, culminating in a 2002 championship season that ranks as one of the best defensive performances ever. And one thing the Buccaneers' defense did extremely well in that three-year span was take the football away. Tampa Bay's turnover differential from 2000 through 2002 was nothing short of remarkable. How remarkable? Read on.
Below you will find entries 60 to 41 as we continue our weeklong countdown from 100 to 1, celebrating the NFL's 100th season and highlighting some of the Buccaneers' best moments in their own 43 years. This section of the countdown includes the answer to the question above as well as Ronde Barber's career interception total, a fact about the ring from Super Bowl XXXVII and even a franchise record set just last year.
60. Length, in yards, of the fumble return on which LB Hugh Green scored against Dallas on Jan. 9, 1983, a play that remains the longest touchdown of any kind in Buccaneers playoff history
59. Length, in yards, of the game-clinching touchdown run by Reggie Cobb in a 30-12 win over Detroit on Nov. 10, 1991, in which Cobb became the first player in franchise history to record three rushing touchdowns in a single game
58. Length, in yards, of the field goal made by Kyle Brindza at Houston on Sept. 27, 2015, the longest successful field goal ever in a road game by a Buccaneers kicker
57. Length, in yards, of the fumble return touchdown recorded by wide receiver Keenan McCardell on Oct. 6, 2003 – he recovered a fumble by the Indianapolis Colts' Mike Doss after Doss had intercepted a pass – which, when added to his scoring grabs of 74 and 15 yards made McCardell the only player in franchise history with multiple offensive touchdowns and a defensive touchdown in the same game
56. Return yards logged by Ronde Barber in a 48-21 win over New Orleans on Dec. 23 as Barber became the first player in franchise history to intercept three passes in a single game (he would later do it again, and the feat has also since been duplicated by Aqib Talib and Andrew Adams)
55. The third of three jersey numbers officially retired by the Buccaneers, as it was left to be forever associated with linebacker Derrick Brooks, who was inducted into the Pro Football Hall of Fame in 2014 (see also #99 and #63)
54. Number of diamonds embedded in each ring given to Buccaneer players from the 2002 team to commemorate their victory in Super Bowl XXXVII, which included three rectangular modified brilliant diamonds in the base of the depicted Lombardi Trophy, one marquis diamond in the trophy's football and 50 sparkling round diamonds surrounding the trophy
53. Length, in yards, of the longest of the three field goals that Martin Gramatica made in the fourth quarter on Oct. 27, 2002 – two of three in the final two minutes – to power the Buccaneers' 12-9 comeback victory over the Carolina Panthers, in one of the most memorable victories of the Super Bowl season
52. Length, in yards, of the longest of three rushing touchdowns scored by Warrick Dunn in a wild, 38-35 shootout win over Kurt Warner's St. Louis Rams on Monday Night Football (Dec. 18, 2000), an outcome that somewhat avenged the Bucs' loss to the Rams in the 1999 NFC Championship Game and is widely considered the greatest regular-season game in franchise history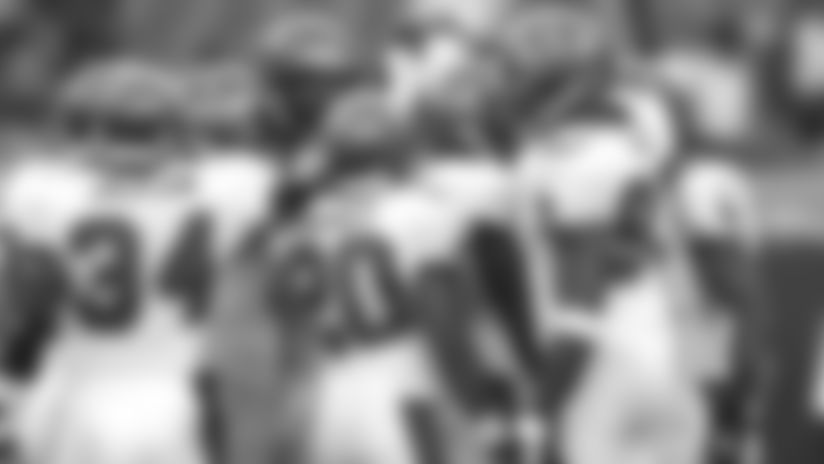 51. Positive turnover differential posted by the Buccaneers' legendary defense in the regular season from 2000-2002, as the team had exactly a plus-17 mark for three straight seasons, a stretch that culminated in the 2002 run to Super Bowl victory; no other team in the NFL even had a plus-30 turnover margin in that same span
50. Consecutive games (from Oct. 29, 2000 through Nov. 9, 2003) in which Tampa Bay's defense recorded at least one sack and at least one takeaway, the longest such streak in NFL history
49. Number of touchdowns scored by the Buccaneers last season, setting a new franchise record by a wide margin, as the previous record was 42 in 2012
48. The number of points scored by the Buccaneers in their victory over Oakland in Super Bowl XXXVII on Jan. 26, 2003, a number that also ties the team's single-game record for scoring in the regular season (at New Orleans, Sept. 9, 2018; vs. New Orleans, Dec. 23, 2001; vs. Atlanta, Sept. 13, 1987)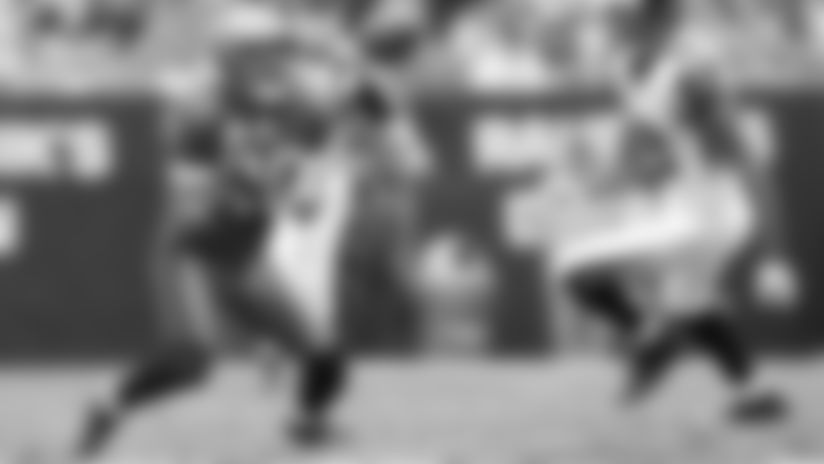 47. Career interceptions snared by Ronde Barber, the most in franchise history by a margin of 16 and, when combined with his 28 career sacks, makes Barber the only player in NFL history to record at least 40 interceptions and at least 25 sacks
46. Length, in yards, of the game-winning field goal drilled by Martin Gramatica – his third of the game and second of the fourth quarter – in a downpour at the Dolphins' Pro Player Stadium on Dec. 10, 2000, providing the final points in a 16-13 win that was Tampa Bay's first regular-season win in Miami and their third straight victory in the 2000 playoff stretch run
45. Length, in yards, of the Hail Mary thrown by Trent Dilfer in Chicago's Soldier Field on Nov. 29, 1998, a pass that was tipped by wide receiver Bert Emanuel and caught in the end zone by wide receiver Brice Hunter for a tie-breaking touchdown in an eventual 31-17 Buccaneers win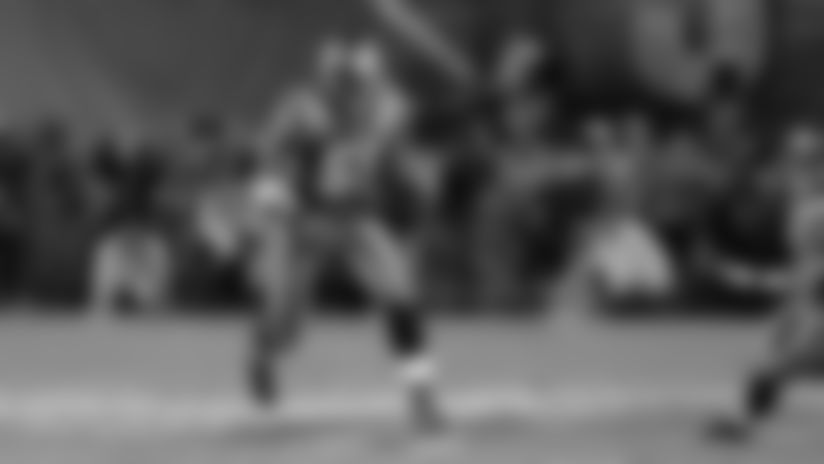 44. Length, in yards, of Derrick Brooks' fourth-quarter interception return for a touchdown in Super Bowl XXXVII, the play that quelled an Oakland comeback attempt and prompted legendary radio announcer Gene Deckerhoff to exclaim, "There it is! The dagger's in! We're going to win the Super Bowl!"
43. Number of seasons the Buccaneers have played (so far) since becoming the 27th NFL franchise, entering the league as an expansion team along with the Seattle Seahawks in 1976
42. Extra points made by Pro Bowl kicker Martin Gramatica in the 2000 season – in exactly 42 attempts – the most ever in a single season by a Buccaneer
41. Points by which the Buccaneers defeated the Chicago Bears on Sept. 10, 2000 in a 41-0 decision, marking the largest margin of victory in franchise history
Thursday: The run-down from 40 to 21 brings up memories of the 2005 Tampa Bay-Washington game with the amazing two-point conversion ending, as well as the thrilling opening of Raymond James Stadium and the biggest comeback in franchise history.