The Tampa Bay Buccaneers announced the team's 2015 training camp schedule, which features 11 days that will be open to the general public. The first of these practices, which are free to attend, will take place on Saturday, August 1, beginning at 2:30 p.m. ET.
For the seventh consecutive year, the Buccaneers will host training camp at the team's headquarters, One Buccaneer Place, where Bay Area fans can most conveniently experience the excitement of watching the club prepare for the 2015 season. Similar to last year, children 12 and under will have the opportunity to gather on the field to receive a free autograph from Buccaneer players following practice. New this year to the training camp experience will be an expanded Kids Zone area that will feature interactive football skills stations, face paintings, a dunk tank, and additional activities.
Saturday, August 1 - 2:30-5:00 PM** Sunday, August 2 - 4:30-7:00 PM
Monday, August 3 - 2:30-5:00 PM[
](http://www.buccaneers.com/news/article-1/Open-Practice-Cancelled-August-3/1bd52366-2857-46b3-ad37-c8eea8a4e702)
Tuesday, August 4 - 9:00-11:30 AM
Thursday, August 6 - 2:30-5:00 PM
Saturday, August 8 - 2:30-5:00 PM** Tuesday, August 11 - 2:30-5:00 PM
Wednesday, August 12 - 2:30-5:00 PM
Monday, August 17 - 2:00-4:30 PM
Tuesday, August 18 - 2:30-5:00 PM
Wednesday, August 19 - 9:00-11:00 AM
"This offseason has been one of the most memorable in recent years, fueled by the excitement of making the first overall selection in the draft," said Buccaneers Chief Operating Officer Brian Ford. "Every year we strive to make training camp a great opportunity for our fans to visit our facility and enjoy an up-close and personal experience. With 11 practices open to the public, there will be plenty of opportunities for our fans to come out and get a first look at their team prior to the start of an exciting season of football."
The available workouts offer fans a variety of opportunities to visit practice as the schedule includes morning, afternoon, evening, weekday and weekend options.
As in past seasons, parking for training camp will be free of charge and fans will not need a ticket for admittance. Additional offerings will include discounted concessions, merchandise tents offering the newest Bucs jerseys and gear, and appearances by the Tampa Bay Buccaneers Cheerleaders and Captain Fear.
Those wishing to attend practice sessions are encouraged to monitor www.Buccaneers.com for updates, as well as follow the team on Twitter at @TBBuccaneers. These outlets will provide camp guidelines, parking information, maps and any schedule updates in order to make visiting training camp a smooth and enjoyable process.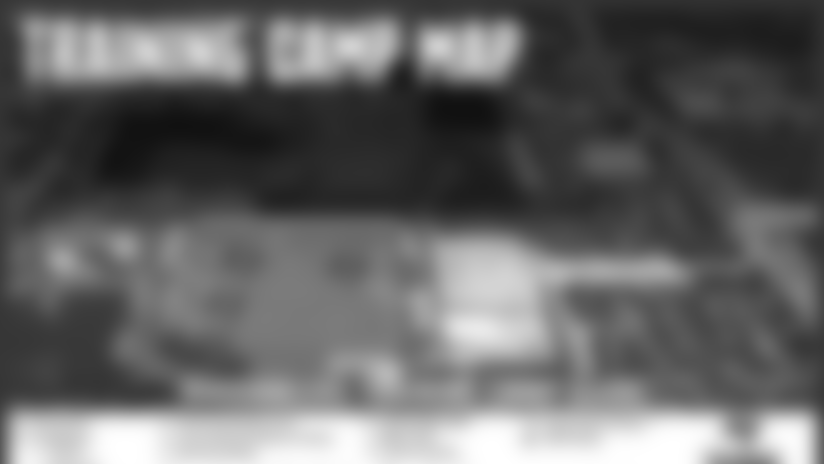 ](http://prod.static.buccaneers.clubs.nfl.com/assets/pdf/2015-TC-MAP.pdf)
The Buccaneers open their preseason slate on Saturday, August 15, with a road game at the Minnesota Vikings, before hosting the Cincinnati Bengals on August 24 as part of Monday Night Football. Five days later, the Buccaneers will host the Cleveland Browns, before wrapping up their preseason campaign at the Miami Dolphins on September 3.
Tampa Bay's regular season kicks off on Sunday, September 13, at 4:25 p.m. ET as the Buccaneers host the Tennessee Titans at Raymond James Stadium.
Individual game tickets are available for purchase on www.Buccaneers.com starting as low as $30. The Buccaneers continue to offer season pass memberships at a wide variety of price points. Memberships start at just $30 (per game) for adults and $15 (per game) for youth and discounts are available for groups of 10 or more. In addition, this season the Buccaneers are offering a pair of Ring of Honor five-game plans. For more information, to speak with a Buccaneers account representative or to get information about special group pricing, please contact 866-582-BUCS (2827) or visit Buccaneers.com.
PLEASE NOTE:* Practice schedule and times are subject to change. Please check *www.Buccaneers.com for up-to-date training camp information.
*
2015 BUCCANEERS TRAINING CAMP MAP