The annual tradition of the Buccaneers Day of Service with technology leader and corporate partner Jabil continued this year at the Boys & Girls Clubs of the Suncoast in Pinellas Park. On Friday, Buccaneers players and staff members helped revive the club and build an all-new Jabil Innovation Room while refurbishing the existing computer lab. The Innovation Room will include a smart board, computers and workspaces to help assist students with their schoolwork.
"Through our work with the Tampa Bay Buccaneers Foundation we are committed to uplifting our community, inspiring our youth and driving social change through programs and initiatives that make a real difference in our communities," said Bryan Glazer, Buccaneers Owner/Co-Chairman. "We are thrilled to be out here with our partners from Jabil who have that same passion for creating pathways to opportunity for our youth. Our hope is that these enhancements will inspire the children here to excel both in the classroom and in life."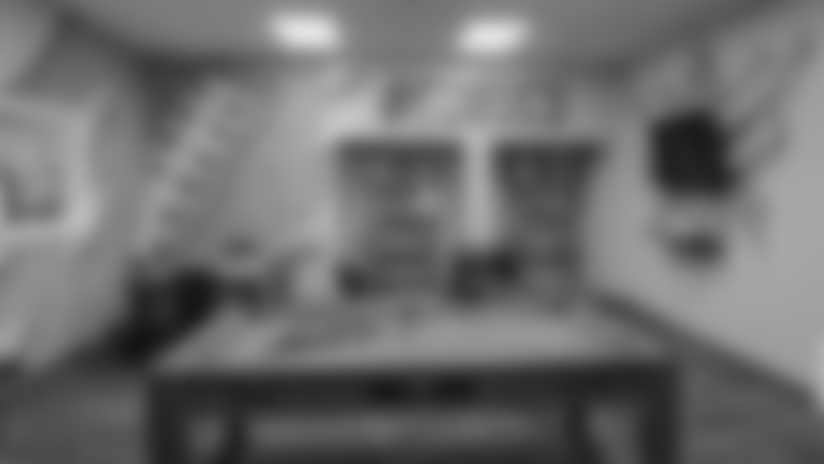 In addition to the upgraded computer lab and Innovation Room, volunteers overhauled the Teen Room, adding electronics, furniture and murals along with the gym, where they upgraded the existing equipment and built a brand-new outdoor playground.
Walking through the building throughout the day you could see Bucs' employees covered in paint, employees from Jabil and Bucs players working side by side to build a playground and new technology going in left and right.
"I am continuously inspired by the positive impact Jabil and the Tampa Bay Buccaneers have throughout our community," said Freddy Williams, President and CEO of the Boys & Girls Clubs of the Suncoast. "Due to their support, we are able to lead the way for a better tomorrow for thousands of kids and teens in Pinellas County."
The day concluded with a big unveiling to kids that attend the center. They got to walk through with Buccaneers players and cheerleaders while they took in all the sights of their new equipment and technology.
The efforts also coincide with a league-wide initiative called Huddle for 100. As part of the celebrations for NFL100, the league is hosting a season-long competition between clubs in an effort to inspire 1 million people to volunteer 100 minutes of their time to make meaningful contributions to their communities. This day of service event means over 30,000 minutes already logged on behalf of Tampa Bay.
Fans can help their favorite team win by volunteering their own time or by boosting their volunteer minutes using the #BucsHuddlefor100 for the Buccaneer
View photos of the Buccaneers Day of Service event. The organization, alongside Jabil, helped revive the Boys & Girls Clubs of the Suncoast in Pinellas Park.