STORY HIGHLIGHTS
WR Trindon Holliday, who had six return touchdowns in the 2012 and '13 seasons combined, signed with the Bucs Tuesday
Tampa Bay also promoted DE T.J. Fatinikun from the practice squad to the active roster
WR Solomon Patton and DE Scott Solomon were waived to make room for those two additions

Apparently seeking a spark in the kick return game, the Tampa Bay Buccaneers have signed Trindon Holliday, last seen returning kickoffs for the Denver Broncos in Super Bowl XLVIII. Rookie wide receiver Solomon Patton, the Bucs' return specialist through the first six games of the season, was one of two players waived on Tuesday, suggesting that Holliday will step immediately into that job.
The other player waived from the active roster by the Buccaneers on Tuesday was defensive end Scott Solomon. His spot was filled by the promotion of defensive end T.J. Fatinikun from the practice squad. Linebacker Shayne Skov was also released from the practice squad, creating two open spots that went to linebacker Mister Alexander and wide receiver Marcus Thigpen.
Holliday is actually most recently a Giant, though he never saw any game action for New York. The fourth-year veteran receiver signed with the Giants in March after splitting his first three NFL seasons between Houston and Denver. He landed on injured reserve in late August, however, and was then waived from the I.R. list by New York two weeks ago. Having recovered from his hamstring injury, Holliday was free to sign and play again in 2014 with any team other than the Giants.
Though he has just two receptions in 31 career games, the 5-5, 166-pound Holliday is a proven threat on special teams. While he had nine kickoff returns for 186 yards for the Broncos last year, he is better known for his exploits in the 2012 playoffs, when he scored on a 90-yard punt return and a 104-yard kickoff return in a wild 38-35 loss to Baltimore. Those plays stood as the longest punt return and second-longest kickoff return in NFL postseason history and made him the first player ever to score in both of those manners in a single playoff contest.
Holliday has also found the end zone during the regular season, scoring twice each on punt and kickoff returns over the course of the those 31 games. He owns a career average of 9.3 yards per punt return and 27.1 yards per kickoff return. If the Buccaneers do turn to Holliday for their return duties, they will likely be looking for that kind of big-play spark. Through the first six games, Patton had helped the Bucs rank seventh in the league in punt return average (11.2) and 12th in kickoff return average (23.1). However, Patton's longest return was a 33-yarder on a punt in the season opener against Carolina.
Holliday originally entered the NFL as a sixth-round draft pick (197th overall) of the Houston Texans in 2010. After spending his rookie season on injured reserve, Holliday split his 2011 season between the practice squad and the active roster in Houston, appearing in just one game. He played five more games for the Texans in 2012 before being waived and claimed by Denver, and it was with the Broncos where his career took off. He averaged 10.4 yards per punt return and 32.5 yards per kickoff return over 10 games in Denver in 2012, scoring once in each category. He repeated that touchdown feat in 2013 while averaging 8.5 yards per punt return and 27.7 yards per kickoff return.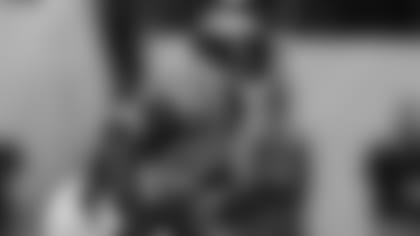 Former Bronco Trindon Holliday is the only player in NFL history to return a punt AND a kickoff for touchdowns in a single postseason game
Overall, Holliday has recorded 80 punt returns for 752 yards and two touchdowns in the regular season, as well as 49 kick returns for 1,327 yards and two scores. He is one of only 15 players in NFL history with at least three punt return touchdowns and three kickoff return touchdowns, when the postseason is included.
Fatinikun (6-2, 250) was signed to the Bucs' practice squad on September 24 and has since made a good impression on the practice field. He had originally participated in the team's offseason-ending mini-camp in June on a tryout contract and was later signed in August after he finished his season with the Arena Football League's Orlando Predators. He played in the Bucs' last three preseason games before being released in the last round of cuts.
Fatinikun played his college ball at Toledo, where he racked up 14 sacks as a sophomore in 2010. He suffered a torn Achilles tendon during his senior season, however, and went undrafted. After a tryout with the Kansas City Chiefs, he ended up in the Arena League, playing for the Orlando Thunder before a trade to the Predators.
Alexander (6-3, 252) originally entered the league with the Houston Texans in 2011 as a college free agent out of Florida State. Alexander played for Houston for two seasons (2011-12), appearing in 14 games while also spending time on the practice squad, tallying three tackles and nine stops on special teams. In 2013, Alexander played for the Toronto Argonauts of the Canadian Football League. This year he has played for the Omaha Mammoths of the Fall Experimental Football League.
Thigpen (5-9, 200) originally entered the league as a college free agent out of Indiana in 2009, signing with the Philadelphia Eagles. Thigpen was waived by Philadelphia during the preseason and signed with the Denver Broncos before being waived prior to the start of the regular season. Thigpen then spent three years in the Canadian Football League with the Saskatchewan Roughriders (2009) and the Hamilton Tiger-Cats (2010-11).
The Miami Dolphins signed Thigpen in 2012 and he spent the 2012 and 2013 seasons with Miami, playing in 32 career games, tallying nine catches for 112 yards and one touchdown plus seven carries for 26 yards. He was with Miami through this past offseason and preseason before being released and signing to the New England Patriots practice squad, where he spent the first two weeks of the season. He was then released by the Patriots, re-signed by the Dolphins to their practice squad and then released again last week.
Solomon appeared in each of the Bucs' first six games as part of a defensive line rotation, contributing six tackles, one tackle for loss, one sack, one quarterback hit, one forced fumble and one fumble recovery. Skov spent four weeks on the practice squad after signing on September 24.