When the Tampa Bay Buccaneers take the field for their final week of OTA practices next week, there will be one new player in the mix. On Friday, the team made a change in the defensive backfield, signing third-year cornerback Quinton Pointer and waiving first-year cornerback Marc Anthony.
Pointer (5-9, 186) spent the past two seasons with the St. Louis Rams after signing as an undrafted free agent out of UNLV in 2012. He bounced repeatedly between the Rams' practice squad and active roster during the 2012 and 2013 seasons, appearing in six games as a rookie and two more last year and recording six tackles overall.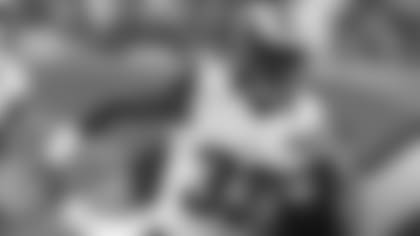 CB Quinton Porter returns to his home state after playing his college ball in Las Vegas and starting his NFL career in St. Louis
A Florida native who played his high school ball in Cape Coral, Pointer played four seasons at UNLV and finished with 226 tackles, six interceptions, 21 passes defensed, six sacks and five forced fumbles. After leading the Rebels with 72 tackles in 2009, he received a medical hardship waiver in 2010 but returned to post 59 tackles and two interceptions in his 2011 senior season.
Anthony joined the Buccaneers as a rookie last season, signing to the practice squad on September 2 after being waived by his original NFL team, the Baltimore Ravens. The Ravens selected Anthony out of Cal with a compensatory seventh-round pick in 2013. He spent all of last season on the Buccaneers' practice squad and then was re-signed by Tampa Bay in January.