STORY HIGHLIGHTS
Three players who were on the 2013 squad were waived Friday: G Jamon Meredith, LB Ka'Lial Glaud and FB Lonnie Pryor
The Bucs still must clear 10 roster spots before Saturday at 4 p.m.
Difficult decisions remain at receiver and on the D-Line

The Tampa Bay Buccaneers began the process of paring their roster down to the regular-season limit of 53 players on Friday, but there are still some difficult decisions to be made.
The Buccaneers officially announced the release or waiver of 12 players on Friday afternoon, shortly before Head Coach Lovie Smith took to the podium for his day-after-game press conference at 2:00 p.m. The team must finish its roster reduction by 4:00 p.m. ET on Saturday, which means there are still 10 roster spots to clear.
G/T Jamon Meredith, who was initially part of the competition to fill one of the team's two starting offensive guard spots, was among Friday's cuts. Linebacker Ka'Lial Glaud and fullback Lonnie Pryor, both of whom were on the Buccaneers active roster for at least part of the 2013 season, were waived, as well.
Four of the remaining nine players on the list were undrafted free agents signed by the Buccaneers, three of which were signed just after the draft in May. The full list of Friday's early roster moves is below. Each player's NFL experience is listed in parentheses.
CB Marc Anthony (1)
LB Nate Askew (R)
T Edawn Coughman (1)
CB Kip Edwards (1)
DE T.J. Fatinikun (R)
CB Anthony Gaitor (3)
LB Ka'Lial Glaud (2)
CB Keith Lewis (R)
G Jamon Meredith (6)
OL Andrew Miller (R)
FB Lonnie Pryor (2)
C Jeremiah Warren (1) Meredith is the only one of those 12 players who is a vested veteran; the others are subject to the waiver wire. All eight would be eligible for a practice squad, in Tampa or elsewhere, if not claimed by another team for its active roster. All 32 teams will begin forming their 10-men practice squads on Sunday.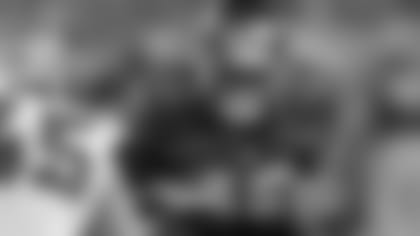 Eight of the 12 players released early on Friday were members of the defense, including second-year LB Ka'Lial Glaud
Eight of the 12 players waived by the Buccaneers early on Friday are defensive players, which is not surprising since the first round of cuts on Sunday was largely comprised of offensive linemen and wide receivers. Four of the eight were cornerbacks, leaving the Bucs with six still on the depth chart: Alterraun Verner, Mike Jenkins, Leonard Johnson, Johnthan Banks, Rashaan Melvin and Quinton Pointer. It's not uncommon for teams to keep anywhere from five to seven cornerbacks, depending upon their special teams contributions, so it's unclear whether or how many more cuts will be coming from this group.
Fatinikun was the only one of 13 defensive linemen cut in that first round, leaving the team with several decisions still to make. While the starting lineup is set with Michael Johnson, Gerald McCoy, Clinton McDonald and Adrian Clayborn, the recent inactivity of William Gholston and Da'Quan Bowers due to minor injuries has complicated the evaluation process. It remains to be seen if defensive ends Larry English and Scott Solomon, who have combined for four sacks in the last two games, have done enough to join that unit, but it's likely that the Buccaneers will keep a deep group on the D-Line.
The Buccaneers also still have five tailbacks on the roster, in addition to fullback Jorvorskie Lane. Jeff Demps was given the majority of Thursday's game to show what he could do and he had some eye-opening moments. Mike James, who had a brief but impressive run as the team's starter in his 2013 rookie season, has been slowed by an injury and hasn't played in the last two games.
And, at perhaps the most intriguing position on the roster, the team still has seven receivers to sort out.  Rookie Solomon Patton, who is at the top of the depth chart at both kick-return spots at the moment, may have helped his cause with a 25-yard catch-and-run touchdown on Thursday night.  Veteran Louis Murphy, who started the game and has had a solid preseason, suffered a back injury in the third quarter and his status is not yet known. Smith will address the first wave of cuts as well as Thursday's game at his 2:00 p.m. press conference.  That press conference will be streamed live on Buccaneers.com; click here to access the stream.