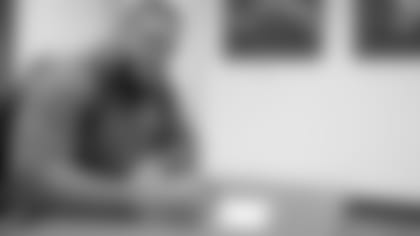 ](http://www.buccaneers.com/news/index.html)


The Tampa Bay Buccaneers began the second week of OTAs at One Buccaneer Place not with a practice out back but with some paperwork upstairs.
It was an important bit of paperwork for rookie Donovan Smith, the 34th player selected in last month's draft, as he signed his first NFL contract. The former Penn State standout who is ticketed for the critical left tackle position on the Buccaneers' offensive line, agreed to a four-year deal and became the sixth of seven Tampa Bay draft picks to sign.
The only player still to be signed from the team's 2015 draft class is guard Ali Marpet, the second of two second-round picks used to upgrade the O-Line. Quarterback Jameis Winston, the first overall pick in the draft, inked his contract less than 24 hours after being selected, and pacts quickly followed for fourth-round linebacker Kwon Alexander, fifth-round wide receiver Kenny Bell, seventh-round wide receiver Kaelin Clay and seventh-round running back Joey Iosefa.
Smith started 31 games on Penn State's line, all at left tackle. The 21-year-old arrived in Tampa confident that he could take on such an important role at the next level, a job rendered even more critical to the Bucs' future given the arrival of Winston, a potential franchise quarterback.
"You have to have an attitude to play on the offensive line in general, but I think there is a little extra on us [at left tackle] because you are protecting the blind side of the quarterback," said Smith. "So you have to have a little more attitude and confidence in that."
Smith declared for the 2015 NFL Draft with one year of eligibility remaining after being named as a preseason Outland Trophy Candidate prior to the Nittany Lions' 2014 campaign. The 6-6, 338-pound blocker has impressively quick feet for his size, a combination that gives the Buccaneers confidence he can protect Winston's back."
We're going to put him at the left tackle position," said Head Coach Lovie Smith during the team's rookie mini-camp in May. "For us to do that is saying an awful lot. You know the type of athletes he'll be blocking. He's got good size, long arms – smart player with a bright future ahead."
The Buccaneers have neared the end of their rookie contract work with several weeks still remaining in their offseason program. Phase 3 of that program began last week with the first round of OTAs, or "organized team activity" days. The Bucs have seven more allotted OTAs and will take the field again on Tuesday. The offseason program wraps up in the third week of June with the team's one full-team mandatory mini-camp.