STORY HIGHLIGHTS
On Sunday, Buccaneer players donned pads and hit each other for the first time since the 2013 season
Buccaneer defenders tried to set the tone by delivering good 'thuds' without endangering their teammates
RB Doug Martin had no problem absorbing hits on his surgically repaired shoulder

Lovie Smith has had the Tampa Bay Buccaneers' training camp practice schedule mapped out, down to the most minute details, for months. And, some time ago, he circled Sunday, July 27, on his calendar.
"I've been ready to get this practice underway for a long time," said Smith, the Buccaneers' first-year head coach. "Our football team, we talked about getting in the pads yesterday, we were able to get some better video to make evaluations. We weren't taking guys down to the ground, as I said we're not game ready or anything like that, but just for the players to put their pads on, things change."
Things did indeed change on the third day of training camp when the players donned their shoulder pads for the first time since the final game of the 2013 season. Pads and intentional contact are strictly prohibited during the offseason by the collective bargaining agreement, so there is a whole new level of work teams can't engage in until they reach training camp. Even then, there is a prescribed two-day warmup period before the real contact begins.
The arrival of pads does not mean that outright tackling is condoned on the practice field. No team wants to risk injuring its own players in practice, so players are instructed not to bring each other to the ground or deliver any hits that would endanger their teammates. The resulting tempo is usually referred to as "pro thud," the second word onomatopoeically describing what happens when two pairs of shoulder pads come in contact with prejudice.
"We wanted to come out – we didn't want to hurt anybody – but we wanted to 'thud up' and get good contact with the guys," said cornerback Mike Jenkins. "I think we did a good job of keeping everybody from getting injured from the contact."
Before the pads were put on, defenders had to completely pull up when about to make contact. With the pads, they could more realistically finish a play, which immediately dials up the level of competition. Putting on the pads also allowed the linemen to truly do battle in the trenches, and even more so when they faced off in one-on-one pass-rush drills.
Linebacker Mason Foster saw the change in practice tempo right away.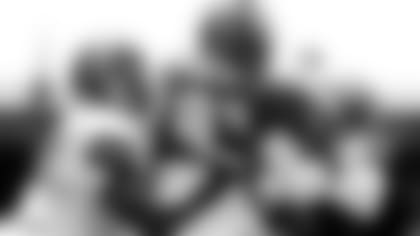 Putting on the pads made the competition among the offensive and defensive linemen much more serious
"It's always tough the first day of pads after running around in your underwear for so long," said Foster. "But we've got a great group of guys and we went out there and competed at a high level and it was a good day. Guys were out there playing aggressive, getting downhill and trying to start off camp on a high note. Everybody was hustling to the ball. We're going to make the corrections, but it's good to see everybody compete at a high level and fly around like that."
Of course, all of the above would seem to paint the defensive players as the aggressors and the offensive players as the unfortunate victims. In fact, the players on offense were just as eager to put on the pads and up the aggression level to their own benefit.
"I felt like the offense responded pretty well," said running back Doug Martin, who hadn't been in full uniform since going down with a shoulder injury last October. "First day in pads, it's been a while for me, so I'm happy to be out here again and finally be back in pads. As an offense, overall, I think we did pretty good today.
"When we hit the field, I was thinking to myself, 'Last time I was in pads was in Atlanta.' It's been a while. But at the same time, I was just very excited to be out here in front of the fans. The fans just bring an energy to the practice field and I can't thank them enough for the support."
Martin represents a subgroup of teammates for whom the first day of hitting is particularly relevant. Any player whose previous season ended prematurely due to injury, and who spent a good portion of the following offseason in rehab, knows that the first day in pads is another important hurdle. Martin's injury just happened to be at the point of contact when it comes to "pro thud," so Sunday's practice was something of a test. He wasn't particularly worried about it coming into the afternoon workout, but it was still a positive sign that he felt fine when it was over.
"[The] shoulder feels good," he said. "First day in pads, the shoulder is still intact. No pain. I'm good today. I'm happy about it."