STORY HIGHLIGHTS
Two lightning delays limited the amount of time the Bucs had on the practice field Friday
Head Coach Lovie Smith used the delays to instruct his team on how to handle unexpected situations
The loss of practice time with pads on would have been more significant

There was a "special category" period on the Tampa Bay Buccaneers' practice schedule for Friday, the first day of their 2014 training camp. Most NFL practices are divided into such familiar categories as 7-on-7, one-on-ones and special teams, but coaches like to toss a special-cat in there from time to time to keep the players on their toes. It's a very specific game situation, such as "you're backed up at your own one-yard line," or, "you just intercepted a pass at the opponents' 40-yard line with 20 seconds to play." Players aren't told what the situation is until right before the period begins.
The Buccaneers never got to their special-cat on Friday, thanks to a funky storm cell that never brought rain on camp headquarters but wouldn't stop tossing lightning in the too-near vicinity. A series of field-clearing lightning alarms limited the team to about an hour of work, most of which was individual-position drills, with a little seven-on-seven passing work tacked on the end. As it turned out, however, the Bucs did got a little special category work in, if not the type that was planned.
The lightning that first drove the Bucs off the field just 10 minutes into practice created a situation that Head Coach Lovie Smith chose to use as a teaching opportunity.
"He came in the locker room and he said, 'You know what fellas? When we play Carolina, there might be a rain delay,'" said defensive tackle Gerald McCoy. "'There might be lightning. You never know what can happen. But if there's a delay, we're going to wait it out, we're going to go back out there and we're going to play. The same thing has got to happen today.' And that's just kind of his mindset. He's just all about winning, and whatever it takes."
Smith conceded that Friday wasn't the "ideal" first day for a training camp, but he didn't seem too worried about his team falling behind. He said he had no plans at the moment to alter a camp schedule that had many practices starting in the late afternoon.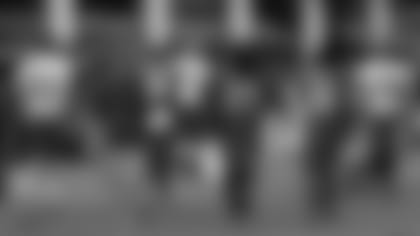 The Buccaneers won't hold their first practice in pads until Sunday
"Training camp in general will happen that way," said Smith. "When you get in a game, you have a game plan and maybe you don't expect a blitz to come at this time, you have to have another plan. You do go through adversity throughout a football game, this is just a part of it. For me, we've dealt with it, we'll come back tomorrow, there are a lot of practices, we have plenty of time to do what we need to do.
"As I told the football team, when we play Carolina [Panthers], we could get a rain delay. You have to be able to go in and then come back out. Everything that you do in the offseason, the preseason and training camp is to get you ready for the football season. We did get a little bit of individual work in, as I said. Tomorrow is another day, we'll get back on schedule and hopefully get some better work in tomorrow."
Not long after the team went inside for the last time, the clouds cleared and a striking rainbow appeared to the southeast of One Buccaneer Place. The clouds that did still linger, maybe they had a silver lining, too. If the Bucs did have to have a practice chopped in half, maybe it's good that it was one of the two to start camp before the pads go on Sunday.
"That's why getting too upset right now, that's just not going to happen because what we want to do is get in position," said Smith. "I spend a lot of my time when you're not in pads telling the guys to 'Pull back, stop, not too much contact.' I'm kind of the contact cop out there and I don't like doing it. Sunday, [we'll be] turning it loose."