STORY HIGHLIGHTS
The Bucs acquired six-time Pro Bowl G Logan Mankins from the Patriots for TE Tim Wright and an undisclosed pick
Mankins joins a rebuilt Tampa Bay O-Line that also includes free agent imports Anthony Collins and Evan Dietrich-Smith
Bucs GM Jason Licht believes the 32-year-old Mankins is still at the top of his game

There are options…and then there are options.
Tampa Bay Buccaneers General Manager Jason Licht and Head Coach Lovie Smith have been saying since the spring that they would explore every possibility to address their team's needs, of which offensive guard was clearly the most pressing. Who knew, however, that a five-team Associated Press All-Pro coming off his sixth Pro Bowl appearance would be one of those options.
That's Logan Mankins, the long-time New England Patriots star who became a Buccaneer on Tuesday when the two teams swung a remarkable and wholly unexpected trade. To acquire Mankins, the Buccaneers sent second-year tight end Tim Wright and an undisclosed draft pick to New England. Outside reports indicate that the pick is a fourth-rounder in the 2015 draft, but Licht said the Buccaneers and Patriots agreed not to confirm that information.
Mankins, a first-round draft pick by New England in 2005, was selected for the Pro Bowl following the 2007 and 2009-13 seasons. He earned first-team All-Pro recognition in 2007, repeated that honor in 2010 and has been a second-team choice in each of the last three years. His arrival is an incredible boon to a Buccaneer offensive line that had been looking for answers at both guard spots since moving on from Davin Joseph and Carl Nicks.
"We feel very fortunate just to have Logan," said Licht, who worked alongside Mankins from 2009-11 as the Patriots' director of pro personnel. "He's a very good player. [I'm] a first-hand witness of what he means to the locker room as well. His play on the field … that speaks for itself for Lovie [Smith] and our coaches, but I've known him over the years. Any time you have five consecutive Pro Bowls, All-Pro player - I mean, [that's] a lot of accolades – but he's a great person. He's going to be great for that room, he's going to be great for this locker room."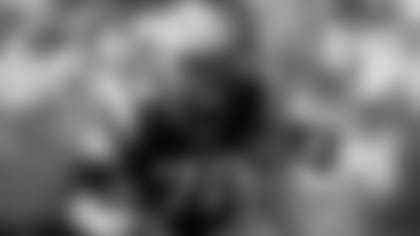 G Logan Mankins was selected for his fifth straight Pro Bowl in 2013
Mankins turned 32 in March but the Buccaneers believe they have added a player who remains one of the best guards in the NFL.
"To me, he looked the same as he did when I was there in 2009, '10, '11," said Licht. "He's a good athlete, he's very strong, he's very smart, he's very tough. He's a tenacious player, a quiet type of toughness. As a defensive coach or defensive player, you just don't like playing against him. He brings that to the field and he brings exceptional leadership off the field."
Mankins' 32nd birthday was March 10, coincidentally one day before the NFL's free agency period began and the Bucs embarked on a dramatic roster overhaul. Among the key signings were new starting left tackle Anthony Collins and new starting center Evan Dietrich-Smith. With the rapidly rising Demar Dotson at right tackle, the Buccaneers now have the makings of a very effective offensive front. In addition, assuming that Mankins steps into one of the starting guard spots, that will increase the strength of competition at the other starting spot. The Bucs have started Oniel Cousins and Patrick Omameh in the last two games and could also consider such options as rookie fifth-rounder Kadeem Edwards and another recent trade acquisition, Rishaw Johnson.
The recent flurry of offensive line activity for the Bucs, even as the team's starting offense put on a strong performance in Saturday's preseason win at Buffalo, is an indication that the position had been a focal point for Licht and Smith as the regular season neared. In fact, the team has been considering many options since the spring and is still keeping lines open.
"We'll always continue – my staff, Lovie's staff, on the scouting side – to entertain all options that are out there, whether it's a trade or whether it's a player on the street," said Licht. Our scouts, [Director of Player Personnel] Jon Robinson and [Director of Pro Scouting] Scott Cohen, they do a fabulous job presenting a lot of different scenarios every day."
At some point, the scenario of trading for Mankins was put on the table, and Licht was able to work out the surprising deal. The trade cost the Bucs a valuable player in Wright, but it came from a position that the team shored up this year with the acquisition of Brandon Myers and the drafting of Austin Seferian-Jenkins. Fourth-year man Luck Stocker is also still in the picture and the Bucs like what they have seen out of undrafted rookie tight end Cameron Brate.
"It tells you that we feel very good about the three tight ends that we have on the roster right now," said Licht. "Actually, we like the fourth tight end on our roster right now, too. I guess it speaks about that. We think that Tim is a very good football player. It's hard – [as] a rookie [he] came in and caught 54 balls. That's a pretty remarkable feat. We feel like that the return we got on the investment obviously worked in our favor. They probably feel like that they got a pretty good deal, too. So I think it worked out on both ends."
Now it's just a matter of working Mankins into the lineup and helping him absorb the team's offense, with the regular-season opener less than two weeks away. However, Licht doesn't anticipate that being a problem.
"Not as much of a challenge as [with] a younger player, and not as much of a challenge as [with] most players because of his extreme intelligence," said Licht.
Mankins was a three-time team captain with the Patriots. He was also selected to the New England Patriots' All-2000s and 50th Anniversary teams. In 2012, he won the Ed Block Courage Award, given annually to players who are voted by their teammates as role models of inspiration, sportsmanship and courage.
Mankins (6-4, 308) has played all nine of his NFL seasons in New England, starting all 130 games he played in, as well as 17 postseason games, featuring two Super Bowl appearances.
While with New England, Mankins was part of one of the top offenses in the NFL, helping the team finish in the top 10 in points scored every season he has been in the league, including three seasons where the team led the NFL (2007, 2010, 2012). Additionally, the Patriots ranked in the top 10 in yardage in eight of Mankins' nine seasons with the team (2005, 2007-13). He has blocked for two different 1,000-yard rushers and was a part of an offensive line that has allowed the sixth-fewest sacks in the NFL since 2005.
Wright played in all 16 games for the Buccaneers last season, starting eight, finishing the year with 54 receptions for 571 yards and five touchdowns. Wright joined Tampa Bay as an undrafted free agent following the 2013 NFL Draft.