STORY HIGHLIGHTS
The Bucs hope to create multiple matchup problems in the red zone with their big, athletic receivers
QB Josh McCown and WR Vincent Jackson already appear to be forging a strong chemistry
One-on-one red zone competition in training camp is also good work for Bucs cornerbacks like Johnthan Banks

A typical practice day for the Tampa Bay Buccaneers during either training camp or the regular season will include a walk-through in the morning and a full-speed session in the afternoon. During the walk-through, a receiver may jog through his route on a back-corner end zone fade, and the defender will mirror him but not try to disrupt the pass. The point is to know where you're going, not to prove who's going to win the play.
The Buccaneers walked through those fade routes and other red zone passes on Wednesday morning, and then they ran many of the same plays in the afternoon when the pads were on and every pass was being contested. What was amazing to watch was how many of those plays still worked, even with the defenders doing everything in their power to stop them.
Mike Evans and Vincent Jackson, on back-to-back plays, made stunning catches on EZ back-corner fades. Ridiculous red zone weapons. — Scott Smith (@ScottSBucs) July 30, 2014
Yes, this is definitely part of the plan. Lovie Smith and his staff inherited a big, physical receiver who fights for the football in Vincent Jackson, and then they drafted another one in Mike Evans in May. They also drafted 6-5 tight end Austin Seferian-Jenkins and in total amassed seven pass-catchers who stand 6-3 or taller. Not all of those players will definitely still be around when the roster is trimmed to 53, but there will be enough of them to create a small army of matchup nightmares in the red zone.
"That's what you want," said quarterback Josh McCown, who had great success last year in Chicago tossing passes in places that only sky-scraping receivers Brandon Marshall and Alshon Jeffery could catch them. "That's why you like to have those guys because they create matchup problems. Now, it's just getting timing and getting a good feel of where to throw the ball and where they expect the ball. When you get all of that down, that's when you have a chance to do something special. We're still in the early stages and we just have to work through it, but we like what we see so far."
McCown's timing with Jackson and Evans was perfect on the first two plays of the aforementioned red zone passing drill on Wednesday. He started with a fade to the right corner to Evan, which the receiver plucked out of the air above a defender's head without even jumping. On the very next snap he threw to Jackson in the left corner and the receiver made a spinning, toe-tapping catch for another score. For good measure, wide receiver Chris Owusu – who is "only" 6-0 and 200 pounds – made a dazzling one-handed catch on another fade on the third snap. There almost wasn't time to absorb one great grab before the next one took place.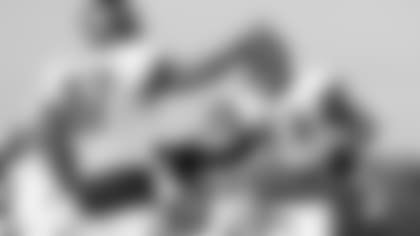 WR Vincent Jackson found success in the red zone on multiple occasions during Wednesday's practice
McCown would hook up with Jackson, in particular, on several occasions in the red zone, not to mention on a deep post for an apparent touchdown in a different full-team period. Those two appear to be very much on the same page already, and that's exactly what the Buccaneers need.
Bucs WR Vincent Jackson gets TD grabs on back-to-back plays in red-zone drills. Contemplates a goalpost dunk but stops himself ... — Greg Auman (@gregauman) July 30, 2014
"It has to," said Smith. "They have to have good chemistry. Vince is our [number] one receiver. We're banking on him making a lot of plays. The chemistry, or whatever you want to call it, between him and Josh has to be good. Vince, he's a playmaker, and when you get down there you have to get the ball in your playmaker's hands. We did that today, on more than one occasion."
The passes in that red zone drill were essentially one-on-one competitions, with the ball going to a single receiver no matter how well he was covered. In an actual game, McCown may have his pick of Jackson, Evans and Seferian-Jenkins on any particular red zone drop-back. The Bucs are hoping that kind of big-man barrage will put enough stress on the opposing defense to make it break.
"It's hard to have enough solid, solid cover guys," said McCown. "There's been a lot of conversation lately about who's the best cornerback in the league, but it's hard to have two or three really good ones. So when you have two real big, physical guys you hope that every Sunday you're going to have a matchup advantage."
Even on lower-percentage passes like end zone fades, it should be noted that one-on-one reps in practice offer an inherent advantage to the offense, mostly because there is no pass-rush. When a Buccaneer cornerback was unable to prevent one of those big-man jump balls on Wednesday, he generally got up and clapped his hands in frustration. The truth is, however, that these drills are giving them invaluable practice for trying to stop such plays by Marques Colston or Julio Jones.
That could be of particular use to second-year cornerback Johnthan Banks, who stands 6-2 and is, according to Smith, a very useful defender to possess in a league with so many big receivers. Banks has enjoyed the red zone competition with his teammates-slash-foes.
"Yeah, I do…I like just covering people, period," he said. "It's fun, just out here competing with Mike and VJax and Lou [Murphy] – all those guys. They're getting us better and we're getting them better."