STORY HIGHLIGHTS
Figures on both sides of Sunday's game think the Bucs' penalty problems were a decisive factor
The Buccaneers believe they can correct the issue by playing a more disciplined brand of football
Tampa Bay players also began discussing the upcoming game against Baltimore during Tuesday's open locker room

After a day to recuperate on Monday, Tampa Bay Buccaneer players returned to team headquarters on Tuesday to review tape of Sunday's overtime loss in New Orleans. That's part of the process of turning the page and moving on to the next opponent; as wide receiver Louis Murphy put it: "We put the Saints [game] to bed, and now it's the Ravens going forward."
That said, there were certainly things on that game tape that will inform what the Buccaneers are doing on the practice field Wednesday when they start their Raven preparations. It is quite likely, for instance, that Head Coach Lovie Smith will be stressing ways to cure the team's sudden penalty-flag ills.
Eight of the Bucs' 15 killer penalties on Sunday came in the fourth quarter or overtime, and even Saints Head Coach Sean Payton thinks that was the deciding factor. The Buccaneers are left wondering "what if," believing that they likely would have left New Orleans with a very important win if they had just avoided that one issue.
"I know what this team can be with a clean game," said cornerback Johnthan Banks, whose illegal-hands-to-the-face penalty on the other side of the field erased a third-and-10 Saints incompletion in overtime. "It's not what I would like for them to be; I know what this team can be. If you take those 15 penalties [away]…that's crazy. [If] we don't have 15 penalties, who knows how bad we could've beat those guys. We were up 11 points in the fourth quarter. We're just shooting ourselves in the foot every time."
The Bucs had overcome a noisy crowd, a slow offensive start, a 13-0 deficit and the game's first turnover to rally for that 11-point lead in the second half. They simply gave themselves one too many hurdles to clear.
"It's definitely a hostile environment and the Saints did a great job," said wide receiver Louis Murphy. "They pulled it out, so we've got to give them the credit. They're a good defensive team. They're a good team. It was a close one and we're trying to cut down on certain penalties and we can do better."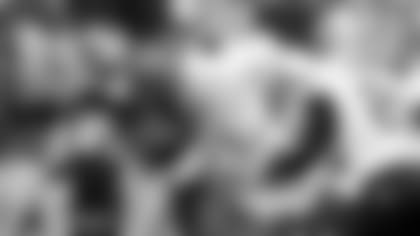 WR Louis Murphy scored his first Buccaneer touchdown on Sunday in New Orleans but also drew one of the team's 15 penalties on the day
Murphy drew one of the more unexpected penalties of the day when he was flagged for inappropriate language after Bobby Rainey's go-ahead touchdown run in the third quarter. The Bucs actually avoided any serious consequences from that one because Michael Koenen's kickoff from the 20-yard line rolled around for a bit before it was picked up by Travaris Cadet and returned only to the Saints' 26. However, an unsportsmanlike conduct call on Danny Lansanah after his pick six a few minutes later helped New Orleans shorten the field for their 63-yard TD drive on the next possession.
"In the heat of the battle, with whatever we said to each other – a lot of trash talking – I guess I just took it a little bit too far," said Murphy. "Like I told coach, "My apologies and my bad on that.'"
The Buccaneers already know what the coach is going to say to them on Wednesday (and probably Thursday and Friday as well). Banks summed it up neatly.
"We've just got to be more disciplined and more focused on the job at hand," he said.
Below are some additional thoughts from the locker room at One Buccaneer Place on Tuesday.
On his first interception of the season on Sunday against New Orleans:
"It was a good play, but there were so many plays out there that we could've made that we didn't make. Just got to keep getting better moving forward to the future."
On facing Baltimore wide receiver Steve Smith, Sr.:
"Steve is a great receiver. He's one of those guys I grew up watching and I got to play him last year. He's everything I expected: he's a feisty guy. We've just to come ready to play football. We've just got to go do our thing and keep getting better."
On showing his emotions after games:
"I'm just emotional. I love to win and I hate to lose in anything that I do. It just makes me competitive, from playing pool to playing basketball to playing on the football field, it's my job. When we lose at my job that I love to come and do, it hurts. It really does hurt."
On the run game:
"It will be one guy this play and then one guy this play, 10 people will be doing the right thing, but it will always be one person in the running game – it works on everybody. Once we get everybody on the same page, you'll see a difference in us. We're very close. When you look at film, we're very close in the run game. The passing game we're our thing. We've got to shape up the penalties and all of that, but if you give Doug [Martin] some room and Bobby [Rainey] some room, man, it's going to be scary out there."
On playing at home this week:
"Hopefully it works out better. When we're back home, the crowd is loud, [so] in the communication process you have to step up a little bit more. We just have to put this last game behind us, fix the things that we messed up on and just move on from it."
On Baltimore:
"They have some great young backs there in [Justin] Forsett and you also have [Joe] Flacco at the helm playing quarterback and he's always a threat with some weapons on the outside and some great tight ends. They're going to produce a threat for us, but it's all about us and all about what we do and how we execute."
On being fatigued near the end of games against physical teams:
"It's not hard at all; it's all about what we do. Defensively, we want to impose our will. Start fast defensively and try to make the offense change their minds and change their game plan, but we know it's always going to be a hard fought football game. In the division that they're in [Baltimore], they always play tough, physical football games and we're just going to try to bring it and match their intensity."
On his touchdown catch against New Orleans on Sunday:
"[The] line did a great job, Mike [Glennon] threw a great ball, caught them in man coverage and was able to make a play. Hat goes off to the O-line and to Mike."
On if the team has moved on from the loss to New Orleans:
"We've got to. You can't get too high on the wins, you can't get too low on your losses. It's a roller coaster ride, but you've got to keep it in the middle and that's what we've got to do."