STORY HIGHLIGHTS
TE Austin Seferian-Jenkins was the Bucs' second-round pick in the 2014 draft, part of an all-offense class
Seferian-Jenkins has been unable to practice with the Buccaneers during the offseason due to college rules
The Bucs are likely to use several rookies prominently in their offense this fall

The Tampa Bay Buccaneers finished their offseason training program last Thursday. They completed their rookie contract work not long after that.
On Thursday, the Buccaneers announced the signing of tight end Austin Seferian-Jenkins, the team's second-round pick in the 2014 NFL Draft, to a four-year contract. That deal is the last one the team needed to get in place before the start of training camp on July 25, after first-rounder Mike Evans and third-rounder Charles Sims inked their first NFL pacts on Thursday. While it was officially posted to the league on Thursday, the details of the deal had been essentially completed since last week.
Unlike his fellow 2014 draftees, Seferian-Jenkins was unable to take part in most of the Buccaneers' offseason program because his alma mater, the University of Washington, holds classes on a quarter system. NFL rookies are not allowed to take part in their team's practices (other than a rookie mini-camp right after the draft) if their schools are still in session. Still, there was obviously a push to get his deal done along with the rest of the 2014 draft class, as the contract was essentially done last week.
It's not officially done yet, but I've learned that the Bucs have agreed to terms with TE Austin Seferian-Jenkins. Official release Friday. — Scott Smith (@ScottSBucs) June 13, 2014
It's not particularly surprising that the Buccaneers have their entire rookie class under contract in June, given the simpler process for signing draftees created by the new Collective Bargaining Agreement in 2011. First-round picks generally present the most complicated signing situations, but as of Monday there were only six remaining 2014 first-rounders still seeking deals.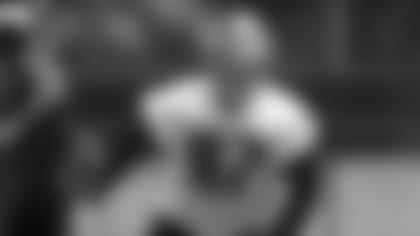 TE Austin Seferian-Jenkins, the Bucs' second-round pick in May's draft, is one of several key additions to the new offense
Even so, the recent flurry of contract work that piggy-backed the end of the Bucs' offseason program was encouraging. For the first team in the franchise's 39-year drafting history, every pick this year was spent on an offensive player, as the Bucs try to reshape an attack that finished last in the league in 2013. Evans, Seferian-Jenkins and Sims are all expected to be big contributors to the new offense, and it's encouraging that all three will walk into Day One of training camp without any contract issues to divide their attention.