STORY HIGHLIGHTS
The Bucs got a third of their 2014 draft class under contract on Friday, signing G Kadeem Edwards and WR Robert Herron
Edwards will be part of a wide-open competition at guard while Herron could win the team's slot receiver job
Draft picks can practice with the team before signing their first contracts but cannot report to training camp without a deal

The NFL's decision to push this year's draft two weeks deeper into the spring has created a couple of new wrinkles in the offseason schedule, one of which is an abbreviated period for teams to get the players chosen in that draft under contract.
Fortunately, it doesn't appear as if the Tampa Bay Buccaneers will be pressed for time in that process. On Friday, shortly after the Buccaneers wrapped up the first practice of their three-day rookie mini-camp, two of the team's six draftees signed their first NFL contracts. Fifth-round offensive linemen Kadeem Edwards and sixth-round wide receiver Robert Herron each agreed to a four-year pact.
Obviously, that leaves the Bucs with just four more rookies to sign, with first-round wide receiver Mike Evans, second-round tight end Austin Seferian-Jenkins, third-round running back Charles Sims and fifth-round tackle Kevin Pamphile next on the to-do list. Rookies can practice with their new teams during the offseason even without a contract in place, but they cannot report to training camp until that business is taken care of. However, the Buccaneers haven't had an extended rookie holdout in two decades and the likelihood of that occurring became even slimmer in 2011 when the new collective bargaining agreement created a very formulaic process for signing incoming players.
Edwards, a guard from Tennessee State, is competing for a spot on a new-look Buccaneer offensive line, while Herron is considered a strong candidate for the slot receiver job. After focusing on the skill positions during the first two days of the draft, the Buccaneers swung a trade to double their number of fifth-round picks and used them both on blockers with a significant amount of potential still to be tapped. The 6-4, 315-pound Edwards started 41 games at left guard at Tennessee State and is a powerful drive blocker.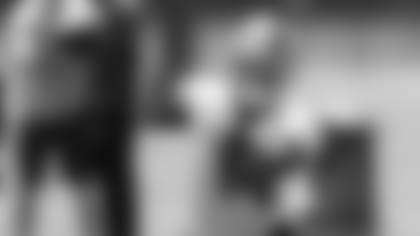 Former Wyoming WR Robert Herron caught 72 passes for the Cowboys last fall
Herron's speed and quickness made him a coveted player for the Buccaneers in the sixth round, and he could provide a different kind of threat on the inside between the team's enormous pair of outside receivers, Evans and Vincent Jackson. At Wyoming, he caught 152 passes for 2,030 yards, including 72 receptions for 937 yards and nine touchdowns in 2013.