STORY HIGHLIGHTS
Nineteen players and 20 Buccaneer staff members had their heads shaved Tuesday to support the Cut for a Cure initiative
The Pediatric Cancer Foundation's Cut for a Cure event has already raised nearly $300,000
Those going under the clippers Tuesday included DT Gerald McCoy, DE Michael Johnson and COO Brian Ford

Mike James had his head shaved for the first time in his life on Tuesday, and afterward he didn't even ask for a mirror. He didn't need to see how he looked; instead, he was picturing his own son's face.
James, a second-year running back and the father of one-year-old Michael James III, was one of 19 Tampa Bay Buccaneer players who took part in the Pediatric Cancer Foundation's Fifth Annual Bright House Networks Cut for a Cure Charity Challenge after practice on Tuesday. The goal of the event was to raise $20,000 to add to the nearly $280,000 the Cut for a Cure initiative has generated so far this year and aid in the PCF's efforts to provide medical research, programming and pediatric care for children and their families fighting pediatric cancer and blood disorders.
James was only doing what he hoped others would do if his son ever needed the community's help.
"Being around kids who have had a setback in life, who have had to struggle with an unfortunate disease, it touches my heart very deeply," he said. "Anything I can do to help push them forward, to show them that it's everybody that cares – men, women, adult, children – I want to show them that as much as I can. I have a son and it hits home with me. My son is healthy, thank God, but if he wasn't I would want somebody to show him that we're all here to support him."
A total of 20 Buccaneer staff members also sat down in the makeshift barber chairs in the One Buccaneer Place media studio on Tuesday to submit to the clippers. Chief Operating Officer Brian Ford and Pro Bowl defensive tackle Gerald McCoy were among the dozens who adopted the close-shaved look in order to support the cause. Kicker Connor Barth participated for the second year in a row and was pleased to see the young cancer patients who were on hand to help with the buzz cuts, some of whom he remembered from the 2013 event.
"These kids, you see them with the smiles on their faces. My buddy Josh was having a ball over there, and I just want him to know how much the Bucs care about him. It's an inspiration to us, because what we do is nothing compared to what they have to do, what they have to fight for. This is a great cause.
"Like Brian Ford said, they're the real heroes, the kids. They just want to be normal kids and have a normal life, and we just want to show the support we have for them. We want them to know that it's cool to have no hair. I love it – I can just get up and roll out of bed!"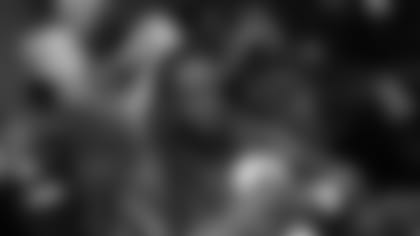 DT Gerald McCoy got help from a young friend Tuesday when he sat down to get his head shaved
Here's the complete list of Buccaneers players and staff members who got cut for a cure on Tuesday:
Kicker Connor Barth
Tackle Emmett Cleary
Long-snapper Andrew DePaola
Guard Kadeem Edwards
Linebacker Dane Fletcher
Linebacker Ka'lial Glaud
Quarterback Mike Glennon
Defensive end William Gholston
Running back Mike James
Defensive end Michael Johnson
Punter Michael Koenen
Defensive tackle Gerald McCoy
Defensive tackle Clinton McDonald
Cornerback D.J. Moore
Kicker Patrick Murray
Wide receiver Eric Page
Tackle Kevin Pamphile
Fullback Lonnie Pryor
Safety Keith Tandy
Chief Operating Officer Brian Ford
General Counsel David Cohen
Director of Team Security Henry Duran
Director of Sales Deno Anagnost
Senior Manager of Team Operations Tim Jarocki
Senior Purchasing Manager Brian Mathiews
Public Relations Manager Allen Barrett
Senior Manager of Business Administration Caleb Quaid
Partnership Development Executive Adam Smith
Community Relations Coordinator Steve Fidura
Ticket Operations Coordinator Matt Caraballo
Public Relations Assistant Chris King
Group Account Executive Seth Shuman
Account Executive Patrick Barnard
Account Executive Kristoffer Dolen
Account Executive Juan Guerrero
Member Relations Associate Davi Sherwin
Public Relations Intern Tim Akins
Corporate Partnerships Intern Brock Haymaker
Team Operations Intern Tim Drury
"The Buccaneers' support, from players to staff today, is just outstanding, "said Nancy Crane, Executive Director, Pediatric Cancer Foundation. "Our kids love to come here and when they do, they feel like they're a part of this team. We're going to find a cure with the type of support and help we get from the Buccaneers, and so many people are here today, 'cutting for a cure.'"
The Buccaneers proudly support the Pediatric Cancer Foundation's efforts in a variety of initiatives. Each year, members of the team serve as celebrity runway escorts for young children battling cancer at the Fashion Funds the Cure show. In the fall of 2012, the Buccaneers also hosted children and families affected by pediatric cancer to kick off National Childhood Cancer Awareness Month by dedicating a "Wall of Hope" at One Buccaneer Place. The Wall was displayed throughout the month of September as a daily reminder of the Buccaneers' commitment to pediatric cancer research.
The Cut for a Cure event, however, is particularly popular among its participants because of what the newly-shaved heads of the players means to the young cancer patients on hand.
"It's very symbolic, because all of the kids who are here today helping to shave the players' heads are either bald now or have been bald at some point," said Crane. "They know exactly how it feels, and this is the least we can do to show our support for these heroes, and they truly are heroes."
Added James: "It's only hair…thank God it's only hair for me. What these children have to go through on a day-to-day basis, I have no idea how they handle it. I could be the toughest guy in the world and I still wouldn't know what to do."