Tampa Bay Buccaneer players report for training camp next week, and on July 30 they will hold their first open-to-the-public practice. Over the three weeks or so that follows, plus the overlapping month of preseason games, Buccaneer fans will have an opportunity to watch the 2016 team take shape right before their eyes.
They will also bear witness to the resolution of some very important questions for this Buccaneer team. In our last full week before the start of camp, we're taking a closer look at five of those questions. After addressing issues regarding the receiving corps, the defensive line and the cornerback depth chart, we now take our first glance at the third phase of the game.
4. How big of an upgrade will Roberto Aguayo prove to be?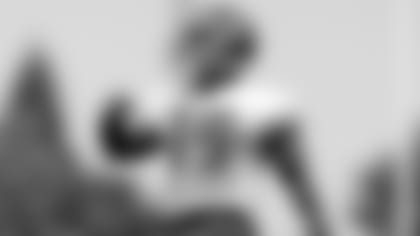 Last year, the Buccaneers made 72.5% of their field goals as a team, ranking 30th in that category out of 32 NFL teams. There was a steep drop-off from the 29th-ranked team, at 80.6%, to the bottom three of Tampa Bay, New Orleans (69.2%) and St. Louis (67.7%). There was, in fact, a greater percentage of difference in the effectiveness of the 29th-ranked team (Atlanta) and the Bucs then there was between the first-ranked team (Dallas) and the 15th-ranked team (Green Bay).
Overall, NFL kickers made 84.5% of their field goal tries last year, the third-highest mark in league history. The record was set in 2013, at 86.5%, and the last dozen seasons are the best 12 in NFL history in that category. Given that making 85% of your kicks is now considered average, it's no wonder that the Buccaneers took a very aggressive approach to that position during the 2016 offseason.
Individually, Connor Barth made 82.1% of his field goal tries for Tampa Bay last year, not his best season – he is currently the all-time franchise leader in field goal percentage – but not as drastically removed from the line of acceptability. The team's numbers, of course, are dragged down by Kyle Brindza's four-game run, in which he made just half of his 12 tries. Brindza, a 2015 rookie with a very big leg, could still get another shot in the NFL; he was briefly with the Jets this offseason before suffering a ruptured Achilles tendon in February.
The Buccaneers, however, will be moving on from both Barth and Brindza after trading up to draft Florida State star Roberto Aguayo late in the second round. It was a bold move, and it had some detractors but how the team acquired Aguayo is no longer very important. He's a Buc now, and he has a chance to dramatically improve the team's performance in an area that was significantly lacking a year ago.
The most commonly-cited stat from Aguayo's FSU days is that he never missed a kick from inside 40 yards. That suggests steely nerves and good, repeatable mechanics; NFL kickers are supposed to make that kick, but of course they miss occasionally. That said, Barth was 17-for-17 on kicks from inside 40 yards last year (Brindza was three-for-five), so Aguayo will need to be a weapon from 40 and beyond to really provide that upgrade.
And this is definitely a question for which coaches and fans will be able to gather some evidence in training camp and, especially, in preseason games. Struggles in training camp surely wouldn't cost Aguayo his job, or even mean he was going to struggle in the regular season. A very strong month of August, however, would go a long way towards building confidence in the coaching staff. Unlike at some of the other positions, where strategy issues or limited contact might obscure a real assessment of how a player is doing, there isn't much mystery to what the kicker will be asked to do. A field goal on the practice grass or a preseason game field is mechanically the same as one in a game that counts.
On the other hand, we might see Dirk Koetter try out some different kickoff strategies during the preseason. With the post-touchback starting spot moved out to the 25-yard line, ostensibly to de-incentivize kickoff returns, some coaches are contemplating an approach that would produce the opposite effect. If a team's kicker is adept at hitting high kickoffs that come down right around the goal line, it might make sense to force more returns, believing the majority of them will be stopped shy of the 25. The Bucs think that Aguayo is a good enough kickoff man to give them touchbacks when they want them and so-called "mortar kicks" when the time is right. This too, would be something one can expect to see the team practicing in training camp and in the preseason.
The Buccaneers believe they landed a once-in-a-decade kind of kicking talent in Roberto Aguayo, and the team is almost certain to have better placekicking numbers in 2016 than it did a year ago. Just how significant that improvement is will be important to the Bucs' efforts to return to the playoffs, and we'll get a sneak preview of the answer over the next six weeks.
(Friday's Burning Question: Who will back up the starting linebacker trio?)