STORY HIGHLIGHTS
Even though he won't play much, QB Josh McCown is looking forward to Friday's game because he's a fan of preseason openers
WR Tommy Streeter has had a good training camp and he heads into the first game with total confidence
The Bucs practiced in front of a special group of guests on Wednesday afternoon

The Tampa Bay Buccaneers have ended each of their last two training camp practices with a two-minute drill run primarily by players occupying third or fourth spots on the team's recently-released depth chart.  The reason for this is simple: If the game against Jacksonville comes down to the wire, any last-minute heroics are going to be delivered by down-the-line reserves.  Tampa Bay's starters will only play for about a quarteron Friday, and by the fourth quarter the team will be looking exclusively at young and unproven players.
Josh McCown, the Buccaneers' starting quarterback, watched Wednesday's practice-ending drill from the sideline, with a warm feeling of anticipation spreading through him.  It was an empathetic feeling; he knows that Friday night will be a special moment for so many of the team's younger players and he's glad he'll be there to witness it.
"I've always loved the first preseason game," said McCown.  "It is the coolest thing.  I always just tell them to cherish it, because you think about this when you're growing up.  You're going to put on an NFL uniform and you're going to play under the lights.  You don't ever know how long it's going to last.  It might last one year, five year, 10 years…but you don't know.  So just enjoy it.  It will be special.  It will be fun to watch all those guys play, but especially our higher picks, the guys that we're expecting to contribute early, we want to see what they can do under the lights.  That goes, really, for all of us."
McCown won't play long in his Buccaneer debut, and he might not have much to say about the final outcome of the game.  That doesn't mean, however, that the game is unimportant for him and his fellow starters.  The offense has looked crisp for a good portion of training camp, but it's hard to truly judge its efficiency on the practice field, with players pulling up short on hits and making sure not to touch the quarterback.  Touchdowns would be nice during the starting unit's brief time on the field, but McCown is most concerned about the offense operating efficiently.
"It's a whole new situation for everybody," he said.  "It's a new system, new players and all of that.  I think it's just going out and executing and being clean with things procedurally, number one.  I think you want to break the huddle and do the things that you normally do in a game and feel like the communication is clean and all of that.
"Execution-wise you want to be clean on that as best you can. In these games you don't game-plan for people and obviously you're not rolling out your best stuff, but within the rules and within the framework of your system, you want to try and execute it as best as possible – that's the key for us Friday."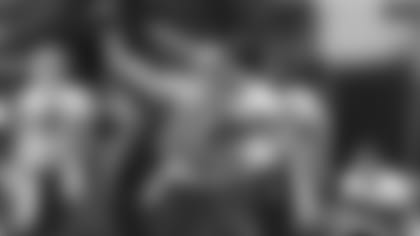 Even after his cameo in Friday night's game is over, QB Josh McCown expects to thoroughly enjoy the evening
The Jaguars' defense most likely didn't spend much time game-planning for the Buccaneers, either.  Still, it presents a new challenge that McCown and his teammates are very eager to take on after two weeks of trying, with increasing difficulty, to surprise that very familiar crew on the other side of the line of scrimmage in a training camp practice.
"When you practice against the defense as much as we do, in training camp when teams do that, there's give-and-take and a back-and-forth," said McCown.  "They've seen so many plays so many times and you've seen their defense so many times, there's this Jedi mind game that's going on. It will be fun just lining up against a different opponent and just go back to playing the defense that you see, working out your rules and things like that and not trying to out-think yourself when you're playing against somebody that sees you every day. I think we're all looking forward to that."
Josh McCown might throw a pass or two in the direction of first-year wide receiver Tommy Streeter, but it more likely will be Mike Glennon, Mike Kafka or Alex Tanney who shares the playing field with the former Miami Hurricane on Friday night.
Streeter was drafted by the Baltimore Ravens in the sixth round in 2013 but he suffered a foot injury in the preseason and was eventually released.  He ended up on the Buccaneers' practice squad for the final two weeks of the season and then he re-signed with Tampa Bay in January.  If he entered this year's training camp with a relatively low profile, it's safe to say that he's raised it over the last two weeks with some eye-opening work on the practice field.  In fact, at 6-5 and 215 pounds, he fits right in with the new era of the "Dunkaneers" in Tampa Bay's passing attack.
Streeter sat out Tuesday's practice with a minor injury but he was back on field on Wednesday, a good sign that he'll be able to play in Friday's preseason opener.  That first game is a prime opportunity for a reserve receiver to make his mark, and for that reason you might expect a young player in Streeter's position to have some anxiety heading into the weekend.  Not so, he says.
"I don't feel pressure," said Streeter.  "I have this mentality with myself that I can live with failure.  I can't live with not trying.  It's crazy how powerful fear is.  Fear can cripple you right now.  It's not only the uncertainty of the future but it has so much power in the moment.  I don't want to be one of those guys that lives with regret."
The Buccaneers' final practice before the preseason opener was a rare one for this training camp in that it was not open to the general public.  It most definitely played out in front of a group of Buccaneer fans, however…Buccaneer fans who are also indispensable members of the Bay area community.
On the urging of Head Coach Lovie Smith, the Buccaneers closed Wednesday's practice in order to offer prime seating and viewing to the community's First Responders.  Hundreds of firefighters, police officers and their guests were invited from Hillsborough, Pinellas, Pasco, Polk and other surrounding counties to attend practice and get a personal greeting from Coach Smith.  The special guests were treated to food and drinks, visits from Tampa Bay Buccaneers Cheerleaders, an appearance by team mascot Captain Fear to entertain the kids and an autograph session at the end of practice.
General Manager Jason Licht and Chief Operating Officer Brian Ford also reached out to Dave Williams, a strong supporter of law enforcement officers in the Bay area who has also worked with Buccaneers players for years.  In fact, Williams was accompanied to One Buccaneer Place on Wednesday by former Bucs John Gilmore and Maurice Stovall, players he had helped engage with police officers for community events in the past.  Williams also had a very important group of guests with him: the wives of several police officers slain in the line of duty.
"Today is about the families of the fallen heroes," said Williams.  "We try to make a difference in their lives, and the help of the Tampa Bay Buccaneers, Jason Licht, Brian Ford and Lovie Smith made this day possible.  It makes a difference when [the Buccaneers] recognize the families of fallen heroes."
Among those who were special guests on Wednesday were Nancy Williams and Alisa Robbins, both widows of former Polk County police officers who lost their lives during their service to the community.  Matt Williams and his K9 partner, Diogi, were shot and killed eight years ago while trying to apprehend a suspect who fled a traffic stop.  Shane Robbins died in a car accident in Polk County 15 months ago, leaving behind Alisa and five children.
Nancy Williams, Alisa Robbins and the other special guests from Wednesday's practice will have another opportunity to connect with the Buccaneers, and to remind the Bay area community about the critical service provided by First Responders.
"Today, coming out, it opens a whole new door," said Dave Williams.  "Through the kindness and generosity of the Bucs and the Glazers, at the Miami game they're going to have the families come back out on Saturday night."