The Tampa Bay Buccaneers held their last full-padded, full-speed practice of training camp on Tuesday evening. It was the 19th day since the team first took the field on Friday, July 25. It was by no means an end to anything, even if camp officially breaks on Thursday with a final practice in shells. The team will continue working nearly daily on the practice field, albeit on a schedule that more closely resembles how the team will prepare from week to week during the regular season.
That very first practice on the 25th was interrupted several times by lightning, and the Buccaneers' penultimate padded practice on Monday evening was conducted in a heavy downpour for much of its 150 minutes. In between, the team didn't lose a single minute of work to the Florida summer weather, though that steamy environment did factor into how the team prepared.
"I thought it was good," said Head Coach Lovie Smith of the last 19 days. "We practiced in the heat of the day most of the time. It's draining. It's draining just going through a walk-through down here in Tampa. But the guys got through it.
"We haven't had any major injuries. We feel like we've gotten about the proper amount of physical contact that we need to get ourselves in position to play the game. I like the work we've done. Most of the guys have made a lot of progress throughout. We need to kind of just take steps now. We want to see improvement. What I'm talking about, we want to see that in the game this week."
Wrapping up training camp wasn't the only topic being discussed at One Buccaneer Place on Tuesday. Below are additional thoughts from Smith, linebacker Lavonte David and tackle Demar Dotson.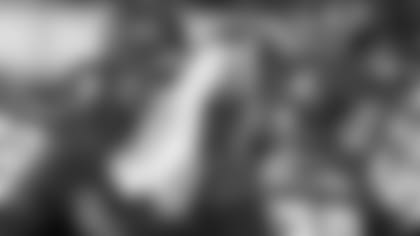 Head Coach Lovie Smith
Opening statement:
"When we come back, we'll be doing a little bit of game planning for Miami, so this was kind of the last day for training camp – offense, defense, full pads. We were able to get a lot of different things in. Finished up, of course, with a two-minute situation for a touchdown, which we haven't worked an awful lot on. Different guys had their moments today. Throughout camp, we've had a couple of guys, younger players, that we didn't know a lot about. They kind of stepped up a little bit. Jorvorskie Lane has really done a great job as a fullback – blocking, good size, can catch the football. Danny Lansanah also. As a linebacker, whether it's inside, outside, wherever, we've kind of taken notice of him a few different days. Robert Herron today stepped up. And you want some of your younger players to do that. And we have other guys, Scott Solomon, guys like that. Talking about guys that you don't ask about normally that have a chance of making our ballclub
and that's what's always fun about it."
On cornerback Anthony Gaitor's interception to end practice and if he prefers ending practice on a high note for the defense:
"No. I'm about scoring. Offense is what I'm about. Remember our draft? All offensive guys, right? We really do want to put the ball in, but it's about making plays. Those guys you mentioned, of course, Austin [Seferian-Jenkins] has done something good every day. But a player like Anthony Gaitor, coming in late, has made us take notice."
On fullback Jorvorskie Lane:
"We still feel like there's a place for a blocking fullback. He has great size. He can block, but he's just not your typical fullback that can't do anything else. He has great feet. He'll tell you – most of his career he was a tailback – he feels he's a fullback body, but feels like he's a tailback, which is good. But he's also done a decent job on special teams. So you can't make it just as a fullback. You have to do other things and we think he can."
On the state of the offensive line:
"That's part of the plan: to give everybody an opportunity. I think, as I've said before, there aren't a lot of hard decisions in the end. If you let everybody play, they're going to tell you what they are. So we'll keep looking at different combinations and see who comes out on top."
On if there is a time that he needs to finalize his starting offensive linemen:
"That time is when we feel we're ready to do that. But until then, no. It doesn't have to be tomorrow or the next day. We have to be ready for Carolina [in Week 1], and we have a little bit of time for that. Most of you want us to have everything in place first preseason game. It doesn't happen like that. Be patient. We're going to look at some different combinations. We're not going to get fined if we don't name the starting guards tomorrow."
On how wide receiver Eric Page fits into the competition at kick and punt returner:
"Eric, of course, has done it. He was our main punt returner last week. This week, we're going to take a look at some other players, too. Bobby Rainey for one. Bobby can catch the ball well. He guarantees me that he can do it well in this league. Like most running backs, they guarantee you they can do just about everything. But Bobby can. For our football team – all positions – we're going to let as many guys as possible prove what they can do. That's the goal for training camp."
LB Lavonte David
On how the defense played against Jacksonville:
"We have a whole bunch of room for improvement. Obviously we had some good plays, but we gave up some plays as well. We had some missed opportunities while we were out there and that's one thing that we want to take advantage of – to get takeaways
and take the ball away whenever we get a chance to and we didn't get a chance to do that. Defensively we feel like if we had taken the ball away it would have probably been a different outcome. It's about execution and now we'll get back to the drawing board and start all over again."
On what has been the biggest improvement in camp so far:
"Just everybody's attention to detail, as the camp has been going along the guys have been – those mistakes are being knocked down a little bit, that's one thing to look forward to and that's a positive thing going forward."
On playing with defensive tackle Gerald McCoy and how it creates opportunities for him:
"His mindset is to go out there and create havoc and let his linebackers run free. Opening play of the game, he just went through the guard and with just one hand just made a tackle for a loss –that's just the type of guy he is. When you're out there on defense, that's one guy you don't have to worry about: Gerald McCoy."
T Demar Dotson
On being excited to play their first home game:
"I'm excited. It's the first opportunity to get back out here and prove ourselves from that last game and get that taste out of our mouth and we need it. We need to get out here in front of all of our home fans and show that we can play better football than what we played last week. It's an opportunity to come out here and show the whole nation – especially these Tampa Bay guys –that we're better than that."
On having a bad taste in their mouth from their preseason game:
"No doubt about it. We put bad film out there and film doesn't lie. Guys have to get better, this football team has to get better and so we have to go out here and get better."
On rookie guard Kadeem Edwards:
"I think he's a young guy and he just has to calm his mind down a little bit, but that's a rookie, he's thinking a lot, but he's only going to get better with time. He just has to keep working and he'll be a good football player down the road."